Climate change solutions
MSCI offers a suite of tools to help institutional investors benchmark, measure and manage portfolio exposure to climate risk.
MSCI Completes Acquisition of Carbon Delta
MSCI has acquired Zurich-based environmental fintech and data analytics firm, Carbon Delta AG ("Carbon Delta") to create an extensive climate risk assessment and reporting offering for the institutional market.
Carbon Delta's services will be provided through MSCI ESG Research. For more information on Carbon Delta, visit carbon-delta.com. For enquiries, contact ESG Client Service
Low Carbon Transition Score
We are pleased to introduce our latest feature the 'Low Carbon Transition Score' designed to consistently measure a company's exposure to economically relevant risks and opportunities related to low carbon transition. The score is available for over 9,000 companies; 95% of the market value of investable equities and bonds. Contact our ESG Client Service team to learn more.

AN EXTENSIVE RANGE OF TOOLS
INTEGRATING CLIMATE CHANGE SOLUTIONS INTO YOUR INVESTMENT PROCESS
INTEGRATING CLIMATE CHANGE SOLUTIONS INTO YOUR INVESTMENT PROCESS
MSCI's Climate Change Solutions give you access to a wide range of tools and data designed to enable you to achieve a variety of objectives including measuring and reporting on climate risk exposure, implementing low carbon fossil fuel-free strategies, factoring climate change research into their risk management processes and engaging companies and external stakeholders.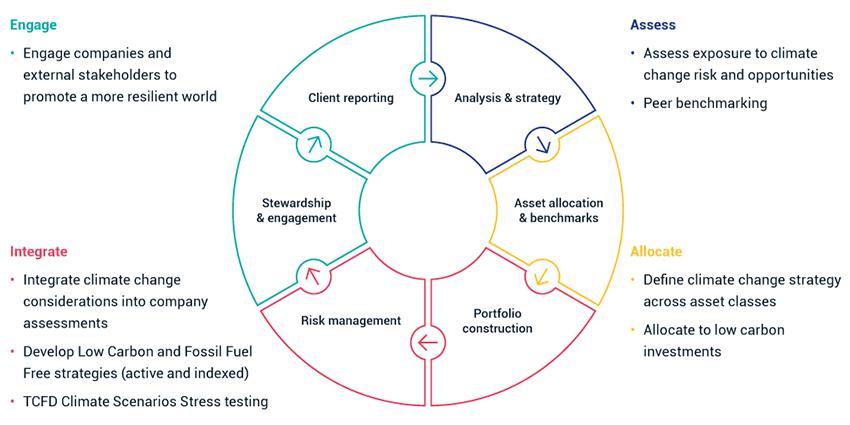 Additional Insights and Research
Climate Solutions Product card without image
Learn more about our ESG solutions
Our team of experts is focused on in-depth research, ratings and analysis of the environmental, social and governance-related business practices of thousands of global companies.
MSCI ESG Research LLC. is a Registered Investment Adviser under the Investment Adviser Act of 1940. The most recent SEC Form ADV filing, including Form ADV Part 2A, is available on the U.S. SEC's website at www.adviserinfo.sec.gov.
MIFID2/MIFIR notice: MSCI ESG Research LLC does not distribute or act as an intermediary for financial instruments or structured deposits, nor does it deal on its own account, provide execution services for others or manage client accounts. No MSCI ESG Research product or service supports, promotes or is intended to support or promote any such activity. MSCI ESG Research is an independent provider of ESG data, reports and ratings based on published methodologies and available to clients on a subscription basis. We do not provide custom or one-off ratings or recommendations of securities or other financial instruments upon request.