Winner of the 2015 IRRC Institute Investor Research Award for best practitioner paper.
Climate change presents one of the biggest economic and political challenges of the 21st century, and yet investors are only starting to explore the effect these changes could have on financial assets. A key concern is the potential effect on portfolios of "carbon stranded assets." These are assets that may lose economic value before the end of their expected life, primarily because of changes in regulation or technological innovation.
Such assets could be fossil fuel reserves that would not be burned due to constraints on emissions. They could also be, for example, a coal-based electricity generating plant that would become uncompetitive relative to solar or wind alternatives.
Until now, much of the pressure to manage risks associated with carbon stranded assets has focused on divesting from companies in the fossil fuel sectors. This approach has the clear benefit of communicating an investor's concern about climate change.
The strategy is not optimal from a financial perspective, however, because it can create significant short-term risk by potentially deviating sharply from market risk and returns. In addition, such an approach largely ignores fixed assets from non-energy sectors that are at risk of being stranded due to their dependence on burning fossil fuel reserves.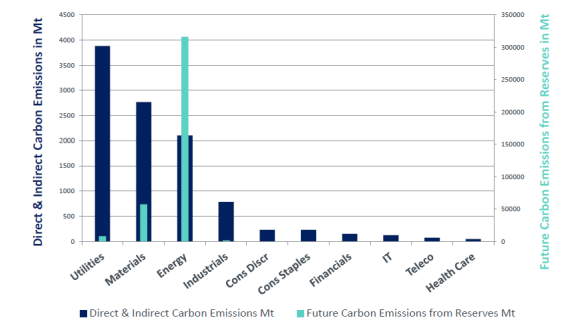 It is in the European utilities sector that we have seen companies such as E.ON or GDF Suez start to write off billions Euros of assets.
The shortcomings of the divestment approach, combined with the realization that the risk may be more immediate than previously anticipated, have led major asset owners to seek more financially practical solutions to managing carbon risk.
Working closely with leading institutional investors in the US and Europe, MSCI has introduced a series of innovative Low Carbon Indexes that aim to reduce exposure to carbon-intensive companies while limiting short-term risk against the benchmark. These new strategies are also more expansive than traditional approaches, encompassing both current and future emissions, going to the heart of risk mitigation.
Read the paper, "Beyond Divestment: Using Low Carbon Indexes."