What effect has the United Kingdom's vote to leave the European Union had on commercial real estate investments?
By one metric, U.K. commercial real estate lost 2.4% in capital growth during the third quarter, as measured by MSCI's IPD UK Quarterly Property Index, which is based on appraisals. Transaction prices are not included in this measure; looking at what assets sold for relative to their prior valuations can provide insight into the pricing pressures affecting the U.K. market.
To do this, we analyze real recent transactions using two comparative measures – the weighted average difference (WAD) and the weighted average absolute difference (WAAD). WAD provides an indication of the direction of the premium over (or discount to) valuation achieved by transactions while WAAD gives an indication of the spread of those premiums/discounts.1 Think of WAD as a measure of how far transaction prices were from their valuations, while WAAD tells us how much variation there was across individual transactions.
Sale Price Metrics for UK Market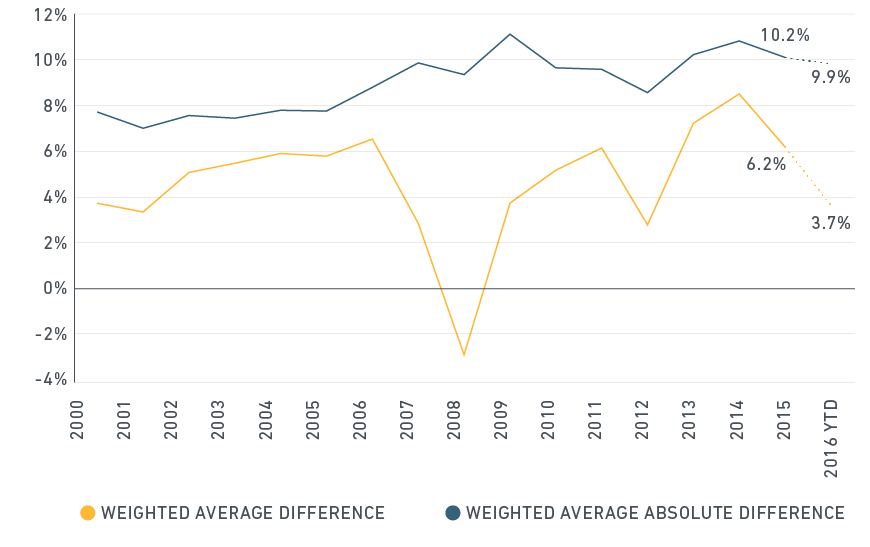 In the first three quarters of this year, the WAAD (the blue line above) resembles 2015, with a level that has remained relatively stable around the long-term average. By contrast, the WAD (the yellow line) is clearly falling indicating that the premium paid for assets has shrunk.
Breaking down the 2016 figures between the first half of the year and the third quarter reveals that downward pressure on transaction premiums has occurred entirely in the latter period. The WAD dropped sharply, to -2.2% in Q3 from 7.2% in the first half, signifying that, on average, assets have been selling below their market-adjusted valuations since the Brexit vote. This marks the first time the U.K. market has recorded a negative WAD since the 2008 global financial crisis.
Sale Price Metrics for UK Market

All of the three largest sectors recorded a negative WAD in the third quarter. The hardest hit was offices at -4.5%, followed by industrial properties at -2.8% and retail properties at -2.5%. It is also worth noting that sales from open-ended funds were harder hit than those from closed-ended funds, probably thanks to liquidity pressures faced by open-ended funds in the aftermath of the vote.
While Brexit may have contributed to the third quarter turnabout, we can't ascribe all blame for the negative WAD to the vote to leave. The trend may also be influenced by the natural deflation of a real estate bubble in the U.K. market that mounted over recent years, with sale premiums in 2013-15 reaching levels comparable to those seen before the financial crisis.
1Both measures are weighted by and calculated relative to gross sale price. Full details of the methodology and measures can be found in our report from last June, "Private Real Estate: Valuation and Sale Price Comparison."
The author would like to thank Bryan Reid for his contributions to this post.
Further reading:
The real story in the growth of global real estate lies below the surface