Among the unknowns hanging on negotiations over the U.K.'s leaving the European Union is whether Brexit will trigger an exodus of banking jobs to Continental Europe and what impact that could have on Britain's economy. A number of financial institutions have discussed relocating some of their operations, leaving many real estate investors worrying about the potential fallout on their London office holdings.
Brexit has clearly affected investor confidence, according to a recent survey by INREV that shows London falling behind Berlin, Paris and Frankfurt as the top preference for the European real estate holdings of institutional investors. This concern reflects fears both that banks will return space to landlords, leading to a near-term shock to their current income, and that a falloff in demand for office space generally may constrain the growth of future rental income and may lead the market to reprice these assets. Our analysis, however, suggests that this risk is currently more limited than some investors may believe.
Recent performance data sheds some light as to how this sentiment is actually impacting portfolios so far. In the six months after the Brexit vote, MSCI's IPD U.K. Quarterly Property Index registered a -2.4% return for office assets, driven by a -3% yield impact. Nevertheless, with rental growth at positive 0.9% and floorspace vacancy stable at 11.8%, we have yet to see any significant impact to fundamentals.
Negative investor sentiment has pushed down U.K. office returns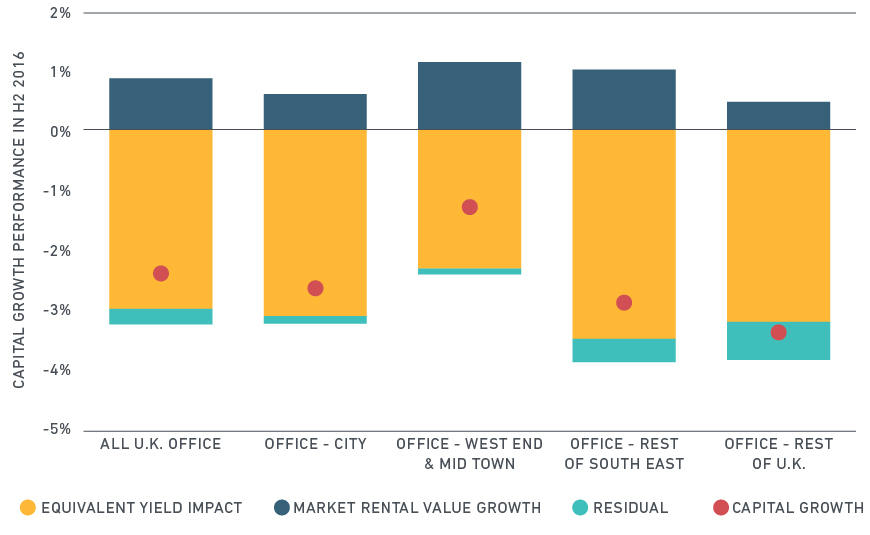 Source: MSCI – Global Intel
In addition, the income risk associated with a potential exodus of banks from London is actually currently more limited than might be assumed. Over 30% of contracted rent in London offices comes from leases to the financial services industry, according to MSCI's latest property income risk data. Though that may seem like substantial vulnerability to banks decamping for the Continent, a number of elements mitigate that risk.
Financial services leases are some of the longest in the office sector, with a weighted remaining lease term of over nine years (below chart). Even after adjusting for early break clauses, the weighted remaining lease term extends to more than eight years. These longer lease terms mean that many financial institutions have long-term commitments to the space they occupy and won't be able to just walk away from them.
Long lease terms complicate relocation for the financial services industry
UK OFFICE WEIGHTED AVERAGE LEASE EXPIRY BY INDUSTRY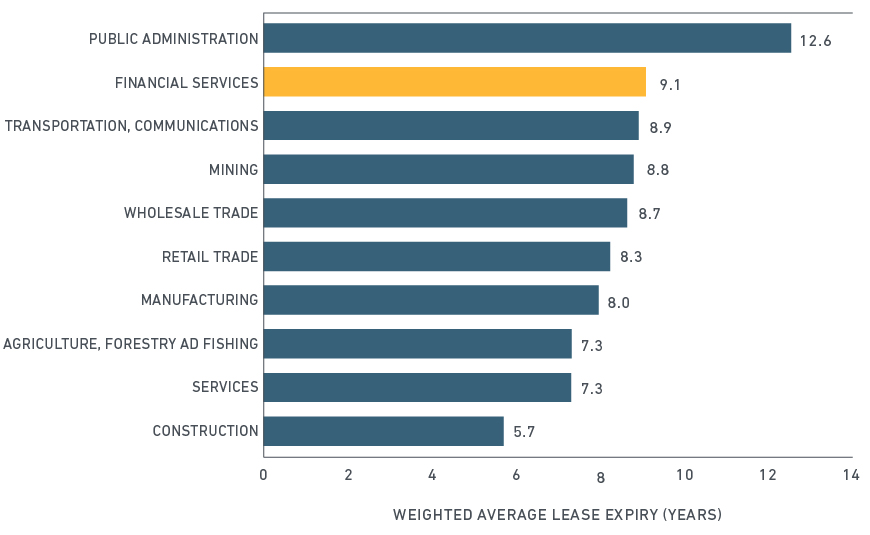 Source: MSCI – IRIS
The protection provided to investors by longer leases is backed up by the credit rating of financial services tenants. Combining MSCI's tenancy data with failure scores from Dun & Bradstreet, we calculated a weighted risk score for each industry grouping that shows financial services leases benefiting from a relatively strong credit profile. Of 10 industry groups, financial services has the third-highest weighted risk score after public administration and mining.
Thus, even if the banks do move a large number of jobs out of the U.K., that alone is unlikely to cause a sudden increase in vacancies or unpaid rents as most financial services tenants will be liable for – and capable of – honoring their leases.
Still, institutional investors will need to carefully scrutinize their own holdings because portfolios differ dramatically. The chart below illustrates the distribution of unexpired lease terms across various London office markets. Owners with shorter unexpired lease terms in their portfolios may be more at risk. A careful analysis of property income risk can give investors insights into these risks that can inform strategies for mitigating them.
Every asset is different, so investors need to scrutinize their portfolios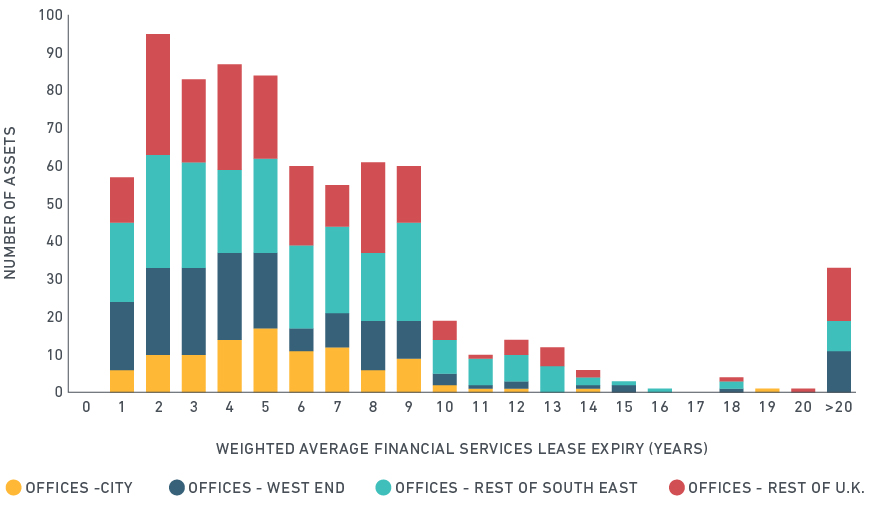 Source: MSCI – IRIS
The author thanks Bryan Reid for his contributions to this post.
Further reading:
Brexit hangover? The effect on U.K. real estate
What Brexit may mean for London's office market