In the past, institutional investors largely ignored currency hedging in their international equity portfolios. With the globalization of the equity portfolio and recent events sending shockwaves through currency markets, they no longer can afford to do so. However, how to hedge their foreign exchange exposure is now receiving renewed scrutiny.
Since the late 1980s, asset owners have increasingly adopted passively hedged equity benchmarks, encouraging their asset managers to hedge currency risks. Historical data suggests that such static hedge overlay strategies have generally increased risk-adjusted returns of foreign equity portfolios over a long-term horizon (see below exhibit). On the other hand, a passive hedge may severely lag an unhedged portfolio during a short-medium term horizon because of market regime changes.
Performance and Risk of Static Hedging Strategies for USD, JPY and AUD Investors*

* Return and volatility calculations are based on gross total returns of MSCI Currency Hedged Indexes from Jan 2003 to Jan 2016.
While a number of investors apply a discretionary timing strategy in an effort to "outsmart" the passive hedge, this ad hoc approach may also incur significant risks, especially given managers' limited success in accurately anticipating the direction of exchange rates. An alternative approach is to hedge currency exposure dynamically using well-documented systematic signals such as Value, Momentum, Carry and Volatility. This tactical approach has historically delivered better risk-adjusted returns compared to traditional static hedge methods and could help investors tackle the challenge of timing currency movements (see below exhibit).
How the Adaptive Hedge Ratio Has Performed in Different Market Regimes*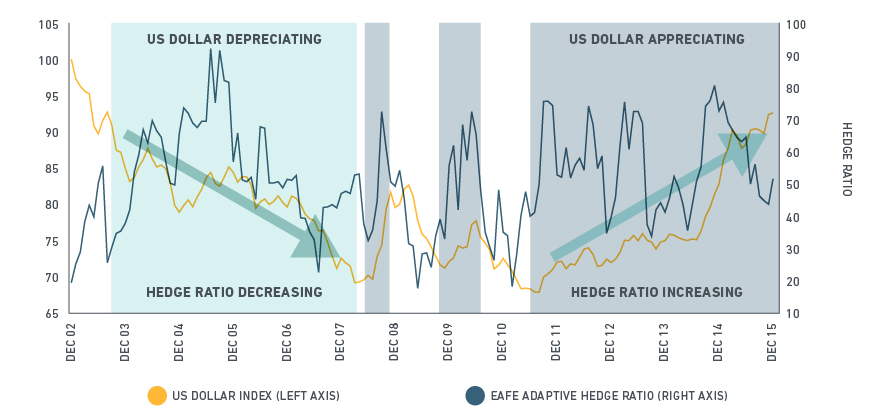 * The adaptive hedge ratio is calculated as the currency exposure-weighted average of hedge ratios.
Whether institutional investors use a passive or active approach, foreign-exchange exposure is a risk they can no longer ignore. While a passive strategy targeting static hedge ratios could have served a long-term equity investor's goal of achieving better risk-adjusted returns, an adaptive hedge strategy historically could have helped both short-term and long-term investors better navigate market environment changes.
Read the paper, "Currency Hedging: Adapting to Volatility" by Zhen Wei, Stuart Doole and Saurabh Katiyar.