Do Japanese companies and shareholders have a vested interest in working toward greater numbers of female managers and board members? Our analysis finds that, much like companies elsewhere, greater diversity improved performance at Japanese firms in recent years.

Exploring the connection between gender diversity and performance
MSCI ESG Research has been monitoring global corporations' progress on enabling and supporting female representation on corporate boards since 2009. In our 2018 report "Women on Boards and the Human Capital Connection," we found that companies with more diverse boards and stronger talent management practices enjoyed higher growth in employee productivity and return on equity (ROE) in general. They produced consistently higher ROE over the three-year study period (Jan. 1, 2015 to Dec. 31, 2017) than those with either diverse boards or strong talent management practices only.
To determine whether this held true for Japan, we examined the average ROE of 345 constituents of the MSCI Japan IMI Top 500 Index (as of March 30, 2018), grouping these issuers based on the percentage of female managers and on the number of women serving as directors.
As the exhibit below shows, companies with a higher percentage of female managers compared to their sector median generated higher ROE than those with percentages below the sector median between Jan. 1, 2012 and Dec. 31, 2016. Average ROE was also higher for companies that had both above-sector-average female representation in managerial positions and at least one female board member.1

Greater gender diversity was aligned with higher return on equity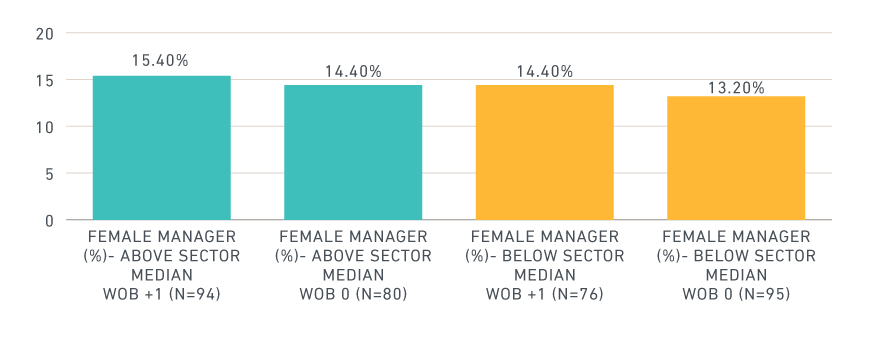 This chart shows the average return on equity (2012-2016) for each group of companies in the MSCI Japan IMI Top 500 Index. Companies are grouped by the percentage of female representation in managerial roles compared to the GICS Sector median. Women on Board (WOB) +1 pertains to boards that have at least one female director; WOB 0 refers to companies with boards that have no female representation. Source: MSCI ESG Research and Thomson Reuters.

There is still a long way to go
Female representation in the Japanese workplace is an issue of pressing economic necessity, as well as fairness. A 2013 white paper by Japan's Gender Equality Bureau Cabinet Office estimated that its total working population would drop 30% by 2042, compared with 2012.2 However, we've started to see a change in the historical trend of Japanese women leaving their jobs following childbirth, and rarely returning. Over the last few years, more and more women have rejoined the workforce.3
Institutional investors may bring their own perspective to women's empowerment. In July 2017, the Government Pension Investment Fund in Japan said it would invest in a fund replicating the MSCI Japan Empowering Women Index, which targets companies that have performed well in the hiring, retaining and promoting of women, in gender diversity disclosure and in the implementation of programs aimed at increasing gender diversity.
Still, progress in Japan remained only moderate from 2017 to 2018 according to the latest findings in our Gender Diversity in Japan: Progress Report 2018. Findings include:
Female participation among new hires increased by three percentage points.
Inclusion of women in the workforce rose by two percentage points.
Women in senior management increased by one percentage point.
The difference in average employment years for men versus women and the percentage of women on corporate boards were unchanged.
While gender diversity at Japanese companies still has a long way to go compared to most other developed markets, we found moderately growing alignment between the broad societal goals associated with gender diversity and investors' interests.


1 Gender Diversity in Japan: Progress Report 2018. (2018). MSCI ESG Research LLC.
2 Gender Equality Bureau Cabinet Office, White Paper on Gender Equality 2013.
3 Gender Equality Bureau Cabinet Office, White Paper 2017.
FURTHER READING:
Gender diversity in Japan: progress report 2018
Women on boards and the human capital connection
Women on boards: one piece of a bigger puzzle