In May, we wrote that despite the generally low market volatility that has prevailed this year, investors were paying relatively high prices for downside protection as measured by "options skew" – the difference in implied volatility between an out-of-the-money option and an at-the-money option.1 High skew levels indicate heightened fears of "tail risk" – the chances of unlikely but highly consequential events that could sink share prices. Low market volatility largely continued through the summer, but how has options skew behaved – has it fallen to more "normal" levels? Do institutional investors appear to be dropping or keeping their downside protection?
We find that fears have risen further, driven by geopolitical tensions, the prospect of a U.S. debt-ceiling debate, uncertainty around tax reform and other developments. We see this in two exhibits below. The first updates our original data, showing that skew levels over the summer have been at the upper end of their historical range for a given level of VIX, even more so than during the first part of the year. In the second exhibit, we see how our skew measure has changed over time.2
SKEW LEVELS REMAIN ELEVATED DURING SUMMER 2017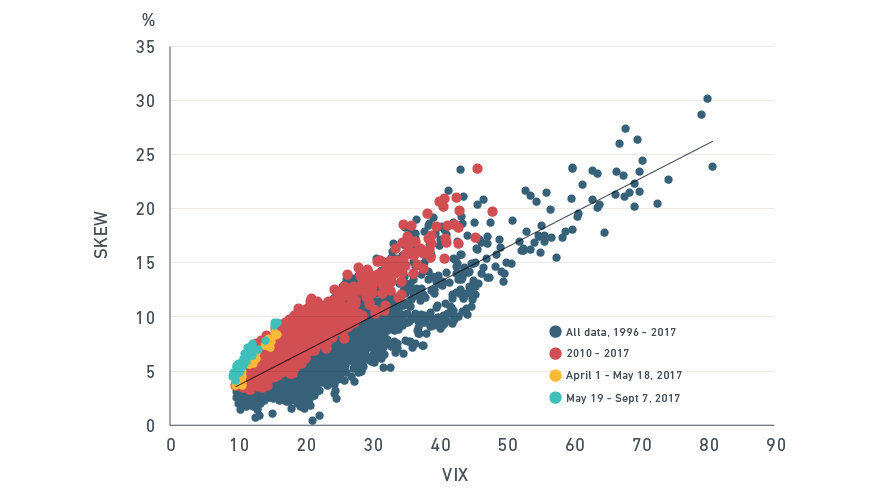 We find that options skew has generally continued to increase since May, reaching a peak of more than 2 standard deviations above "normal" (relative to the last 20 years) in mid-August as tensions surrounding North Korea drove fears of extreme events (see exhibit below). As of the end of August, the widely followed "fear index" (the CBOE Volatility Index, or VIX) has settled to below 12, after a short spike to around 16 in mid-August.
But our skew measure remains more than 1 standard deviation above normal. That's consistent with a recent Financial Times article3 reporting that investors were buying large volumes of tail-risk protection and that the CBOE SKEW Index, which reflects the likelihood of tail-risk events, approached an all-time high in mid-August.
DESPITE VOLATILITY REMAINING LOW, OPTIONS SKEW INCREASED AND REMAINS ABOVE NORMAL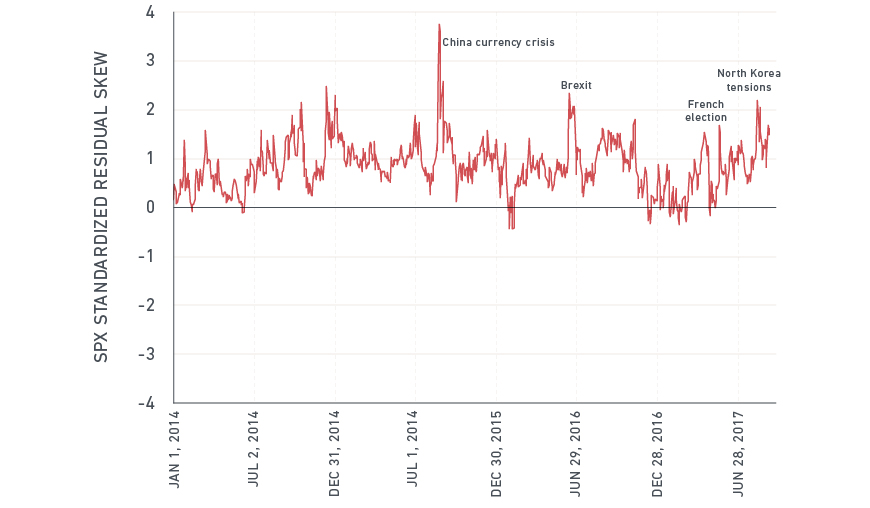 Our skew measure indicates that tail risk fears did not take time off this summer, but have continued to increase. With another U.S. debt-ceiling debate nearing, uncertainty around tax reform and protracted geopolitical tensions, we see plenty of reasons for investors to continue buying downside protection, which would support high skew levels.
The author thanks Dimitris Melas and Peter J. Zangari for their contributions to this post.
1 We use standardized and interpolated implied volatility curves as a function of delta to define our skew measure, and add the skews from both calls and puts. We use delta values of 50% and 20% (-50% and -20%) to define our at-the-money and out-of-the-money points for calls (puts), respectively.
2 The exhibit shows the time series of our skew measure, converted to a standardized z-score that measures the number of standard deviations a given point is above the regression line between skew and VIX.
3 https://www.ft.com/content/354a9e52-884b-11e7-8bb1-5ba57d47eff7.
Further reading:
Why is "fear" missing from the "fear index"?