As part of its "Abenomics" economic revitalization plan, the Japanese government has set out goals to increase women's participation and promotion in the business world, including increasing the percentage of women in leadership roles to 30% by 2020, a major jump from 11.3% in 2014. In addition, a new law requires Japanese companies and government bodies with more than 300 employees to collect and publish data on gender and employment issues.
Women are a historically underutilized resource in Japan; studies have indicated that their greater participation and advancement in the workforce could have substantial benefits for the Japanese economy.1 A stronger economy overall could benefit long-term portfolio returns. But how can investors know which firms are serious about gender diversity?
MSCI has developed the Japan Empowering Women Index (WIN), which aims to overweight companies whose gender-diversity initiatives and track record are above average for their respective sectors. To understand the current state of women's workforce participation and empowerment in Japan, we looked at five metrics covering attraction, retention and promotion for the Top 500 companies by index weights in MSCI Japan IMI (below exhibit).

Women in the Japanese workforce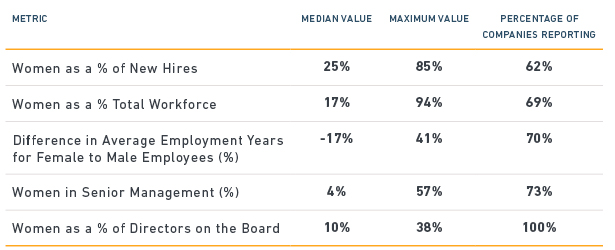 For each metric, the chart shows the median value reported by companies in the universe as of December 1, 2016, as well as the maximum value reported and the percentage of companies in the universe for which data was available.

As of Dec. 1, less than half of Japan's 500 largest companies by market capitalization disclosed all five measures, though one-fifth included only one metric: the number of women on boards. Those data say nothing about efforts or intent to improve gender diversity, but other numbers do. We looked at the number of firms that have workforce-diversity policies, management oversight responsibility for diversity, targets for boosting female representation and programs that make it easier for women work – such as flexible working arrangements, subsidized childcare and parental leave.
Diversity Practices among Top 500 Japanese Companies (as of Dec. 1, 2016)

Strong workforce diversity policy and management oversight involves providing diversity training to employees and supporting diversity initiatives; senior executive (or higher) oversight required.
Strong programs to increase workforce diversity include significant benefits to facilitate diversity and inclusion, and the use of quantitative diversity targets in the recruitment process.

As for the impact on performance, in our backtest from November 2009 to February 2017, the index outperformed the parent MSCI Japan index by 50 basis points, with less volatility and a positive information ratio.2
Studies suggest that more-diverse groups make better decisions and that gender-diverse workforces are more engaged and experience lower turnover, which may benefit bottom lines. And while we cannot establish a direct causal link, our own research finds that companies with more women in leadership positions have shown stronger financial performance.3

The author thanks Gaurav Trivedi, Neeraj Kumar, Yukie Shibano and Chin Ping Chia for their contributions to this post.
1 Goldman Sachs estimated the potential boost to Japan's GDP from closing the gender gap at nearly 13% per year in "Womenomics 4.0: Time to Walk the Talk." (2014). Goldman Sachs.
2 Past performance—whether actual, backtested or simulated—is no indication or guarantee of future performance.
3 Eastman, M.T. and Rallis, D. "The Tipping Point: Women on Boards and Financial performance – Women on Boards Report 2016." MSCI ESG Research, December 2016
Further reading:
Empowering women in the workplace research paper
The tipping point — women on boards and financial performance
Has gender pay parity arrived in the executive suite?