In our recent blog, "Equity markets in October – Has the tide turned?" we highlighted a rotation from pro-cyclical to defensive factors and sectors that began in June and accelerated in October. We also found that crowding in the momentum factor in the U.S. remained high, which suggested continued risks to momentum and other pro-cyclical themes.
What happened in November? When we examined whether the same trends continued in November and expanded our crowding analysis globally, we found that the rotation to defensive themes continued and the risks to pro-cyclical style and industry factors remain elevated. However, we saw less evidence of crowding in momentum outside the U.S.

Defensive factors outperformed in November
As the exhibit below, which displays volatility-adjusted style and industry factor returns from MSCI's Barra® Global Total Market Equity Model for Long-Term Investors (GEMLT), shows, we found that the defensive style and industry factors continued to outperform pro-cyclicals in November.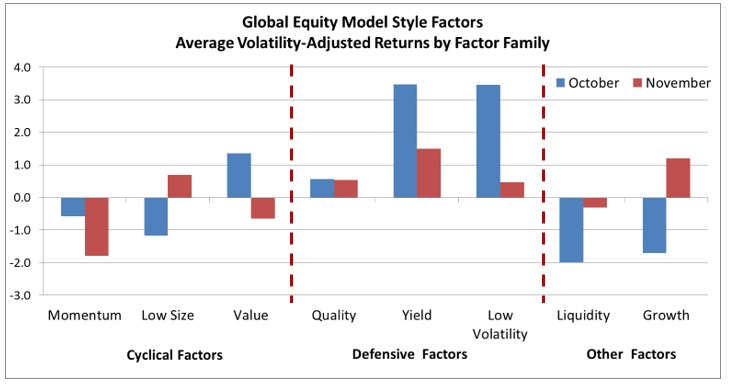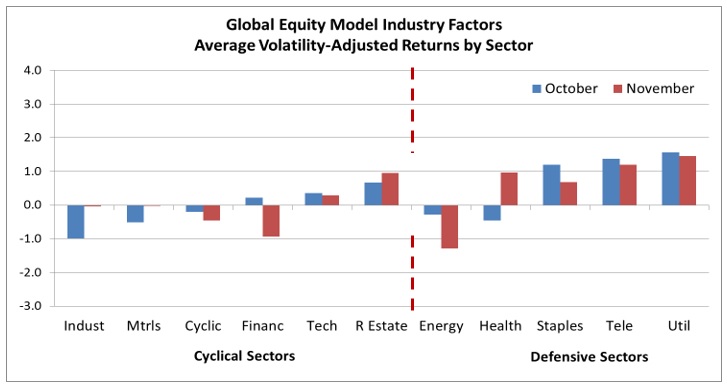 Data from October to November 2018. Volatility-adjusted returns are computed by dividing each factor return by its realized monthly return volatility from January through September of 2018. Cyclical factors include momentum, (low) size and value. Defensive factors include (low) volatility, dividend yield and quality. The following GICS® sectors are classified as cyclical sectors: materials, industrials, consumer discretionary, financials, information technology and real estate. The following GICS sectors are classified as Defensive Sectors: energy, consumer staples, health care, telecommunications and utilities. GICS classification is before the Nov. 30, 2018 changes.
GICS is the global industry classification standard jointly developed by MSCI and Standard & Poor's. For a definition of cyclical sectors, see "MSCI Cyclical and Defensive Sectors Indexes Methodology."

US Momentum and global and European profitability factors showed crowding
In the exhibit below, we show the MSCI Factor Crowding Model scores for the style factors in MSCI's BARRA US, Global and European Total Market Models as of Nov. 30, 2018. Qualitatively, we see similar patterns in crowdedness across regions – momentum and beta had among the highest crowding scores, while earnings yield had some of the lowest scores.
Quantitatively, we see a few notable differences across regions. In the U.S., we continued to observe high levels of crowding we first highlighted in August, albeit the level has moderated slightly. Globally and in Europe, the profitability and beta factors exhibited high levels of crowding.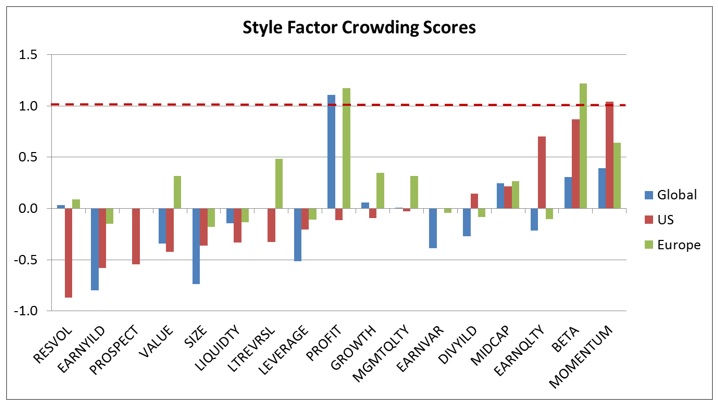 The slight decrease in the overall crowding score for U.S. momentum was driven by reductions in pairwise correlation and valuation spread components. Globally and in Europe the profitability factor continued to remain crowded, with higher short interest spread offsetting lower valuation spread. Historical beta has also become more crowded globally and in Europe, driven by pairwise correlation.


Risks to pro-cyclicals remain elevated
The rotation to defensive themes continued in November. In addition, the MSCI Factor Crowding model showed high levels of crowding in the momentum factor in the U.S., suggesting continued elevated risks to that factor, and in Europe and globally, we observed high levels of crowding in the profitability factor. Our latest analysis suggests that risks remain elevated for pro-cyclical themes.

Further Reading
Equity markets in October – Has the tide turned?
Is momentum a crowded trade that is starting to unwind?
MSCI Factor Crowding Model
Did FAANG stocks lead the US stock market drop?
Factor investing webpage