Following the global financial crisis, the European Insurance and Occupational Pension Authority (EIOPA) required European insurers to reserve capital equal to 25% of the market value of their real estate assets to protect against a 1 in 200 chance of a catastrophic financial event. While reserving against potential catastrophes is critical, our analysis suggests that particular solvency capital requirement (SCR) may be unduly conservative for a diversified European real estate portfolio.
The EIOPA is now revisiting its capital adequacy standards under the European Union's Solvency II Directive. We have added six years of data and five more countries to our previous research data, and find — as we did in 2011 — that a charge exceeding 15% of market value for a broadly balanced European real estate portfolio is not justified by our analysis.
In developing the current standard, the EIOPA sought evidence of downside risk across European private real estate market returns. It identified the U.K. as one of the most volatile major European markets, and using the U.K. data alone, arrived at an SCR of 25% to be applied to all European real estate portfolios held by EU-based insurers.
Our Europe-wide 2011 analysis cast doubt upon this finding. Applying the EIOPA's preferred tail value at risk methodologies to an enhanced set of European data, we scanned for extreme downside movements using both transaction linked indicators (TLI) and valuation based indexes (VBI). We found that, for any broad composite of European markets, neither risk identifying approach supported a requirement in excess of 15%.
The 2017 Conclusions
We have now updated our findings, applying the same EIOPA-defined test for European real estate extreme values to our expanded dataset. Again, this enhanced evidence suggests no reason to increase the property shock factor beyond 15%. In fact, we find that the reserve could be reduced to 12% for a broadly balanced European portfolio that excludes the U.K., which is especially significant as the U.K. prepares to leave the European Union. However, a 25% reserve may be appropriate for a U.K.-only real estate portfolio, given the greater volatility of that market.
Here are the key findings from the MSCI Real Estate Solvency II 2017 Update Report:
1. The U.K. remained the most volatile of the large European markets, with an extreme (tail) risk of -24% returns over a 12-month period, as we see in the exhibit.
2. The five best documented mainland European markets – France, Germany, Netherlands, Sweden and Switzerland – experienced small changes in their tail risk values, dropping by around 30 basis points in all cases except for Switzerland, where tail values rose by 1.5% (light blue bars in the exhibit).
3. Tail risk values for all Pan-European composites have also declined since 2009, and by similar (20-40 bps) margins. Extreme risk scores were little changed across these major composites, ranging from the full Pan-European figure of -11.2%, through a Eurozone-only score of -8.5% to a Pan-European (ex UK) number of -7.5%.
Outside the UK, risks of extreme shocks show less need for high charges (2015 v. 2009 results)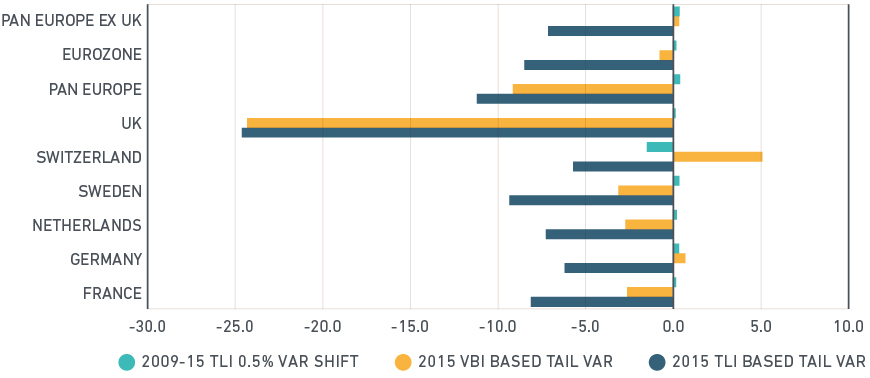 Based on TLI and VBI-driven 12-month 0.5% total return tail values at risk
Bottom line, we maintain, as we did in 2011, that a capital requirement of no more than 15% remains adequately prudent for a balanced pan-European real estate portfolio. Results varied more widely across individual countries, but never crossed the 15% threshold within the largest five mainland European markets. Over the past six years, there have been no market shocks that would require us to revise this conclusion. Nor does the addition of five more countries to our dataset call the finding into question.
Updated May 10, 2017
A link to the full Update Report is provided below. Since its release in April, the report has attracted widespread interest, and in response to requests for any greater detail that can be provided, particularly in Southern Europe, we have expanded our analyses to report separately the value at risk results for Italy, and for a three market Southern European composite of Italy, Spain and Portugal. These are detailed in the Report Supplement below.
Further reading:
MSCI Real Estate Solvency II 2017 Update Report