In recent years, Australian commercial real estate has attracted considerable attention from international investors, changing the dynamics of what was historically a domestically dominated market. Inflows of foreign capital have helped support returns, despite slowing economic growth. Many now wonder whether this influx of foreign capital has contributed to a structural shift in the market or if there will be a return to previous performance and investment trends. While we cannot answer this question with certainty, an analysis of recent performance data highlights the changing and increasingly global nature of real estate and the influence of loose global monetary policy as institutional investors continue to chase higher yields.
Private real estate often produces steady income streams and high yields that in the short term make it appear bond-like, and yet the asset class's returns historically have been linked tightly to overall economic growth. In most markets, there has long been a strong correlation between nominal Gross Domestic Product (GDP) growth and real estate returns. This correlation has been particularly evident in Australia. In recent years, however, returns have held at long-term averages despite below-trend GDP growth.
The Property Council / IPD Australia All Property Index, with history back to 1985, shows a pronounced correlation between nominal GDP growth and total returns, across and within sub-periods, until around 2012 (see exhibit below). Since then, total returns have remained around their 10% long-term average despite tepid economic growth. Had the historical relationship held, returns would have been much lower.
In Australia, the relationship between real estate returns and economic activity has diverged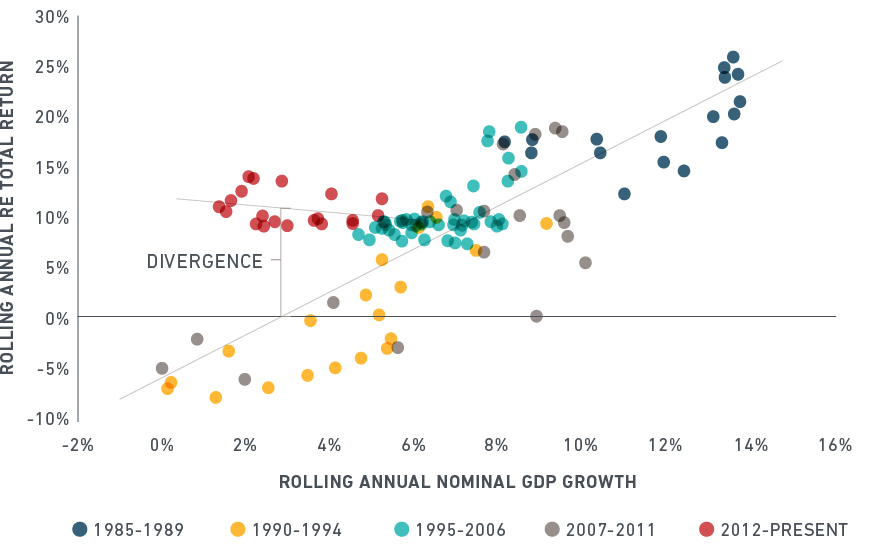 Source: MSCI – Global Intel, Australian Bureau of Statistics
To explore this relationship in more depth, we have to look at capital growth, which represents the most volatile and pro-cyclical component of total return. Capital growth can be broken into a "cap rate impact" (the degree to which capital growth is driven by investor sentiment through widening or tightening yields) and an "income impact." In the exhibit below, we can see that income impact was evident even during the financial crisis, but it has all but disappeared since mid-2013, as economic growth and occupier demand weakened. Instead, tightening cap rates have become the main driver of capital growth. In other words, it is investor sentiment and capital markets which have supported returns in Australia since the end of 2013.
Tightening cap rates have boosted Australian real estate returns in recent years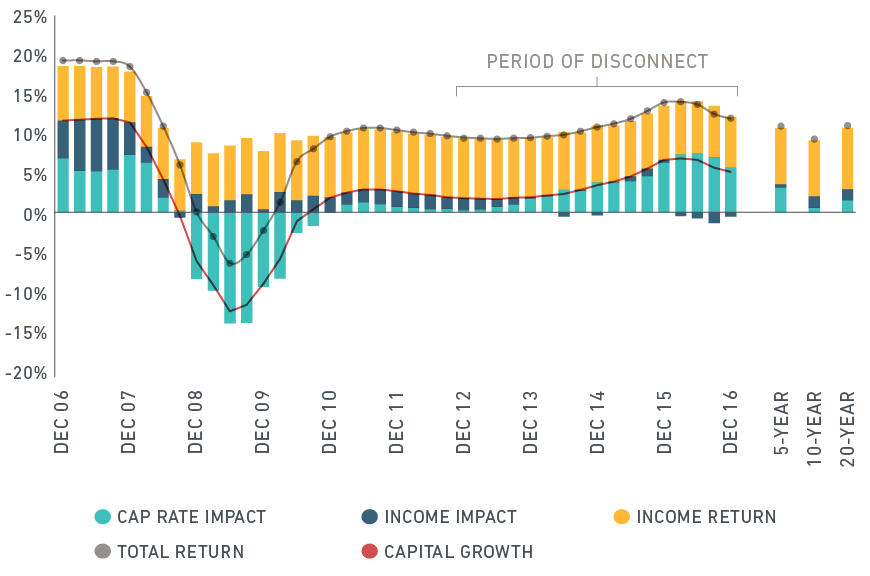 Source: MSCI – Global Intel
What's going on? For starters, a rare confluence of circumstances, including a protracted period of globally loose monetary policy. Low interest rates have boosted asset prices through lower borrowing costs and lower discount rates on asset cash flows. In addition, domestic and foreign investors have chased higher yields available from Australian real estate, with foreign capital playing a particularly prominent role.
Even at the end of 2016, Net Operating Income (NOI) yields in Sydney and Melbourne were 5.7% and 5.8%, respectively, compared with 4.4% in Toronto, 4.2% in Amsterdam, 4.1% in New York and 3.8% in London. With these relatively high yields in the Australian market and a more globalized world of capital flows, are we experiencing a paradigm shift where Australian yield levels and total-return expectations are reset going forward?
Ultimately, it is hard to say. With signs of global growth returning and the U.S. Federal Reserve apparently on a tightening path, some of the conditions that have encouraged the foreign capital influx may be coming to an end. Counteracting that, though, Australian yields are still relatively high compared with other markets, and real estate investing has become increasingly global and shows no signs of abating. A lot will depend on investor perceptions of the Australian market, but as the recent example of Brexit highlights, changes in investor sentiment can happen quickly and have a large impact on real estate performance.
Further reading:
Brexit's limited risk to London office-space portfolios