Increasingly, institutional investors with international strategies tend to concentrate their search for attractive property investments in established Central Business Districts (CBDs) within "global gateway cities," such as New York, London and Hong Kong.
However, more than eight years into the current real estate cycle, finding attractive opportunities in such gateway CBDs has become challenging, as a flood of capital has driven yields to record lows. Some investors are asking whether their investment horizons should now include secondary markets in these cities, which often provide higher initial income returns but can entail substantial research and operational costs. Our analysis, however, suggests that dissecting global gateway cities may help uncover neglected opportunities.
Global gateway CBDs often sit within extensive urban agglomerations that offer a broader range of real estate investment opportunities. Understanding how the performance of such markets varies — not only within cities but also between cities — requires the ability to interrogate market data in a highly granular and flexible way.
San Francisco provides an interesting case study as it has a relatively compact CBD that sits within a broad urban conurbation – the San Francisco Bay Area. First, we look at recent income returns (June 2017) for the Bay Area relative to other global cities. The San Francisco CBD has an income return of just over 4%, not far ahead of top-tier global gateway markets such as New York, London and Hong Kong. Segmenting the broader Bay Area office market in more detail illustrates the performance characteristics of each local submarket and allows us to make consistent comparisons with global alternatives.
Current Income Returns for Selected Markets as of June 2017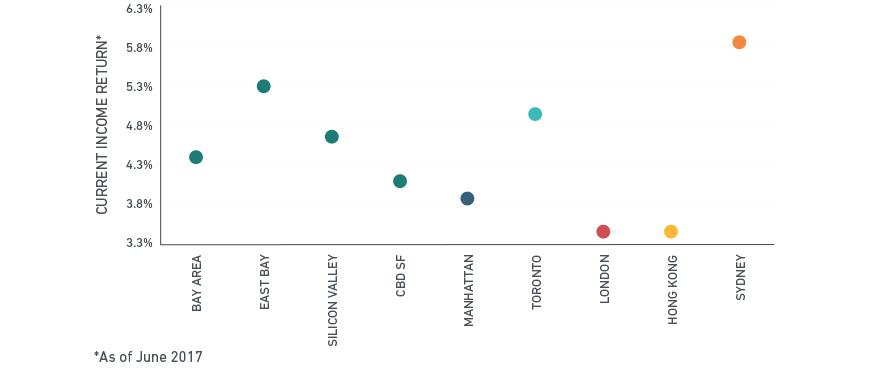 Source: MSCI
While nearby East Bay and Silicon Valley offered substantially higher income returns than the San Francisco CBD, current income return does not tell the whole story. At the total return level, each of the submarkets performed similarly from 2007 to June 2017, as can be seen in the exhibit below. While the level and volatility of the time series varied somewhat, they all exhibited similar cyclical turning points.
Bay Area Total Returns Since 2007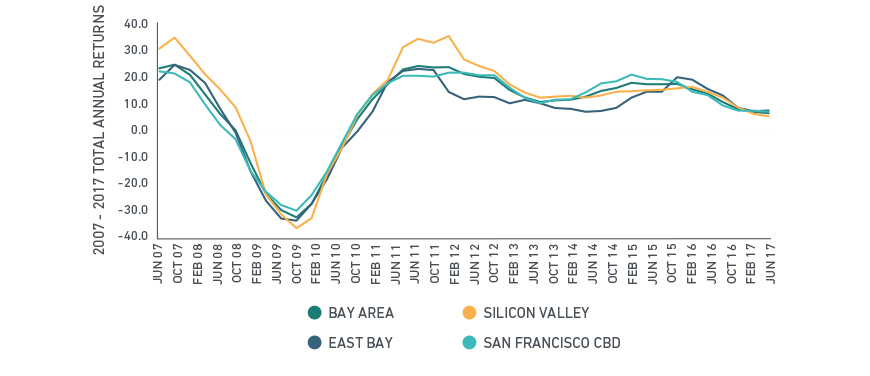 Source: MSCI
On the face of it, this exhibit seems to show a typical trade-off between higher risk/higher return in Silicon Valley and lower risk/lower return in the East Bay. But linking income return with total return gives us a better understanding of the nature of performance across the broad Bay Area market.
The chart below shows the tradeoff between total return and income return for each of the submarkets. While the East Bay's income return surpassed that of the San Francisco CBD by 120 basis points (bps), this did not compensate for a lack of capital growth, as the San Francisco CBD outperformed by a wide margin on a total return basis. However, Silicon Valley strongly outperformed the CBD on both an income return and total return basis. Higher income returns did not come at the expense of lower growth.
Total Annualized Returns and Income Return For Bay Area Office Markets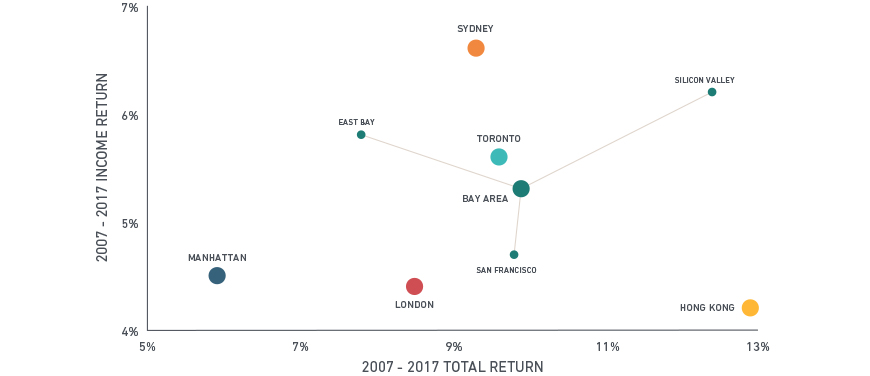 Source: MSCI
Thus, investors can find valuable opportunities beyond the CBD. In our investigation of the Bay Area, we found that dissecting the broader urban office market into submarkets revealed neglected investment opportunities. Similar kinds of analysis can be conducted across a multitude of cities globally, at multiple levels of segmentation, even down to the granularity of postcode level. In an increasingly competitive investment landscape, the ability to interrogate market data flexibly and consistently can allow apples-to-apples comparisons across global, national or even neighborhood markets, providing investors with the tools to uncover value where few others may be looking.
Further reading:
Understanding the true risk of real estate assets
Are low yields a risk for your private real estate portfolio?
Is your real estate portfolio resilient enough?