Companies that paid top executives far more than they paid their rank-and-file workers tended to be less profitable over time than those that had narrow gaps between worker and executive pay, research by MSCI ESG Research suggests.
Across nine of 10 sectors examined by MSCI ESG Research, operating profit margins at companies with relatively narrow gaps between the compensation of their CEO and their average pay exceeded those of companies with high gaps in pay over a period of five years that ended in 2014.
The performance for companies with lower pay gaps held true, on average, across nine of the 10 sectors that we examined, except materials and was particularly significant in consumer staples, the sector with the largest pay gap, the survey, by MSCI ESG Research's Samuel Block, of 591 companies included in the MSCI ACWI Investable Market Index showed.
For most workers in developed countries wages stagnated, growing at a 2% compound annual growth rate from 2009 to 2014. In contrast, the pay of top executives grew at a 20% compound annual growth rate over the same period and outpaced both inflation and growth in median income virtually worldwide.

Growth in compensation of top paid executives compared with that of rank-and-file employees (2009-2014)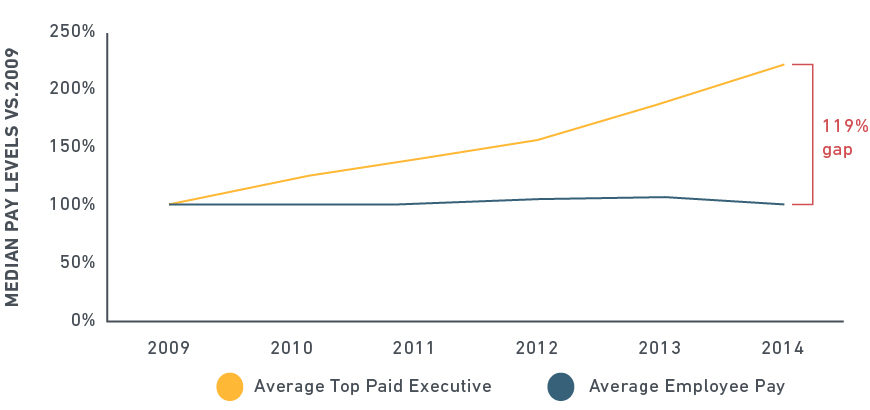 Source: MSCI ESG Research, Worldscope, company disclosures, n-591 companies

The trend seems to parallel the income inequality observed in many countries across the globe. Some research suggests that such inequality slows growth in gross domestic product and degrades such fundamentals of an economy as the skills of its labor force. The findings may warrant scrutiny by long-term institutional investors who seek to determine whether companies are using capital to reward executives for short-term performance at the expense of shareholder and macroeconomic value.

Costs sparked by unpredictability
Companies may risk outsized pay gaps when pay is tied to immediate performance, which can pressure executives to focus on such tactics as maintaining dividends, buying back shares or managing from one quarter to the next. Such short-termism tends to treat labor as a cost to be minimized rather than an asset to be managed over the long term.
Firms with high pay gaps also could bear the negative impact of income inequality. Sectors with the largest pay gaps, including the consumer discretionary sector, are typically most vulnerable to wage shocks, which may be likely to increase as companies in the U.S. start to release pay-ratio data beginning next year.

Consequences for productivity
In nine out of the 10 Sectors that MSCI ESG Research surveyed, companies that operated in countries with the greatest income inequality tended to have lower labor productivity compared with companies operating in more economically equal societies.
Though reasons for that are difficult to discern, one explanation may be the effect of pay gaps on employee engagement. Of more than 3,600 companies worldwide evaluated, only 36% offered stock-ownership or tied pay to performance for the majority of their employees. Still, less productive workforces also may tie to the effect of education on skills.

Further reading:
Income Inequality and the Intra-Corporate Pay Gap
2016 ESG Trends to Watch