The "quant meltdown" of 2007 and the subsequent global financial crisis highlighted the risks of crowded investment strategies. The recent growth of "smart beta" indexes and their use in ETFs has added to concerns about crowding.
In response, we have developed the MSCI Crowding Scorecard for monitoring and detecting the crowding risk of an investment strategy, building on our innovative analysis of historical behaviors of investment strategies and the MSCI equity risk models that incorporate Systematic Equity Strategies (SES), which represent rules-based equity investment signals that can be implemented systematically. The MSCI Crowding Scorecard comprises four metrics:
Mutual Fund Trading Activity
Hedge Fund Trading Activity
Pair-wise Correlations ("co-momentum") and
Valuation Dispersion
The first two measures help identify crowding in the trading activity of various market participants, such as Value and Growth managers, and pinpoint the overlap in trading activity of otherwise independent investors.
The last two measures capture the pricing and valuation impacts of this kind of trading activity. All four measures are essential in monitoring risk posed by crowding. Both sets of measures are essential in developing a Crowding Scorecard.
Using the MSCI Crowding Scorecard to assess crowding risk in factor strategies, concerns arose about the possibility of crowding in the U.S. Momentum Factor around the end of 2014. As seen below, mutual funding selling of Momentum stopped in September 2014 (top left). At the same time, shorting activity had been trading upwards (bottom left). Meanwhile, pair-wise correlations have increased to levels not seen since the 2009 "Momentum Crash" and the Tech Bubble (top right) and valuation spreads of high vs. low Momentum stocks were widening but remained below median (bottom right).
MSCI Crowding Metrics for the Momentum Factor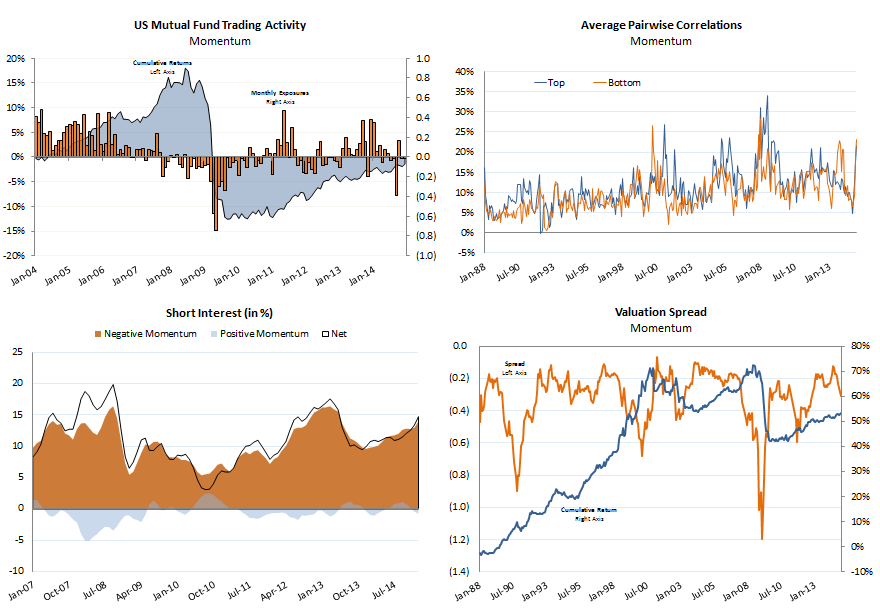 The Crowding Scorecard can also be applied to single stocks, indexes and active strategies, making it an important tool for investment and risk managers following both quantitative and fundamental strategies — including popular factor index approaches.
The MSCI Crowding Scorecard can help managers understand the risks of overlap in trading strategies, which may not be apparent by focusing on one of these metrics alone.
Read the paper, "Lost in the Crowd? Identifying and Measuring Crowded Strategies and Trades."