The size premium has been widely used in asset allocation and in risk models for decades. However, some academics and practitioners have refuted the validity of the size premium. They argue: 1) the size premium has disappeared in the last 20 years and no longer exists; 2) the size premium exists only in the United States and not in other markets; 3) the size premium disappears after filtering out smaller stocks for investability.
Our findings: the size premium has persisted in the U.S. as well as in non-U.S. markets, based on data starting from 1998. We also confirmed that the size premium does not disappear after investability constraints are applied; MSCI's Investable Market Indexes preserve the size premium. In fact, companies excluded from the Investable Market Index universe exhibited significantly poor liquidity and investment capacity.
There has been a lot of research on the existence of the size premium but less on the practical implementation of this premium. Market cap-weighted indexes, such as the MSCI World Small Cap Index, remain effective and investable ways of representing the size premium. We find there are other ways in which size can be reflected in a portfolio. Our analysis suggests that a "sweet spot" along the all-cap spectrum exists that capitalizes on the mid-cap and low size factors. Investor can use this insight to construct "smarter" size-based portfolios.
The "sweet spot" is illustrated in the below exhibit where the sum of both mid-cap and low size factors are represented by the blue circles. Only in deciles 3 to 7 are the sum of these contributions in positive territory.
USA IMI: Size Factor +Mid-capitalization Factor = Sweet Spot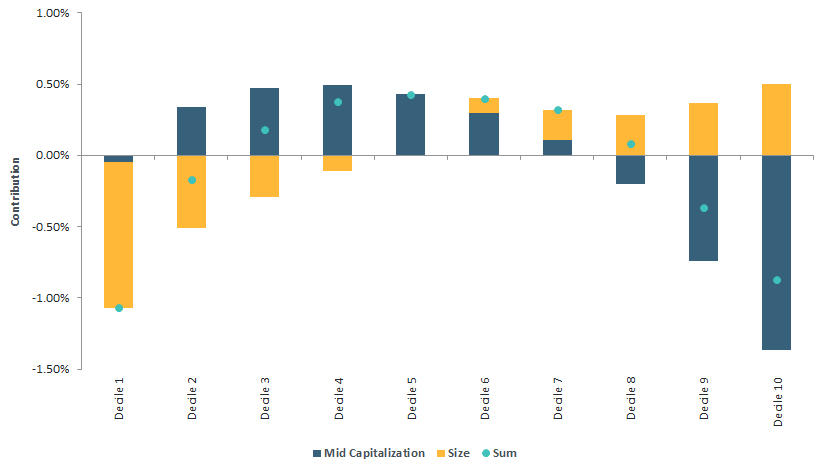 Data from December 1998 to December 2015
For every size-based strategy, however, there is a trade-off between factor exposure and investability. As a result, investors who wish to take advantage of the size factors should weigh the benefits of each strategy as no one size fits all.
Read the paper, "One Size Does Not Fit All: Understanding Factor Investing" by Raina Oberoi, Anil Rao, Lokesh Mrig and Raman Aylur Subramanian.