Real estate is on the rise.
Last fall, MSCI announced the upgrade of real estate to a stand-alone sector in GICS®, the global industry classification standard jointly developed by MSCI and Standard & Poor's, carved out from the financials sector. The change, which is slated to take effect at the close of business on Aug. 31, recognizes real estate's distinct characteristics and prominence in the global economy.
Public Real Estate Investment Trusts (REITs) have increased their share of the global equity universe, as regulations around the world have loosened and a steady stream of initial public offerings and capital increases have seen REITs grow in volume (see below exhibit).
Weight of MSCI ACWI IMI CORE REAL ESTATE INDEX IN MSCI ACWI IMI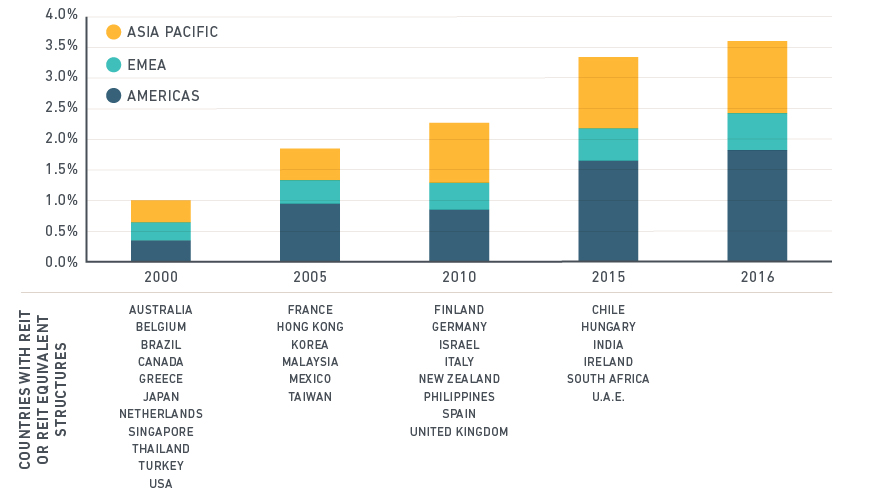 Source: MSCI Research
The flow of capital to real estate represents part of a long-term trend by institutional investors increasing their alternative investments. According to consultant Willis Towers Watson, pension funds in seven key markets allocated 24% to alternatives in 2015, up from 7% two decades ago. What's more, the increase in supply of real estate has not come at the expense of performance, as can be seen in the returns of the MSCI ACWI IMI Core Real Estate Index, which measures performance of stocks of listed companies that own, develop and manage real estate.
CUMULATIVE INDEX PERFORMANCE - NET RETURNS (USD) (MAR 2001 - MAR 2016)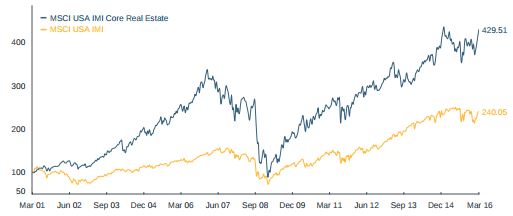 Source: MSCI Research
Overall, we estimate the opportunity for institutional investment in commercial real estate (public and private) to be roughly $7 trillion.
Institutional investors may consider combining direct real estate in their home markets with an allocation to global REITs as a way to help accelerate diversification of their real estate portfolios. While private assets have tended to perform better across sectors, these sector bets do not offer as much diversification as adding international exposure, according to a recent MSCI analysis of private real estate risk.
One impediment to this approach is that public REITs tend to experience greater volatility than direct real estate volatility — both because REITs carry more leverage than direct real estate and because REITs are tied to equity markets. One option is to remove this leverage (which is carried at the security level). This approach underlies the MSCI USA IMI Liquid Real Estate Index, which aims to achieve a risk/return profile similar to direct real estate indexes using liquid instruments.
We can see this in the following exhibit, which shows that the MSCI USA IMI Liquid Real Estate Index tracks the IPD US Quarterly Property Index (an index tracking direct investment) much more closely than the MSCI IMI Core Real Estate Index (which reflects leveraged exposure).
The MSCI USA IMI Liquid Real Estate Index has achieved risk and return similar to direct investment in real estate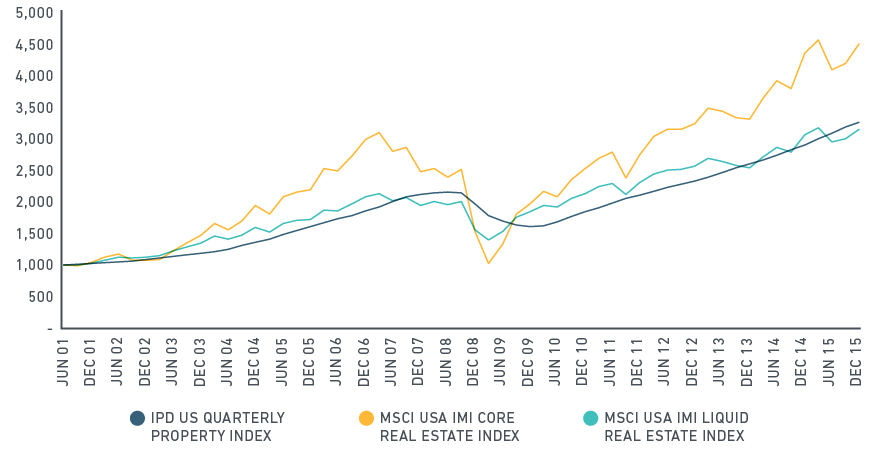 Source: MSCI Research
As institutional investors continue expanding their allocations to alternatives, global listed real estate (including REITs) may take on a larger role in their portfolios. The change in the GICS structure this August should add to the visibility of this asset class.
Further reading:
A liquid benchmark for private real estate