Two roads lead asset owners into real estate: the private (direct and indirect) ownership route and the public equity route. With private assets, investors can analyze performance in detail, down to the asset and vehicle level. However, listed real estate, which includes public Real Estate Investment Trusts (REITs), rarely offers that level of data, making it very difficult for asset owners to monitor a seamlessly integrated portfolio consisting of both private and public assets.
This divergence is taking on new importance because of two key developments. First, the upcoming reclassification of real estate in August 2016 into a separate sector within GICS®1 may draw greater attention and scrutiny to real estate securities, which has been steadily increasing as a proportion of equity indexes (see below exhibit).
Second, the gradual globalization of the real estate investment market may lead institutional investors to look to international listed real estate as a simpler and often liquid way to diversify their real estate portfolios geographically, rather than purchasing individual properties or via private unlisted funds in various markets.

The Rising Weight of Listed Real Estate (in ACWI across regions)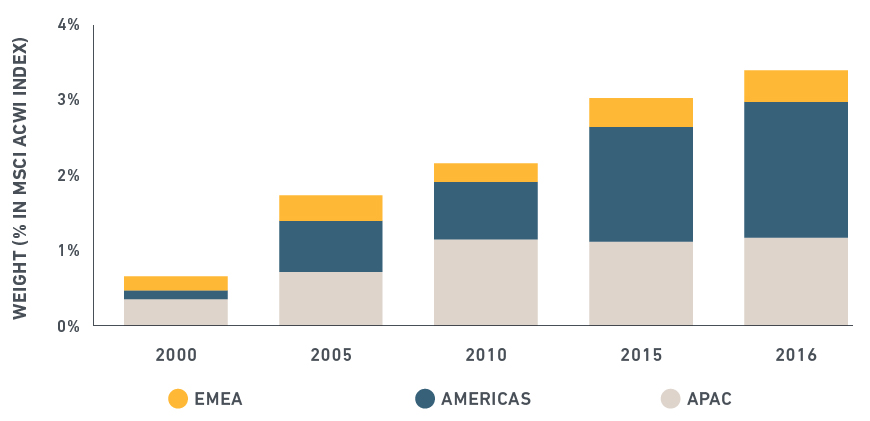 The conundrum for investors is that real estate companies tend to provide insights on their relative performance at the company (security) level, but relatively few are transparent at the asset (individual property) or vehicle (fund) level. Instead, most listed companies compare their performance to equity market benchmarks. While such benchmarks make sense for passive equity market investors, many institutional investors could benefit from participation of listed real estate companies in established real estate benchmarks. This way, institutional investors could explain the impact on performance of market and property type, show the impact of debt and active management at a vehicle level and isolate and quantify market sentiment.
Our research reveals that benchmarking practices and performance data in the listed sector lack the rigor that is needed for an investor who seeks a seamlessly integrated real estate portfolio across equity and alternative asset classes.
Instead, we propose further research to show how mapping listed real estate performance from the bottom up would work. If such a mapping could be done, it has the potential to raise industry standards for market transparency and performance analytics. It may also encourage listed firms to participate in broader real estate benchmarks.

1 GICS is the global industry classfiication standard jointly developed by MSCI and Standard & Poor's.

Read the paper, "The Road Toward a Global Seamless Real Estate Portfolio: Understanding Listed Real Estate Performance"
The author would like to thank Bert Teuben and Brent McElreath, both vice presidents in Index Management Research, for their contributions to this post.

Further reading:
"The Erosion of the Real Estate Home Bias"
S&P Dow Jones Indices and MSCI press release (March 8, 2016)