While several U.K. open-ended real estate funds have suspended trading in the aftermath of Brexit, we find that London's office market has about 30% exposure to non-domestic tenants who might decamp completely or shift some of their workers to Ireland or the Continent.
It's true that investors in U.K. real estate equities who have not hedged against foreign-exchange risk would have been left exposed to currency risk, as sterling has plunged to its lowest level against the U.S. dollar in more than 30 years. However, our analysis of the U.K. property market – especially London office buildings – reveals that exposure to foreign tenants relocating their operations from the U.K. to other locations in the European Union is capable of being quantified. What's more, the overnight depreciation of the pound will make London – the world's most expensive office market – cheaper for non-U.K. businesses with operations there and lessen the incentive to relocate.
Some businesses, of course, may choose to move so as to better access the EU's single market. But when we examine the market, how much of the professionally managed tenant base is actually at risk?
First, roughly three-quarters of commercial rents in the U.K. are tied to domestic tenants, leaving just one quarter of commercial rents exposed to foreign tenants. Of the 25% tied to foreign tenants, about two-fifths have ownership structures tied to parent companies based in EU countries outside the U.K. The other three-fifths of foreign tenants have parent companies based outside the EU, more than half of which are tied directly to the U.S. Those amounts reflect, respectively, 10% and 15% of all commercial rents in the U.K.
Not all sectors will be affected in the same way or at the same time. The impact on the hotel sector, for example, could be mixed, with a falloff in business travel offset by a boost in foreign tourism that benefits from the cheaper pound. As illustrated below, the greatest exposure is in the industrial and office sectors, with the office sector most vulnerable to tenants leaving. But even within this sector, more than 70% of rents are tied to domestic leases.
COMPOSITION OF U.K. TENANCIES BY TYPE OF PROPERTYAND DOMICILE OF TENANT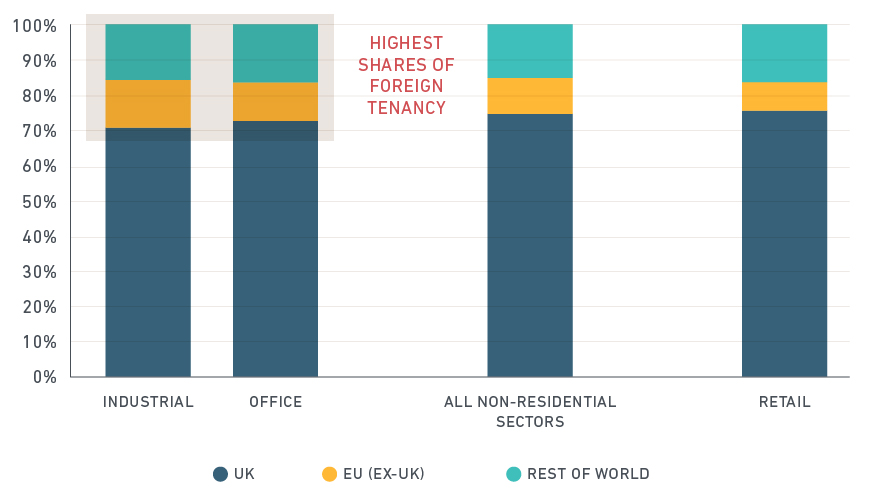 Based on % of total contracted rent as of March 2016
Source: MSCI
Risks to office leases are not spread evenly. Certain tenants, such as governmental entities, which leased about 10% of office space as of March, are by definition domestic. The greatest risk of relocation comes from the financial and services sectors, which together represent about 60% of the rents in the U.K. office sector (though roughly 70% in London). Even for those sectors, the majority of office space is let to U.K.-based companies, as can be seen in the below exhibit.
CONCENTRATION OF U.K. OFFFICE TENANCIES BY FINANCIAL AND SERVICES BUSINESS, BY REGION AND ORIGIN OF LESSEE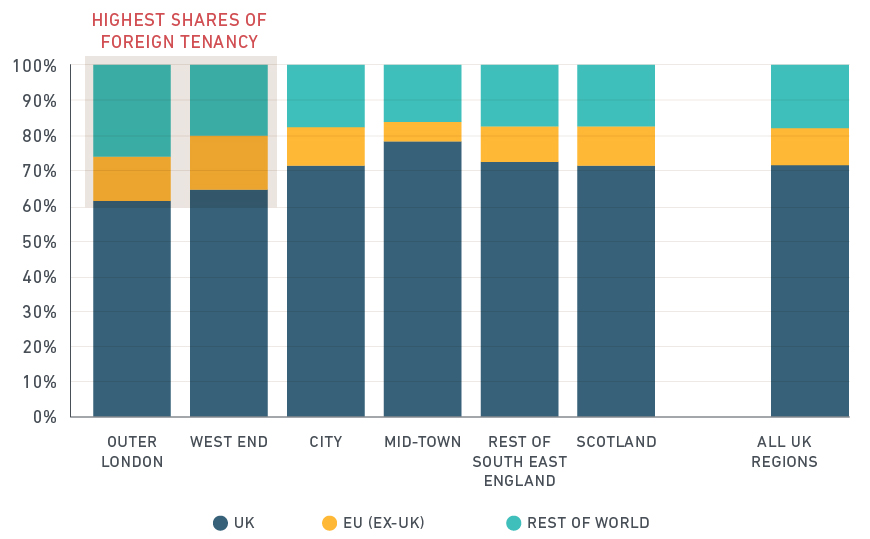 *Includes regions with at least GBP 50 million in contracted rents tied to the services and financial services sectors
Based on % of total contracted rent, as of March 2016
Source: MSCI
Even then, many businesses are legally bound to lease agreements for years. Within the financial and services sectors, the average remaining term for leases to non-U.K. businesses is 4.7 years, compared with 6.3 years for leases signed by U.K.-based firms.
In short, properties potentially exposed to companies that may move all or part of their U.K.-based workforces to the EU constitute an important but still relatively modest slice of the market for investment property in the U.K. Even within that limited scope, relocation could take years to occur. Meanwhile, London has become a less expensive — though still costly — location for non-U.K.-based businesses.
Further reading:
Why Brexit signals turbulence for U.K. real estate investors