Brexit is forcing investors in U.K. property to grapple with uncertainty.
While British equities tumbled 3.1% on the day after the U.K. voted to leave the European Union, shares of the country's exchange-listed real-estate firms fell 15.4%. With the pound sterling sliding to its lowest level against the dollar in more than 30 years, investors in U.K. real estate stocks who failed to hedge their exposures to foreign-exchange risk fared worse.
The concerns of real estate investors predate the referendum. Professionally managed real estate in the U.K. was appraised at $707 billion as of Dec. 31, making Britain the second-largest professionally managed real estate market in the world after the U.S. In a survey last February by MSCI, managers of publicly listed real estate in the U.K. were nearly unanimous in saying that Brexit would damage property values.

Viewing the fallout from three angles
There are at least three ways to view the uncertainty that prevails in the U.K. property market. First, geography may not spare investors who looked beyond London. Though London, Scotland and Northern Ireland all voted against Brexit – with the latter two possibly pushing to remain in the EU – London is the epicenter of the U.K. property market (94% of real estate that MSCI tracks is in England and Wales).
Investors also can view exposure by type of property. Greater London, the epicenter of the U.K. property investment for international investors, holds one quarter of the Britain's industrial and retail real estate but 69% of its office buildings. The potential for post-Brexit London to lose jobs if companies move their operations elsewhere in the EU may translate into risk for investors in offices.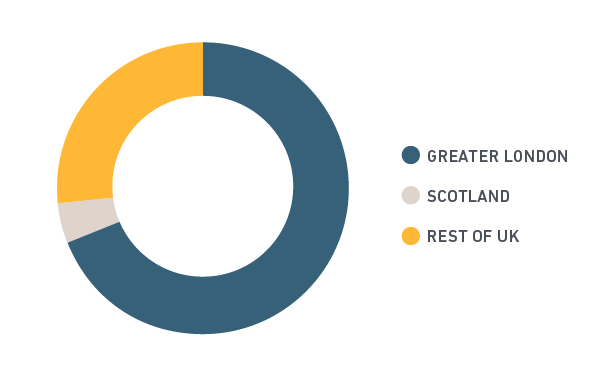 If companies do move, owners of office buildings in cities throughout the rest of the U.K. and continental Europe may see an increase in demand for space. Ireland, to cite one destination, may benefit if murmurs from multinationals about moving their operations to Dublin translate to leases there. All of which could boost demand for space in those markets as London loses out.
Finally, the fallout from Brexit may vary depending on the domicile and type of investor. Domestic investors owned 84% of the U.K.'s professionally managed market, as of December 2015. Foreign investors held the remainder, with the bulk of them from outside the EU. Property funds (both listed and unlisted) together owned about half of commercial property, with institutions, including pensions and insurers, holding just under 20% of the market.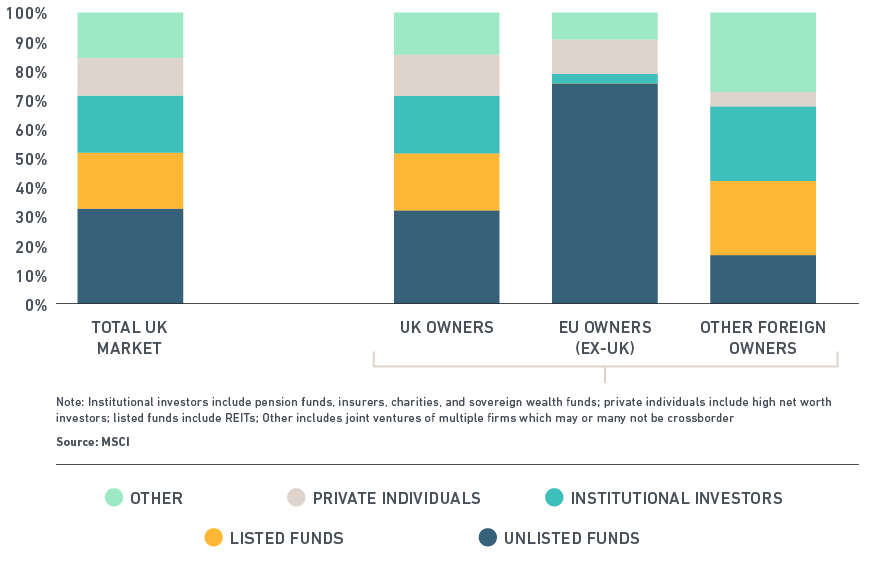 For years, the U.K. generally, and London in particular, have ranked among the top destinations for cross-border real estate investment. Now Brexit leaves investors to assess their risks amid the aftermath of the vote.
Further reading:
When Stress Tests Become Reality: Which Scenario after Brexit?
How The Brexit Vote May Impact Your Portfolio