It is widely documented that women, on average, earn less than men for comparable work, so it may surprise you to learn that female CEOs of large companies included in a key global MSCI index made more than their male peers in 2015. However, men received superior options packages in the decade through 2015, and came out ahead in terms of total compensation during that period.
Among CEOs at the 2,470 companies that constituted the MSCI ACWI Index as of December 2015, which represents firms in 46 emerging and developed markets, 89 women CEOs out-earned 2,381 male CEOs, at least by two key measures, a new report by Meggin Thwing Eastman of MSCI ESG Research shows.
The women averaged $10.5 million in total realized pay (which accounts for gains from stock options), compared with $7.3 million for their male counterparts (below table). Women averaged $7.6 million in total summary pay (the amount companies book as CEO compensation, including the initial value of options grants) against $6.5 million for the men. The women's 2015 compensation in the two pay categories also bested the men's among U.S. companies alone.
MSCI ACWI Index Companies
Median, average and maximum 2015 pay metric values for male and female CEOs at companies that were constituents of the MSCI ACWI Index in 2015.

It's far from clear, though, that women have achieved pay parity. Over the MSCI ACWI Index's U.S.-based constituent companies for the decade through 2015, the men's options packages (chart below) were superior. A greater percentage of male CEOs than female CEOs were granted options over the period and the average value of those grants was higher (at the grant date) for the men than for the women. That put the men ahead in total compensation. Outside the U.S., the pay of women CEOs still lags that of men.
Frequency and Average Value of Option Grants to Male and Female CEOs
The chart shows the average value and grant frequency for option grants to male and female CEOs of U.S. companies over two periods: 2006-2015 and 2013-2015. Average annual value includes only grants made; zero values are excluded from the calculation. Grant frequency represents the percentage of years served by a CEO in which options were granted. The data set comprises 139 years served by female CEOs and 4,234 years served by male CEOs for 2006-2015, and 48 and 1277 respectively for 2013-2015.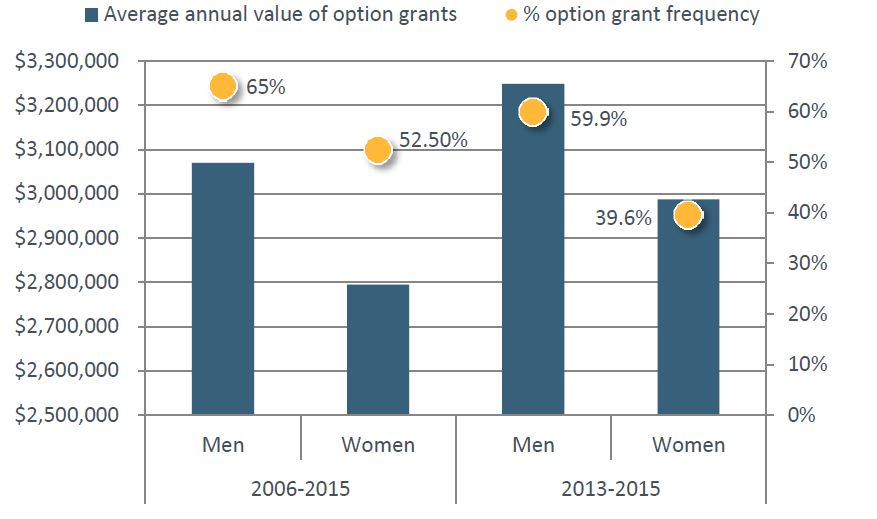 Source: MSCI USA Index; MSCI ESG Research
Further Reading:
Has gender pay parity arrived in the executive suite?
The Tipping Point: Women on Boards and Financial Performance