MSCI Emerging Markets Index
In 1988, MSCI launched the Emerging Markets Index, which consisted of just 10 countries representing less than 1% of world market capitalization. Today the MSCI Emerging Markets Index consists of 24 countries representing 10% of world market capitalization. The Index is available for a number of regions, market segments/sizes and covers approximately 85% of the free float-adjusted market capitalization in each of the 24 countries.

1
As of Dec 31, 2016, as reported on March 31, 2017 by eVestment, Morningstar and Bloomberg.
MSCI emerging markets index allocation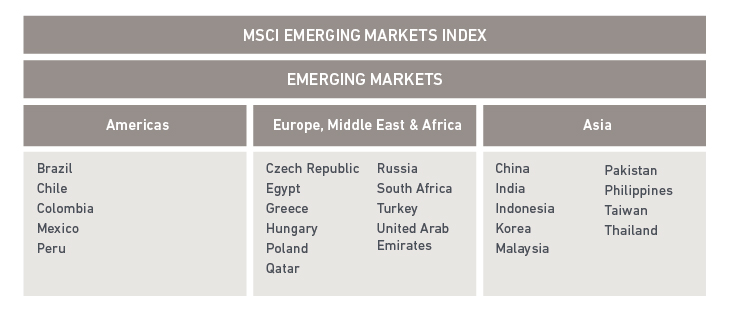 MSCI Emerging Markets reflects the Modern Index Strategy


BRIC represents 47% of the MSCI Emerging Markets Index



MSCI EMERGING MARKETS DAILY PERFORMANCE
Applications
MSCI Emerging Markets Indexes can be used to support:
Asset allocation: Flexibility to analyze broad or focused emerging markets equities exposure.
Performance measurement and attribution: Industry-leading benchmarks for emerging markets equity mandates, with regional and thematic subsets available for more targeted investment mandates.
Research: A trusted source for emerging markets equity performance and underlying security-level data for sell-side research.
Investment product development: May be licensed for use as the basis for structured products and other index-linked investment vehicles, such as Exchange Traded Funds (ETFs) and Exchange Traded Notes.



A Building Block Approach
MSCI Emerging Markets Indexes offer a building block approach with a rules-based, consistent and transparent methodology.
Using MSCI Emerging Markets as a framework to build portfolios helps to avoid unintended bets and risks.
Robust foundation allows investors to measure exposure to all sources of equity returns using a single global framework.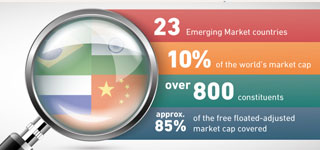 Thinking broadly about emerging markets
Emerging-market equities revived in the first quarter after a rather dismal performance over the past five years. The pickup has left investors to wonder whether the gains might continue and to think anew about how to approach the segment.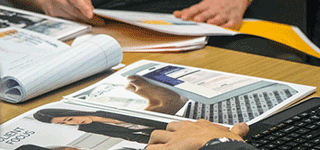 Global Market Report
In this Global Market Report, we examine the latest developments in emerging markets through the lens of the Barra Emerging Markets Equity Model (EMM1).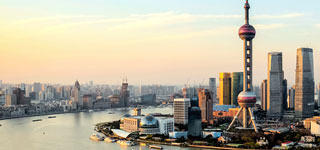 MSCI's 2016 Market Classification Review
Webinar on the results of MSCI's 2016 Market Classification Review, taking place on June 15, 2016.