MSCI ACWI Indexes are designed to measure exposure to all sources of equity returns and serve as tools to meet a wide range of investor needs within a single framework.
A Global Measure for Global Investors
Built using MSCI's modular approach and a rules-based, consistent and transparent methodology, the MSCI ACWI Indexes provide a fully integrated view of the global-equity investment universe. This means coverage with no gaps or overlaps, which allows the indexes to serve as the framework for portfolios that seek to avoid unintended holdings or risks.
The MSCI ACWI Investable Market Index (IMI), for example, captures the full opportunity set of large-, mid- and small-cap stocks across 23 developed and 26 emerging markets, covering close to 8,700 constituents across 11 sectors and approximately 99% of the free float-adjusted market capitalization.
Helping Power Better Investment Decisions
Since the launch of the first MSCI ACWI Index 30 years ago, institutional investors have used these indexes for many purposes.
With more than USD 3.1 trillion in assets benchmarked to MSCI ACWI Indexes, they are the preferred benchmark choice for global equity investors to measure performance and assess risk. 1
MSCI ACWI Indexes may be licensed for use as the basis for structured products and other index-linked investment vehicles, such as ETFs and mutual funds.
MSCI ACWI Indexes serve as the preferred standard benchmark for global mandates with regional, country, sector and other subsets available for more targeted investment needs.
MSCI ACWI Indexes can facilitate sell-side equity research and analysis of index and security performance.
A Global Measure for Global Investors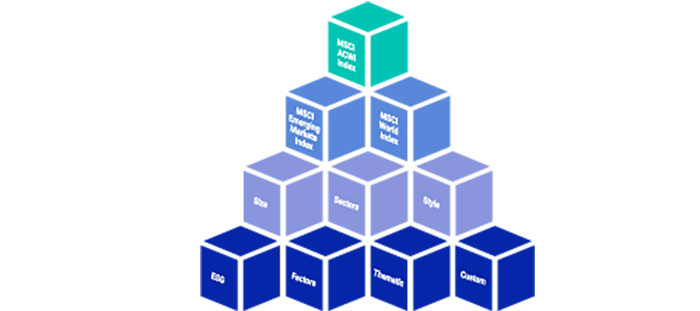 The MSCI ACWI IMI is the standard asset allocation framework from which all other MSCI equity indexes are constructed.
Further, all the MSCI ACWI Indexes employ the MSCI Global Investable Market Indexes (GIMI) methodology and a modular approach that is applicable across geographies and asset classes. It makes it easy to segment a portfolio in multiple ways while maintaining the underlying methodology, as all the data goes through the same rigorous inclusion requirements. Being able to filter by different segments is helpful for identifying which securities drove performance.
Transparent Methodology and Timely Reflection of Market Changes
The GIMI methodology is a comprehensive and consistent approach to index construction that allows for meaningful global views and cross-regional comparisons across all size, sector and style segments and combinations. It aims to provide exhaustive coverage of the relevant investment opportunity set with an emphasis on index liquidity, investability and replicability.
Beyond Size, Sector and Style

The MSCI ACWI Indexes
Click below for further information on each index, including a breakdown of holdings and performance.