We are an international company with a highly diverse global footprint. Diversity, is at our core and inclusion defines our culture. Our people are empowered to maximize their potential in an environment where all individuals are respected and encouraged to bring their authentic selves to work.
This culture drives us to innovate and provide industry-leading solutions that power better investment decisions. Increasing our diversity expands our talent pool which helps accelerate innovation in all we do.
We are dedicated to hiring and promoting qualified candidates who have been historically underrepresented in our industry, including women, ethnic minorities, and those in the LGBT+ community.
Diversity and Inclusion table
As of December 2020, women represented 33% of MSCI's total employees and people of color accounted for 42% of our U.S. employees. By region, 46% of MSCI employees were located in the Asia Pacific region, 24% in Europe, Middle East and Africa, 21% in the U.S. and Canada, and 9% in Mexico and Brazil as of December 2020.
Gender Representation of Global Employees %
| | | | |
| --- | --- | --- | --- |
| SASB Category | Female | Male | N/A** |
| Executive Management | 21% | 78% | 1% |
| Non-Executive Management | 26% | 73% | 1% |
| Professionals | 36% | 63% | 1% |
| All Other Employees | 86% | 13% | 1% |
| Total | 33% | 66% | 1% |
Racial/Ethnic Group Representation of U.S. Employees %
| | | | | | | | |
| --- | --- | --- | --- | --- | --- | --- | --- |
| SASB Category | Asian | Black or African American | Hispanic or Latino | White | Other* | | N/A** |
| Executive Management | 15% | 0% | 11% | 63% | 5% | | 6% |
| Non-Executive Management | 24% | 3% | 6% | 53% | 4% | | 10% |
| Professionals | 37% | 3% | 11% | 42% | 3% | | 3% |
| All Other Employees | 4% | 23% | 46% | 19% | 8% | | 0% |
| Total | 26% | 3% | 9% | 50% | 4% | | 8% |
| | |
| --- | --- |
| **NA%: | Includes those put "decline to disclose" as well as missing data. In the US ethnicity, we have only 5 people missing ethnicity data so virtually all of this is decline to disclose |
| *Other: | Two or more races; Native American or Hawaiian; Pacific Islander |
| Executive Management: | EC and Managing Directors |
| Non- Executive Management: | Executive Director or Vice President |
| Professionals: | Sr. Associate, Associate, Analyst except those in Corporate Services |
| All Other Employees: | Sr. Associate, Associate, Analyst in Corporate Services and Other Administrative employees (assistants, etc) |
Sales Talent Acceleration Program
Sales Talent Acceleration Program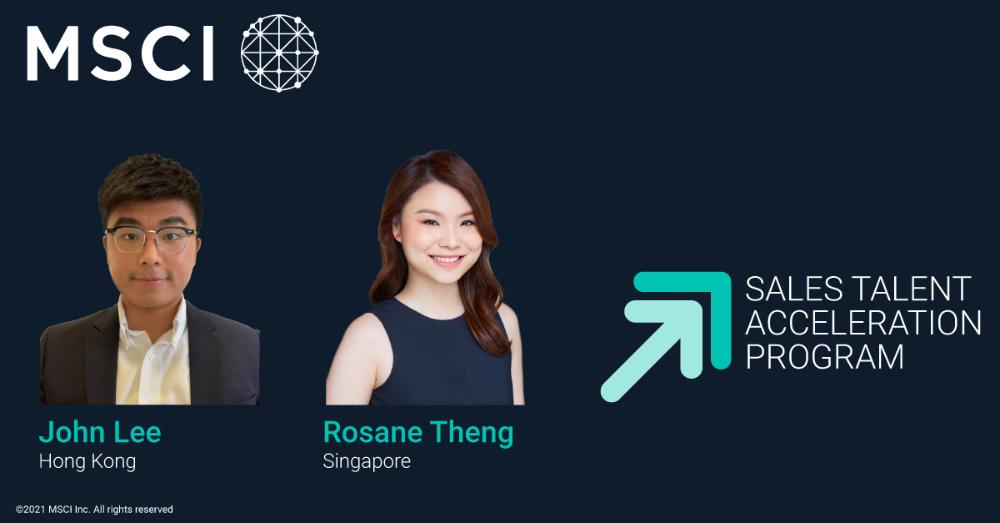 Rosane Theng: "It has been a great learning journey and exposure rotating across various product lines during the program. I had my last rotation with the Index team in Singapore and it expanded my view of the index business and our firm. Working closely with the team, I took part in client calls and worked on a few internal projects. One of the projects involves the launch of the MSCI China A 50 Connect Index and I was excited to share the news with our clients. Having witnessed the launch of the new index, I am proud of our firm's commitment to innovation and serving the global investment community through our products. The program provided me with the opportunity to work with colleagues from all the product lines. I had a great time working with and learning from all my amazing colleagues. With the end of the program, I will be joining the index team and I look forward to contributing to the team."
John Lee: "My final rotation was with the Real Estate APAC team and it brought me to the Private asset side of MSCI's business. During the rotation, I joined meetings with diverse types of clients across the region, and learned about the products ranging from Real Estate Indexes to Climate solutions. I have also participated in some internal projects, such as contributing in the development of new logistics indexes in China and forming strategies on promoting our products to a wider audience. One of the highlights is the acquisition of Real Capital Analytics (RCA) during my rotation. It's exciting to witness the investment put in the business and to understand the long-term vision of the firm. I have been offered a permanent role in ESG, where I would love to continue to grow and make contributions to the team."
Coverage Talent Acceleration Program - 3rd Rotation
Coverage Talent Acceleration Program - Second Launch
Sales Talent Acceleration Program - first rotation wrapup
MSCI celebrates US Black History Month
DCIIA Diversity and Inclusion Awards
Sales Talent Acceleration Program
Partnering with Rare and 100 Black Interns
Celebrating UK Black History Month
Fireside chat for the Latinos in Finance 12th Annual Finance Bootcamp