Jack Lin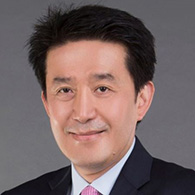 Jack Lin
Head of APAC Client Coverage
Jack Lin, as Head of APAC Client Coverage, is responsible for MSCI's commercial activities in the Asia Pacific region. Jack joined MSCI in May 2018 and is a member of MSCI's Executive Committee.
Jack joined MSCI from Amundi Asset Management, following the acquisition of Pioneer Investments, where Jack served as its Head of Asia Pacific, Middle East and Africa and was a member of the Global Management Committee. Prior to this, he was the Managing Director of Asia Pacific and Co-Chief Executive Officer International of Janus Capital Group. Jack started his asset management career at Franklin Templeton, where he began as a key member of the Templeton Emerging Markets investment team and later managed various businesses including its China Joint Venture and the Asia institutional business.
During a career of more than 20 years in the asset management industry, Jack has built and led investment and research teams and has significant experience managing businesses in key Asian markets including Japan, China, Hong Kong, Taiwan, Singapore, Australia, India and Korea. He started his career as a corporate lawyer with the US-based law firm of Loeb and Loeb in California, USA.
Jack holds a Bachelor of Arts in Economics and Political Science from Vanderbilt University, and a J.D. and an MBA from the University of California, Los Angeles.
Related Content - Our Leadership
We use cookies to optimize site functionality and give you the best possible experience. Learn More
cookiebar.preferences-title
cookiebar.accept-all-text
cookiebar.other-information-text