Linda S. Huber
Linda S. Huber Image & Designation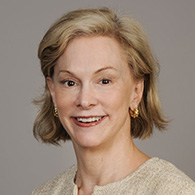 Linda S. Huber
Chief Financial Officer
Linda S. Huber Bio Description
Linda S. Huber, as Chief Financial Officer, leads the company's global finance and investor relations functions. Linda is part of MSCI's Executive Committee. Linda joined MSCI in April 2019.
Linda previously served as the Chief Financial Officer of Moody's Corporation from May 2005 to June 2018 where she had executive responsibility for the company's global finance activities, information technology, strategy and corporate development, communications and corporate services functions, as well as Moody's Analytics Knowledge Services (formerly Copal Amba) and the Moody's Foundation.
Prior to joining Moody's, Linda held several increasingly senior roles in financial services, having served as Executive Vice President and Chief Financial Officer at US Trust Company, a subsidiary of Charles Schwab & Company, Inc., Managing Director at Freeman & Co., Vice President of Corporate Strategy and Development and Assistant Treasurer at PepsiCo., Vice President in the Energy Investment Banking Group at Bankers Trust Co. (now part of Deutsche Bank), and an Associate in the Natural Resources Group at The First Boston Corp. (now Credit Suisse). Linda also held the rank of Captain in the US Army, and from 1980 to 1984, she held positions as company commander and was airborne qualified. Linda currently serves on the board of directors of the Bank of Montreal.
Linda holds a Bachelor of Science degree in Business and Economics from Lehigh University and an MBA from Stanford University. Linda lives in New York City and has four children.
Related Content - Our Leadership

Related Content
Our Leadership
Our senior leadership team is comprised of highly experienced executives from diverse backgrounds.
Learn More
cookiebar.preferences-title
cookiebar.accept-all-text
cookiebar.other-information-text