MSCI WMA private investor index series
MSCI WMA private investor index series
MSCI is the sole authorised index provider behind the Wealth Management Association (WMA) Private Investor Index Series. The series consists of five composite indices designed to represent the weightings and show returns of selected multi-asset-class strategies, determined by the WMA Private Investor Indices Committee:



The indices include weightings of equities, bonds, real estate "cash" and "alternative" investments in proportions that reflect the longer-term objectives for each strategy. The weightings are determined by the WMA Private Indices Committee, which is responsible for regularly surveying WMA members and reflecting in each index the industry's collective view for each strategy objective. The index weightings are updated when the Committee determines that strategy changes across the industry warrant a review.
The result is a suite of indices that can be used as benchmarks to compare the performance of portfolios that have investment objectives similar to the strategy represented in the respective index.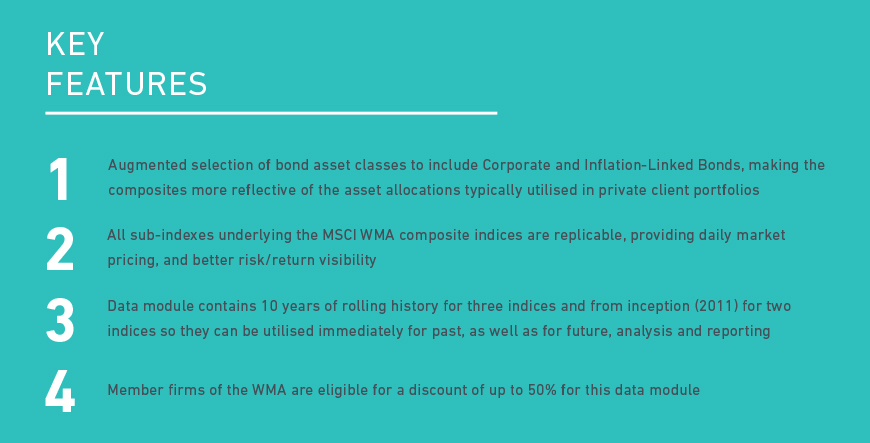 MSCI WMA Private Investor Indices Data Module
Performance, Factsheets and Methodology
Contact us
To contact an MSCI representative to discuss your index data requirements.
Please e-mail us at: WMA@msci.com or call us on: +44 20 7336 4783
Index licensing
View all Exchange Traded Products, including ETFs, ETNs, Futures and Options, linked to MSCI indexes.
MSCI Multi-Asset Indexes: dynamic planner module
MSCI Multi-Asset Indexes: dynamic planner module
MSCI has launched a new data module within our growing range of multi-asset class (MAC) indexes.