ESG Research Shows Benefits of Gender Diversity on Boards
Gender diversity on corporate boards is gaining momentum around the world against a backdrop of more inclusive leadership in government and industry.
In early November, Prime Minister Justin Trudeau gave Canada its first cabinet with equal numbers of men and women, keeping a campaign promise that had helped sweep his party to victory. In March 2015, Germany mandated a minimum of 30% female representation on the boards of its largest companies by next year; boards in Norway and France already surpass that number. A national campaign in the United States called 2020 has a more modest goal: 20% women directors by 2020.
While the political and commercial impetus for these changes may be clear—women make up more than half the world's voters and consumers—how have companies with women on the board of directors performed?
Our latest research indicates that companies in the MSCI World Index with strong female leadership generated a Return on Equity of 10.1% per year versus 7.4% for those without, as of September 9, 2015. The study did not find a direct causal link between women directors and better outcomes. Management and social psychology research, however, has long shown that groups with more diverse compositions tended to be more innovative and made better decisions. According to our study, companies managed with greater gender diversity tended to suffer less governance-related controversy than the average.
We define "strong female leadership" as the presence of three or more women on a board, or as its having a higher percentage of female directors than the average in its country.

Percentage of companies with "strong female leadership" (three or more women on boards), 2015


Among the companies of the MSCI World Index as a whole, women made up just 18% of the directorships; the United States, at 19%, was not much better. Based on current trends, the companies of the index will not reach the goal of 30%, set by CalPERS and other major institutional investors, until 2027.

Our study also shows how two possible approaches could speed that process:
Accelerated conversion: Double the proportion of new seats filled by women; this would meet the 30% target by 2021
Accelerated turnover: Increase the number of seats that change per year; this could meet the target by 2020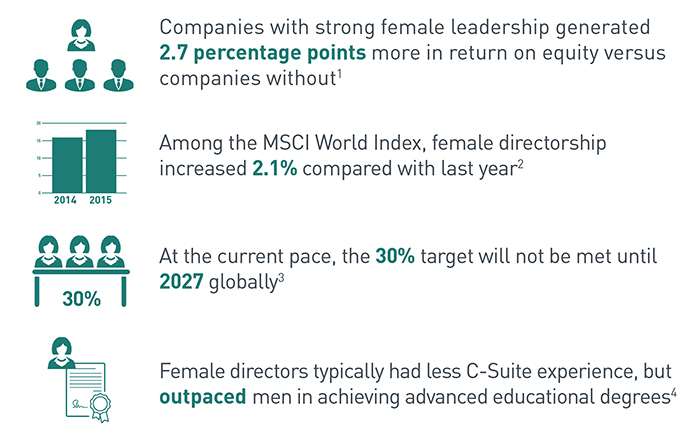 1 on an equal weighted basis as of September 9, 2015 causality could not be establish
2 includes 1,618 companies on the MSCI World Index as of August 15, 2015
3 global advocacy groups are calling for women to comprise 30% of boards
4 MSCI ESG Research as of August 15, 2015

For further information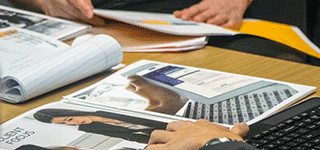 Women on Boards
New MSCI study reveals global trends in gender diversity on corporate boards.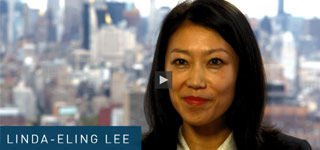 MSCI ESG Research
Linda-Eling Lee, Global Head of ESG Research, describes how MSCI brings consistency, transparency and reliability to ESG investing.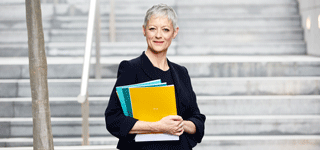 Recent Trends in Women on Boards
Recent mandates and regulations are boosting the ranks of women on corporate boards in many global markets.