ESG投资者的漫漫长途已经开始,有很多人也开始支持这个长征1。我们2019年要关注的五个ESG趋势中的每一个,都包含可能被忽视的成本和机遇。
其他贸易战:塑料废弃物
从2018年1月1日起,中国停止接收24种固体废物,其中包括最普遍的出口塑料废弃物,中国向全球废物贸易发出冲击2。 在中国做出决定之后,出口国家纷纷争先恐后地寻找新的废弃物市场,并且有些国家正在认真考虑制定减少废弃物的规定。
MORE COMPANIES WILL POTENTIALLY BE EXPOSED TO PLASTIC AND PLASTIC-RELATED REGULATION BEYOND THE OBVIOUS INDUSTRIES
(Click on each sub-industry's bar to view a company example)
2019年,我们认为公司以及投资者必须强迫自己接受新的事实,即减少废弃物不再是市场营销战略,而是一个商业挑战。
公司们已经注意到, 2018年在公司财务电话会议中提到的"塑料废弃物"的数量与2017年相比增加了340%3。而且,除了这些明显被波及的行业外,我们分析了MSCI USA IMI的2,450个成分股公司的监管文件(截至2018年12月12日)4,找到了多达12个与该话题相关的行业,包括农产品和办公服务及用品。虽然世界的目光集中在贸易战,但全球的废弃物战争才刚刚开始。
监管ESG投资业务
大多数与ESG相关的法规都针对发行人。事实上,到2018年,在全球范围内针对发行人的法规的数量都超过针对投资者的数量,比例差不多在2.5比15 。在2019年,剧情可能会翻转。随着监管机构加大对ESG投资业务的审查力度,投资者们(包括资产所有者和资产管理者)可能会看到这一领域(监管ESG投资业务领域)的需求不断上升。我们估计,截至2018年,有 32.6万亿美元的被管理资产可能会受到待讨论的法规或正在讨论中的法规的约束6。
机构投资者准备好了吗?他们怎么应对?
投资者可能会发现,有许多旨在厘清投资者(主要是大型资产所有者)和其他金融机构的角色和职责的措施是有用的,因为这些措施表面上减少了他们在投资过程中对ESG处理的预测。但是就ESG投资产品进行分类的行为,投资者,尤其是资产管理人,他们的反应可能更加模棱两可和充满争议。
不再遥远的未来——气候危机
最新的政府间气候变化专门委员会关于全球变暖影响的报告发现,全球排放量必须要在2030年之前达到峰值。7
这一发现使投资者需要在一个时间线上,考虑加速的碳排放转型和加速的气候风险来决定2019年的投资组合,有时要在他们投资之前。房地产等私人资产尤其可能受到影响。
从MSCI综合房地产数据中,我们发现在200个佛罗里达邮政编码中的456个商业房地产资产中,有 51%的资产处于海平面上升的前线中, 其市场价值达到 220亿美元 8。其中五分之一(20%)的房产位于洪水易发的地区,且建造于2000年之后,这意味着这些资产可能会在其使用寿命结束前受到海平面上升的影响 。9
Florida will have different risks and opportunities as sea level begins to inundate coastlines over the next decades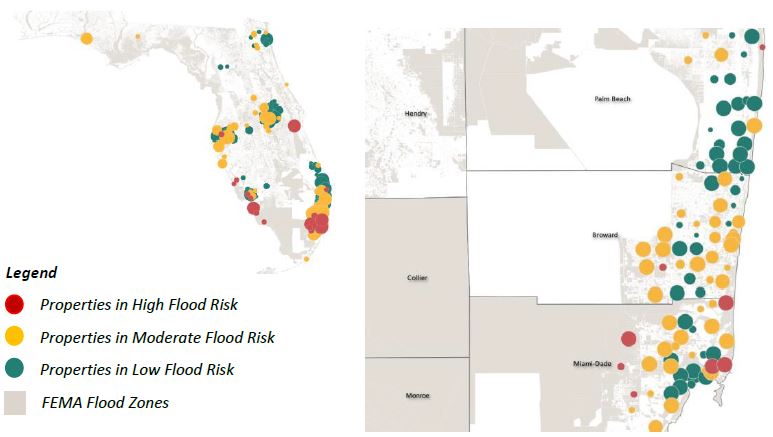 然而,它可能不会全是厄运和沮丧。一些精明的投资者已经看到了气候变化的影响,从拥有水权10 的土地或有更长生长季节的农田11获利。
大信号革命
彼得·林奇的《彼得·林奇的成功投资》中有句著名的话 "知道你拥有什么",而下半部分"以及你拥有它的原因"却经常被蒙上阴影 。12
"大数据"革命使得投资者对自愿性公司披露的依赖程度降低,因为来自其他来源的ESG信息的范围在快速扩大,速度远远超过自愿披露的改进。
但仅靠数据可能无法解决林奇先生的格言的后半部分 "以及为什么你拥有它"。而正是这个问题,才能够最好地帮助投资者理解所有这些数据,并提取最相关的信号。
在我们展望MSCI ESG评级的下一个十年时,拥有更多数据将是最简单的部分。而艰难却又重要的部分将是了解如何识别和应用最相关的指标,以提供越来越相关的评级和研究。
透明时代的领导者
众所周知,企业领导人与其员工,市场和政府之间的隔阂解体并未将领导层暴露于声誉损害之下,但是它让投资者面临新的风险敞口。
但在2019年,我们预计投资者将在丑闻发生后停止询问,"董事会知道什么,他们什么时候知道?",而是在丑闻爆发前开始询问"我的权利是什么?"。
这很重要,因为即使在丑闻发生后,一些公司似乎也不会做出改变。从2015年MSCI ACWI指数中2,675家公司的不当行为或其他领导力争议数据中,我们发现,平均而言,在接下来的三年内,处在 "投资者影响力"末位三分之一的公司只有49%的董事会和14%的CEO被取代,而那些投资者影响力更大的公司则有58%的董事会和44%的CEO被取代。
Company responsiveness to controversies varies by level of investor influence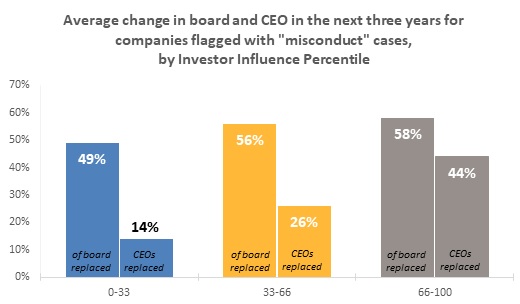 Source: MSCI ESG Research, MSCI ACWI Index constituents, as of Dec. 31, 2015
"担心的那一天"已经到来
无论是在塑料废弃物的贸易战,新法规还是透明度时代的领导者,ESG投资者的趋势都有一个共同点,今天的行动可以在明天产生影响。
(本文原文为英文,原文请阅 https://www.msci.com/www/blog-posts/esg-trends-to-watch-in-2019/01225995404 )
1 https://www.plansponsor.com/institutional-investors-bracing-continued-market-volatility-2019/
2 https://resource-recycling.com/resourcerecycling/wp-content/uploads/2017/07/CHN1211.pdf
3 Seeking Alpha, MSCI ESG Research
4Screening criteria (a) more than 3 companies in GICS-sub industry (b) 25% or more companies in the GICS sub-industry with greater than 10% exposure to the plastic related keywords in through company 10-Ks, focusing on the pertinent sections of the reports: Business, Risk Factors, Management's Discussion, Analysis of Financial Condition and Results of Operations. Notably two GICS sub-industries that didn't meet the minimum companies in industry screening criteria but had high exposure and 100% companies exposed to these issues were (1) brewers and (2) housewares & specialties.
5 See PRI's regulation map updated and complemented by MSCI ESG Research
6 Data from 2017 and 2018 using most recent available. Covers China, Canada, South Africa, Japan, European Union members and South Korea. Sources: PricewaterhouseCoopers, Boston Consulting, Investment Funds Institute of Canada, Nomura Research and Korea Herald.
8https://www.globalchange.gov/browse/multimedia/south-florida-uniquely-vulnerable-sea-level-rise
9 Uses the average lifespan of a commercial property estimated at 50 years.
10 https://www.wsj.com/articles/harvard-quietly-amasses-california-vineyardsand-the-water-underneath-1544456396
11http://www.agr.gc.ca/eng/science-and-innovation/agricultural-practices/climate-change-and-agriculture/future-outlook/climate-change-scenarios/length-of-growing-season-in-ontario/?id=1363033977515
12Lynch, P. (1989). "One Up on Wall Street: How to Use What You Already Know to Make Money on the Market." New York, NY. Simon & Schuster.