Emerging markets hero image

MSCI Emerging Markets Index intro
MSCI Emerging Markets Index
Emerging markets have long captured the imagination of investors and continue to transform the global investment landscape. Since the launch of our pioneering Index in 1988, allocations to these emerging economies have proved both rewarding and challenging. At MSCI, we strive to bring transparency to these dynamic yet disparate economies. Together, our rigorous research, high quality data, analytics, and decision-support tools aim to help our clients assess risk, manage portfolios more efficiently and deliver better outcomes for their stakeholders.

Download the MSCI Emerging Markets Index Brochure



Will emerging markets remain a distinct asset class? Do they represent an essential portfolio allocation for international investors? Read the latest research from our experts who examine the challenges and opportunities investors face today in managing their EM allocations.

Read our latest research paper
MSCI Emerging Markets Index
MSCI emerging markets index allocation


MSCI Emerging Markets – Country Weights*
*Data as of March 29, 2019.

MSCI Emerging Markets reflects the Modern Index Strategy

MODERN
Evolves to measure and capture equity markets as they exist today. Our indexes are built using an innovative maintenance methodology that provides superior balance between the need for a stable index that is flexible enough to adjust quickly to a constantly changing opportunity set. We provide timely and consistent treatment of corporate events and synchronized rebalancings, globally.

SEAMLESS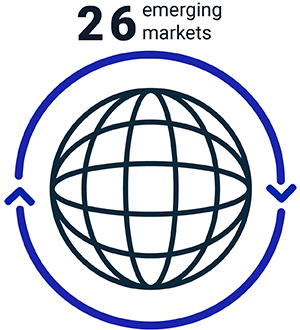 Covers the full opportunity set and all its segments, including GICS® sectors. All of MSCI's indexes are created using the Global Industry Classification Standard (GICS®), an industry classification system developed by MSCI and S&P Global, which provides a common framework to classify stocks. They offer exhaustive coverage of the investable opportunity set with non-overlapping size and style segmentation.

INTEGRATED
Consistent methodology for every market. Where other providers use either a long- or short-term liquidity measure to assess the eligibility of stocks for their indexes, MSCI uses both, recognizing the differences in liquidity between developed and emerging markets and enhancing the investability and replicability of our indexes. MSCI puts strong emphasis on investability and replicability of its indexes through the use of size and liquidity screens.


A Building Block Approach

Our building block approach
MSCI Emerging Markets Indexes offer a building block approach with a rules-based, consistent and transparent methodology.
Using MSCI Emerging Markets as a framework to build portfolios helps to avoid unintended bets and risks.
Robust foundation allows investors to measure exposure to all sources of equity returns using a single global framework.
MSCI EMERGING MARKETS DAILY PERFORMANCE
The future of emerging markets
The future of emerging markets
For the past 30 years, emerging markets have enhanced returns and created risk diversification opportunities for global equity investors. Partial inclusion of Chinese A shares is likely to transform the equity segment and its role in global portfolios. How have emerging markets evolved and what might their future look like?
Global market report
In this Global Market Report, we examine the latest developments in emerging markets through the lens of the Barra Emerging Markets Equity Model (EMM1).
MSCI 2018 market classification review
MSCI 2018 market classification review
MSCI announced the inclusion of the Saudi Arabia and Argentina in the MSCI Emerging Markets Index beginning June 2019.