Tia Counts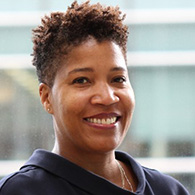 Tia Counts
Chief Responsibility and Chief Diversity Officer
As MSCI's Chief Responsibility Officer, Tia oversees MSCI's corporate responsibility policies, practices and initiatives, a role which includes guiding the company to achieve its net-zero greenhouse gas emissions goals. As Chief Diversity Officer, she drives the diversity, equity and inclusion (DE&I) strategy for the firm and aligns DE&I goals with MSCI's business outcomes. She also leads culture transformation and employee engagement for the firm.
Tia, a managing director, combines a legal background and extensive experience navigating the financial regulatory and governance terrain of the U.K. and EU to build and scale procedures and operations supporting MSCI's global business objectives.
Previously, Tia developed and drove DE&I strategy as the global head of diversity and inclusion for J.P. Morgan's global asset and wealth management business and as the head of advancing Black pathways for the firm's corporate and investment bank business globally, and for all businesses in Europe, the Middle East and Africa. She also served as a lawyer and revenue producer specializing in derivatives at Morgan Stanley in New York and London. She began as a corporate finance attorney specializing in debt capital markets.
Tia earned her Bachelor of Arts in Sociology and Spanish from the University of California, Berkeley and her Juris Doctor from Columbia Law School. A native of Los Angeles, she currently resides in London.
Tia Counts - Related content