Corporate responsibility
Corporate Responsibility page hero
Our COVID-19 Response
In times of global crisis and market volatility, MSCI seeks to provide an anchor of stability and structure for our stakeholders. While none of us can control what is happening with the current pandemic or its impact on the markets, we are here to help you better understand and manage the potential risks and opportunities you may face.
Our first priority is ensuring the health, safety and wellbeing of our clients and our employees. MSCI has taken prudent steps to ensure a healthy and productive working environment including:
Reinforcing our infrastructure to support a virtual workforce
Converting client events to virtual experiences
Eliminating business travel
We are constantly monitoring our business continuity plans to ensure the continued operation of critical products and services, and we are confident in our ability to deliver them without interruption. For more details click here.
We have also created a dedicated website to support the investment community and our clients with enhanced insights and data on the market volatility issues facing investors during the pandemic. https://www.msci.com/coronavirus
Corporate responsibility at MSCI
Our commitment
Our purpose
Our people
Our integrity
Our community
Our environment
MSCI Principles of Sustainable Investing intro
Our Principles of Sustainable Investing
MSCI has published "The MSCI Principles of Sustainable Investing," a framework designed to illustrate specific, actionable steps that investors can and should undertake to improve practices for ESG integration across the investment value chain. The framework includes three core pillars to full ESG integration:

Investment Strategy: Asset owners should integrate ESG considerations into their processes for establishing, monitoring and revising their overall investment strategy and asset allocation.
Portfolio Management: Portfolio managers should incorporate ESG considerations throughout the entire portfolio management process, including security selection, portfolio construction, risk management, performance attribution and client reporting.
Investment Research: Research analysts assessing companies and issuing investment recommendations to portfolio managers should integrate ESG considerations (including ESG company ratings) into their fundamental company analysis.
"The need for a set of guidelines that will help all investment institutions manage emerging opportunities and inherent risks associated with ESG considerations in pursuit of long-term, sustainable investment performance has never been greater. MSCI is fully committed to helping investors make better decisions for a better world, and our Principles of Sustainable Investing play a part towards achieving that mission."
Henry Fernandez, Chairman and CEO
Corporate Responsibility Committee
Corporate Responsibility Committee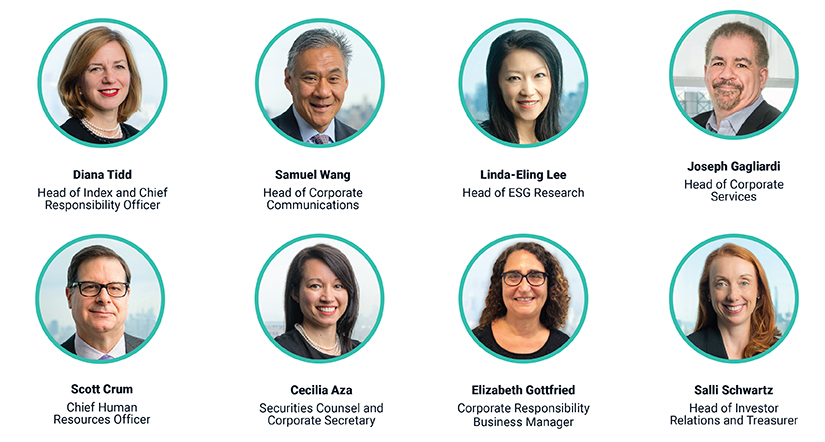 "We believe, and our research shows, that sound ESG practices are linked to better business results. At MSCI, we are deeply committed to being a leader in corporate responsibility and providing the global financial community with innovative products and services that power better investment decisions for a better world."
Diana Tidd, Head of Index and Chief Responsibility Officer
Corporate Responsibility Our Commitment
Our commitment to corporate responsibility
Diana Tidd, MSCI's Chief Responsibility Officer, leads our Corporate Responsibility Committee in its efforts to implement practices and policies that are most meaningful to our clients, shareholders and employees and underscore MSCI's position as a leader in corporate responsibility.

Governance

To ensure guidance and support at the highest level, MSCI's Board of Directors' Nominating and Corporate Governance Committee receives regular reports on corporate responsibility and sustainability efforts. Additionally, the Board's Compensation & Talent Management Committee helps to develop and oversee many of MSCI's social programs and practices, including talent management and diversity and inclusion.

Five pillars of corporate responsibility

Our commitment to corporate responsibility is embodied in five pillars: Our Purpose, Our People, Our Integrity, Our Communities and Our Environment.

Our purpose

We create innovative products and services that power better investment decisions. We provide investors with critical performance measurement and risk management data and analytics. Through our environmental, social and governance (ESG) research and applications, we deliver insights, analytics and tools to support investment processes that incorporate sustainability considerations.
Our people

Our people power our business – their success is our success. MSCI is committed to creating a performance culture of high employee engagement where every employee takes personal ownership and responsibility for their performance, career and professional growth. Our talent and leadership development programs are designed to ensure we have the leadership and talent pipeline in place to deliver on MSCI's strategy, and our diverse workforce and inclusive work environment are critical to our success.
Learn more about our commitment to diversity and inclusion and our talent programs

Our integrity

Our integrity is the framework for how we do business. We expect employees at all levels to meet the highest standards of business conduct, which are embodied in our Code of Business Conduct and Ethics, and to comply with all applicable laws and regulations. We also expect our suppliers to act consistently with our corporate values and in accordance with our Supplier Code of Conduct.
Learn more about our compliance program

Our communities

We believe that we have a responsibility to bolster the communities in which our employees live and work. Our various social responsibility initiatives make a big impact on our communities, such as employee-driven volunteerism, participation in numerous charitable events and corporate-level sponsorships and giving through our charitable match program.
Learn more about our commitment to our communities

Our environment

Sustainability of our environment is a top priority. While our environmental impact as a financial services company is relatively small, we have taken actions through our day-to-day operations to implement initiatives to reduce our impact on the environment. We remain committed to continuing to develop, adopt and monitor climate and carbon-related strategies to even further reduce our environmental footprint.
Corporate Responsibility our mission
Our purpose
We create innovative products and services that power better investment decisions. We provide institutional investors with critical performance measurement and risk management data and analytics.
MSCI has been at the forefront of providing data, research and other tools to help enable ESG integration across the whole investment process and is committed to further advance solutions to facilitate and accelerate sustainable investing. Our research, ratings, indexes, models and portfolio analytics empower the world's largest and most sophisticated investors in their drive to integrate ESG considerations into their investment processes. MSCI also promotes ESG transparency across the investment value chain by making publicly available our ESG ratings of the most commonly owned companies worldwide, as well as our methodologies for determining ESG company ratings and constructing ESG indexes.
MSCI urges all investors globally to more readily integrate Environmental, Social and Governance (ESG) considerations throughout their investment processes if they are to mitigate the risks and identify the opportunities of a rapidly changing world and contribute to an effective and balanced transition towards a sustainable economy. MSCI has published "The MSCI Principles of Sustainable Investing," a framework designed to illustrate specific, actionable steps that investors can and should undertake to improve practices for ESG integration across the investment value chain.
Through our environmental, social and governance ("ESG") research and applications we deliver in-depth research, ratings and analysis of the environmental, social and governance-related business practices of over 7,500 companies (13,500 issuers including subsidiaries) worldwide. Our research provides critical insights that can help institutional investors identify risks and opportunities that can impact the performance of their investments. As of September 30, 2019, MSCI ESG Research was used by over 1,300 investors worldwide. By helping our clients pursue sustainable and socially responsible investing strategies, our role is important in facilitating investment decisions that can ultimately lead to a better world.
MSCI ESG Research has worked with institutional investors for more than 20 years to enable them to incorporate climate change considerations in their investment process by providing an extensive climate risk assessment and reporting offering, providing global investors with solutions to help them better understand the impact of climate change on their investment portfolios.
We continue to expand our product range, serving global investors with climate change solutions. MSCI's recent acquisition of Carbon Delta1, which is a global leader in climate change scenario analysis, strengthens our suite of climate risk capabilities with technology that supports climate scenario analysis and forward-looking assessment of transition and physical risks, as well as extensive company-level analysis of publicly traded companies globally. More information on our climate change solutions.
Our team of experts are focused on in-depth research, ratings and analysis of the environmental, social and governance-related business practices of thousands of global companies. Products, services and insights that help investors adopt an ESG investing strategy include:
MSCI ESG Research provides MSCI ESG Ratings for nearly 14,000 companies. In November 2019, MSCI ESG Research made the ESG Ratings of over 2,800 companies publicly available, allowing investors to identify ESG leaders and laggards according to their exposure to ESG risks and how well they manage them relative to peers. This new feature is part of our mission to help investors, companies and other industry stakeholders identify the most financially relevant ESG risks and opportunities by driving greater transparency and offering investors access to dynamic, AI-enabled ESG data and insights.
MSCI ESG Research covers over 32,000 mutual funds and ETFs. MSCI ESG Fund Ratings measures the ESG characteristics of portfolio holdings and rank of screen funds based on diverse factors including sustainable impact, values alignment and ESG risks. In support of the trend towards greater investment transparency, by April 30, 2020, MSCI will also make public the ESG characteristics of all MSCI Equity Indexes and of the most commonly owned mutual funds.
To help investors identify the extent of companies' involvement in activities with positive social and environmental impacts, MSCI ESG Sustainable Impact Metrics allows investors to identify companies with products or services that address at least one of the major social and environmental challenges as defined by the UN Sustainable Development Goals.
In December 2018, MSCI and the OECD announced a collaboration to help institutional investors achieve UN Sustainable Development Goals (SDGs), by producing a joint research paper "Institutional Investing for the SDGs". The aim of the paper is to facilitate a discussion among market participants and stakeholders about the role of institutional investors in implementing UN SDGs into their strategies.
To broaden access to our ESG research, we partnered with wealth managers and ETF providers to distribute our MSCI ESG Research to retail investors, such as providing ESG fund scores on self-directed investing platforms offering ESG-screened funds and licensing our indexes as the basis of ETFs that integrate ESG considerations.
To support investor ESG engagement, MSCI ESG Research published a series of research papers called "Foundations of ESG Investing" and provides training programs, speaks at events and conferences, and through the MSCI Client Advisory Panel provides a global forum to exchange ideas, innovate, share best practices and help produce standards that might benefit the industry;
To enable investors to incorporate ESG beliefs throughout the entire investment process (asset allocation, portfolio construction, risk management, performance attribution), we integrated MSCI ESG ratings, data and indexes2 into most of our analytics portfolio and risk management systems. For additional information, please see our ESG investing page.
To help institutional investors benchmark ESG investment performance, issue index-based investment products, as well as measure and report on ESG mandates, we constantly innovate our ESG index products.
To support real estate owners, managers and brokers we publish a number of Green Property Indexes based on assets which have a green building certificate. We have published a research paper on the effects of climate change on real estate assets.
In September of 2019, MSCI sponsored PRI in Person in Paris, which had climate change as its top theme. PRI is the leading global conference on responsible investment which attracted over 1,800 attendees from around the world. At MSCI's sponsorship booth, we featured a tree-planting initiative in partnership with One Tree Planted, a non-profit organization focused on planting trees around the world. For each of the 80 business cards we received, a tree was planted.
MSCI also participated in Climate Week NYC, from September 23 to 29 2019, which kicked off this year with the UN 2019 Climate Summit. Climate Week has come to represent an annual milestone for climate commitments among investors, businesses policymakers and other stakeholders.
Recent Product launches:
MSCI Climate Change Indexes (June 2019)
ESG Fund Ratings (July 2019) – Fund-level ESG transparency
ESG Ratings Badges issued for corporates (August 2019) – Transparency & Corp. engagement
MSCI Provisional Climate Change EU Climate Transition and EU Paris-Aligned Indexes, designed to reflect the minimum requirements for EU climate benchmarks contained in the final TEG report on a provisional basis (November 2019)
Recent recognition illustrating our ESG influence includes:
Voted #1 in 13 categories of the 2015, 2016, 2017 and 2018/19 IRRI Surveys including Best Firm for Socially Responsible Investment Research, Corporate Governance Research and Indices and Benchmarks.
Awarded the Gold Standard Data Provider from the Deep Data Delivery Standards in 2016 Deep Data Delivery Standard.
In 2018, Barron's named Linda-Eling Lee, our Global Head of ESG Research, one of the 20 most influential people in ESG investing.
In 2018, Veronique Menou, the Global Head of Stakeholder Engagement and Issuer Communication for MSCI ESG Research, joined the European Commission's Technical Expert Group on Sustainable Finance.
Linda-Eling Lee has been selected by the CFA Institute to join their ESG Working Group for 2020
Stuart Doole will join the 2nd Ad-Hoc Working Group (AHWG) Meeting EU Ecolabel Criteria for Retail Financial Products,
MSCI is a member of FCLTGlobal, an independent not-for-profit organization that works to encourage a longer-term focus in business and investment decision-making. We are also a proud signatory to the UN-backed Principles for Responsible Investment, as well as the Institutional Investor Group on Climate Change (IIGCC).
2MSCI ESG Indexes and MSCI Analytics utilize information from, but are not provided by, MSCI ESG Research LLC. MSCI Equity Indexes are products of MSCI Inc. and are administered by MSCI UK Limited
CSR infographic separator
Corporate Responsibility - Our People
Our people
Promoting diversity and inclusion

MSCI is committed to developing a culture and employee workforce that has the skills and capabilities necessary to allow us to excel as an innovative provider of content, applications and services, and also reflects the clients and the communities in which we operate.
Increasing our diversity expands our talent pool which helps to accelerate innovation in all we do. Inclusion is highly correlated to driving engagement at MSCI which drives company performance and shareholders' value creation. We are dedicated to hiring and promoting qualified candidates historically underrepresented in our industry, including women, ethnic minorities and those in the LGBTQ community. From the composition of our Board of Directors (30% female) and management team to our diversity and inclusion programs, we are deeply committed to global diversity and an inclusive culture where people can be their authentic selves. In 2020, 45% of our Managing Director Promotions were Female.
Diversity and inclusion initiatives

We continuously strive to support diversity. The Executive Diversity Council (EDC), led by our Jorge Mina, Head of Analytics and a member of the Executive Committee, and comprised of 21 employees representing 14 offices across 11 countries to champion a diverse and an inclusive MSCI culture by providing counsel on corporate initiatives and facilitating collaboration across the company. In 2019, EDC members conducted events around the globe focused on all types of diversity. In addition, our Board of Directors' Compensation & Talent Management Committee, at least annually, reviews our diversity and inclusion programs and initiatives, which in 2019 included: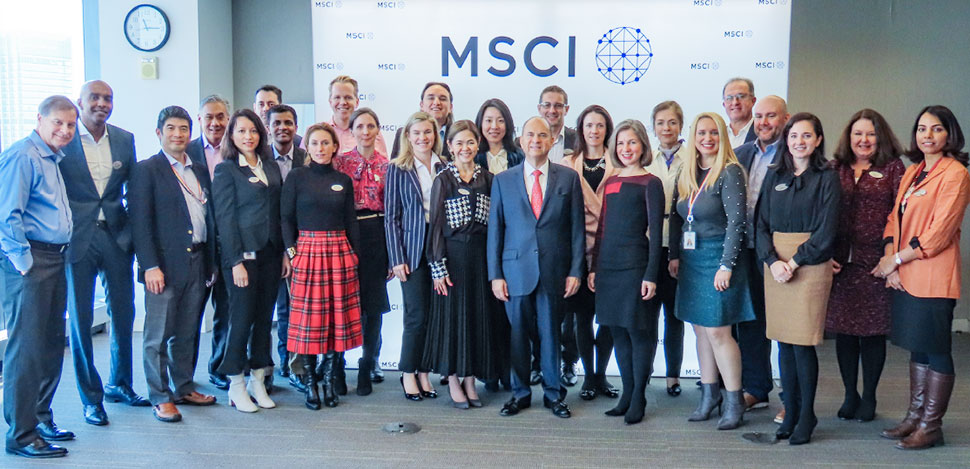 Our annual diversity and inclusion summit

The CEO, President, Chief Operating Officer and other Executive Committee members sponsored MSCI's annual Diversity and Inclusion Summit attended by high performing women, MSCI Pride leaders and members of the Executive Diversity Council.
Mentoring Initiatives

In 2019, we launched our Global Mentorship Steering Committee whose mission is to support existing mentorship efforts and to facilitate the creation of additional mentorship programs globally across MSCI. The committee recently launched an Americas Mentorship Program that spans four countries as well as 11 offices and that boasts a 21% participation rate across the region. The committee is also working to launch similar programs in EMEA and APAC in early 2020.
In addition, participants in our Women's Leadership Summit participate in a formal sponsorship/mentorship program in which Executive Committee and Managing Directors at the firm participate as sponsors and mentors.
Community outreach

MSCI sponsors many outstanding organizations with diversity and inclusive missions, including:
For a fourth year, we sponsored Pencils of Promise, a global organization that builds schools and creates programs around the goal of education for all.
For a second year, we sponsored Oliver Scholars, which prepares high-achieving Black and Latino students from underserved New York communities for success at top independent schools and colleges.
For a fourth year, MSCI sponsored the Latinos in Finance 10th Annual Finance Bootcamp which educates students on finance careers to expand the pipeline of Latino professionals.
Employee resource groups

MSCI sponsors three employee resource groups and we will build on this foundation to further a highly inclusive and diverse culture. The groups are the Women's Leadership Forum, MSCIPRIDE, and Eco-Groups.
Women's leadership forum
Guided by a leadership team of five women that includes the Head of Index and Chief Responsibility Officer, the Women's Leadership Forum ("WLF") promotes awareness and provides leadership skill development. The WLF mission is "Inspiring and Encouraging Leaders".
22 chapters across 15 countries, headed by 45 women leaders
In 2019, transitioned WLF actions from "events" to "business impact":

APAC Walk to Network event around International Women's Day in March 2019 inviting clients to join
Co-hosted events with external partners such as PRMIA and Catalyst
Launched speaker training for increased female visibility and representation at key external events

MSCI is a Silver level corporate sponsor of Women in ETFs (WE)
MSCI is a sponsor of Catalyst, a leading non-profit working to "remove barriers and drive change… and advance women into leadership."
MSCIPride
MSCIPride, established in 2018, is our Employee Resource Group for LGBTQ employees and supporters.
MSCIPride hosted more than 40 events globally in 2019, including more than 25 local office celebrations of Pride Month as well as educational and some client networking events to mark the 50th anniversary of the Stonewall Riots.

In 2019, MSCI also became a member of out Leadership, which is a global LGBT+ business network for CEOs and multinational companies that runs global executive events, research, and talent accelerators.
Eco Groups
As part of the company's Corporate Responsibility efforts, in 2019, the MSCI Eco Group employee resource group was launched to educate and increase awareness of critical environmental issues and challenges. Global, regional and local chapter heads were created to drive these initiatives through events, communications and implementing eco-friendly best practices.
Awards
In Japan, MSCI was awarded the highest level Japan Eruboshi Certificate in 2019. Issued by the Japanese Government, this certification recognizes a company's commitment to diversity initiatives and the advancement of women in the workplace.
MSCI's Norman office was recently certified as a 2019 Oklahoma Family Positive Workplace. The certification was granted by the Potts Family Foundation, a non-profit, as part of their OK 25 by 25 initiative to improve Oklahoma's rankings of early childhood wellbeing to the top 25 states by 2025. The organization evaluates applicants based on their implementation of practices and policies that support families and provide ways for employees to more easily balance family and work obligations.
Toronto was a final candidate for Women in Finance Awards in Canada,
Women's Forum of New York honored MSCI for accelerating gender parity in the boardroom at the 2019 Breakfast of Corporate Champions.
Corporate Responsibility - Cultivating Talent and Employee Engagement
Cultivating talent and employee engagement


Since 2014, we more than doubled our investment in learning and development and, from 2016 to 2019, the number of participants in our development programs increased by 161%.
MSCI is committed to creating a performance and growth culture of high employee engagement, where every employee takes personal ownership of their performance, career and professional growth to better serve our stakeholders. Several years ago, we introduced Success@MSCI as a framework for driving this culture. Through Success@MSCI, employees are personally accountable for their careers and their performance. To assist, we created tools and workshops to help employees better understand how their work aligns with MSCI's overall strategy, seek and receive real-time and transparent feedback and coaching, successfully deliver on their goals, and more effectively plan and develop their careers.
Examples of programs offered include:
Career Success at MSCI – designed to enable employees to plan, manage and take actions aligned with their career aspirations
Other Success at MSCI programs – Development at MSCI, Goal Setting for Success, Giving and receiving effective Feedback, Getting the most out of Frequent Check-Ins and Manager Engagement Survey 'From Data to Action'
All Access Pass—includes programs covering project management essentials, 7 habits of highly effective people, prioritization and productivity, public speaking, collaboration and business writing skills. Financial Markets – designed to help employees understand the fundamentals of the financial markets. Technical Programs – Data Science Platform, Data Storytelling, MS Excel and SQL.
Productivity, Machine Learning, PowerShell Scripting and Python Training
Experienced Manager Program—designed for experienced managers with a focus on driving performance engagement and effectively developing teams.This 12-week blended-learning program includes 360-degree assessments, experiential mini-assignments, one-on-one coaching and a two-day in-person experiential workshop
Accelerated Leadership Development—designed for key leadership roles with a focus on enhancing performance through one-on-one coaching, leadership skills development, networking and applied learning.In 2017, we received a Chief Learning Officer Technology Award for deploying our "Coaching for Leadership" platform, in partnership with our external consultant Skyline Group, in our Accelerated Leadership Development program
LeaderShift—specifically for mid-level managers with a focus on enhancing performance via a three-day in-person experiential workshop and follow up session.
For new and emerging Managers – Building a High Performing Team, Managing Difficult Situations, Managing a Global Team, Coaching for Impact and Interviewing Skills
Personal Effectiveness programs – Working in a Global Team, Presenting with Confidence, Assertive Communication, Attention & Concentration, Speak Up, Winning Outcomes, The Hard Truth About Innovative Cultures (facilitated discussion), Creative Thinking and Problem Solving and Working Across Cultures
We also support employee learning outside of the company by reimbursing employees for business-critical certifications and membership dues, ongoing education requirements, and relevant industry conferences and seminars.
Product Excellence Program – delivered in partnership with the Wharton School of the University of Pennsylvania to develop our product managers globally
We also support employee learning outside of the company by reimbursing employees for business-critical certifications and membership dues, ongoing education requirements, and relevant industry conferences and seminars.
Our Integrated Talent Management ("ITM") framework is designed to ensure we have the senior leadership and talent pipeline to deliver on MSCI's strategy. All Executive Committee members annually review their organization's talent plans with the CEO and President including a review of each organization's structure and capabilities to ensure alignment with strategic and operational goals, fit assessment of our senior-most talent, succession plans for senior-most roles and development plans for rising senior talent. Through ITM, senior management can appropriately differentiate talent and monitor the development of successors and rising senior talent.
There is also a dedicated Board of Directors session at least annually to discuss executive succession and overall talent plans.
Engagement

MSCI conducts an annual employee engagement survey which measures whether our approaches to performance and career development are driving employee engagement. Managers receive anonymous feedback and are accountable for improving and enhancing the working environment to drive higher engagement. Engagement has improved significantly since 2011:
The number of respondents that are fully engaged has increased by more than 52% since 2011. Fully engaged employees are those who agree or strongly agree with all eight of the "overall company experience" questions
87% of respondents are proud to work at MSCI with 90% of respondents stating they would recommend MSCI as a company with which to do business
From time to time, MSCI also conducts "pulse" surveys outside of the annual employee engagement survey cycle to gauge whether MSCI is moving in the right direction in terms of areas that are strategically important to MSCI's success.
Student internships

We are committed to training the next generation of financial industry professionals by offering them opportunities to start their careers. Undergraduate and graduate students benefit from working in a dynamic and challenging environment and have the opportunity to learn from talented professionals across our business. Interns have been hired in numerous locations across the globe in the U.S., Latin America, Asia Pacific and EMEA.
MSCI partners globally with numerous universities to recruit interns at both the graduate and undergraduate level, such as ITT in India, Corvinus University in Budapest, University of California Berkeley, University of Oklahoma, New York University and Columbia. Many of these interns are converted to fulltime positions, particularly in ESG, Legal, Client Coverage and IT. University recruiting is one of our top hiring sources and we place a great amount of time in building strategic, meaningful relationships with local universities in order for MSCI to recruit their top students.
Corporate Responsibility - Ensuring Benefits, Wellness and Safety
Ensuring benefits, wellness and safety
Beyond offering a broad range of highly competitive benefits to our employees and their families, including same sex and domestic partners, MSCI also promotes workplace safety and offers the following to enable employees to lead healthy and well-balanced lives:
enhanced maternity and paternity leave policies including a Global Minimum Standard applicable to all offices worldwide statutory requirements in countries where we operate. These standards meet or in many cases exceed the statutory requirements in countries where we operate.
contributions to defined contribution and defined benefit pensions plans globally and Health Savings Accounts in the U.S.
a global wellness initiative that can help employees improve their health and wellness
presentations on well-being topics, including retirement planning, parenting, meditation, stress management and nutrition
annual global Fun Day builds on our integrated company philosophy as employees receive a financial stipend and day off of work to try something new with employees from different teams
offices in the Americas are equipped with AED (Automated External Defibrillator) equipment and offer CPR training
ergonomic equipment and desk assessments for employees
wellness rooms in all MSCI office locations, some of which have been designated as lactation rooms
All MSCI offices are equipped with CCTV and access control
In 2019, there were no workplace employee fatalities at any of our office locations.
We respect the standards embodied in the Universal Declaration of Human Rights and the International Labor Organization conventions.

Employee whistleblower hotline
To ensure the safety and wellbeing of our employees, we also offer a whistleblower hotline which is available through an independent online portal that is available to our employees 24/7. The majority of the issues raised on the hotline are HR-related. Employees are reminded of the existence of the whistleblower hotline periodically throughout the year. Senior members of the Legal and Compliance Department are responsible for directing issues to the appropriate members of senior management.
Pay equity
We are committed to pay equity and addressing any areas of gender pay disparity. Our assessment of pay parity involves comparing the compensation of male employees and female employees in the same role, in the same location. As a result, we have been able to make considerable progress over many years closing the gap between the average pay for men and women in the same role and location across the company. We will continue to regularly review and manage compensation levels for gender pay disparity to ensure that if any elements of bias are identified, they are eliminated.
Compensation
Compensation at MSCI supports a culture of high performance and accountability. Our goal is to provide competitive compensation in the markets we compete for talent. We believe in linking all employee's compensation to Company, Product/Function and individual performance by making 100% of our employees eligible for annual cash bonuses. We strongly differentiate cash bonus payouts based on actual results against goals and for managers, leadership effectiveness and employee engagement survey results.
Officers of the Company are eligible to participate in the MSCI Long-Term Incentive Program with awards of MSCI stock that vest over a multi-year period. The goal of the Long-Term Incentive Program is to:
Align the interests of eligible officers with those of our shareholders
Recognize and reward potential long-term contributions
Retain key leaders and top performing officers
Our integrity
Our integrity

Our community

Our environment
Our employees are bound by a Code of Conduct (which is based on the Code of Ethics and Business Conduct found on our Corporate Governance page) and related Compliance policies. Our Compliance program and polices are overseen by our Head of Compliance and implemented and enforced by Legal and Compliance staff in regional offices globally. Our Compliance program and policies aim to deter wrongdoing and promote the conduct of all MSCI business in accordance with the highest standards of integrity. The Code also enumerates the values MSCI expects its employees to live by, including: put the client first, work as one team, pursue excellence, champion bold ideas, act with integrity and take personal responsibility. Critical elements of the program and policies relating to protecting and promoting the company's integrity and ethical standards include:
Preventing corruption
The MSCI Global Anti-Bribery Policy sets forth rules and guidelines to comply with applicable anti-bribery laws and regulations, including the US Foreign Corrupt Practices Act and the UK Bribery Act.
MSCI prohibits (i) offering, promising or giving bribes or anything that could be construed or perceived as a bribe; and (ii) requesting, agreeing to accept or accepting bribes or anything that could be construed or perceived as a bribe, in connection with MSCI business.
MSCI's global anti-bribery policy also prohibits "facilitation payments" which MSCI defines as minimal gratuities provided to low-level officials to perform routine, nondiscretionary functions, such as customs clearance, vehicle registration, visa renewal, police protection, and utility services. In extremely rare circumstances and where permitted by applicable law, employees may seek and the MSCI Legal and Compliance Department may grant exceptions (in writing and in advance) to the facilitation payment prohibition.
Gifts to or entertainment involving government officials are prohibited without the prior approval of the MSCI Legal and Compliance Department. Careful consideration is given to any applicable anti-bribery laws. Additionally, employees are required to log received gifts and entertainment with the Compliance Department to evaluate any potential conflicts of interest.
At least annually, MSCI conducts targeted anti-corruption training to applicable employees that includes the use of third-party agents that may engage with government entities on MSCI's behalf. MSCI emphasizes here and in general compliance training that the use of such third parties requires management and compliance approval.
MSCI does not engage in or have oversight of any client trading activity, as we do not offer or maintain client trading accounts or have custody over client assets. Additionally, MSCI does not execute transactions on behalf of clients nor do we offer a platform for clients to make any transactions, including both institutional and retail. Nor do we invest on our own behalf. Nonetheless, we do maintain a global anti-money laundering policy to ensure that we only do business with reputable clients who are engaged in legitimate businesses and who derive their income, wealth, funds and investable assets from legitimate sources.
Under the MSCI ESG Research Regulatory Code of Ethics, relevant employees of MSCI ESG Research are subject to restrictions on political contributions in order to comply with SEC pay-to-play rules applicable to Registered Investment Advisers. MSCI has not historically used corporate resources to fund political activities. View the Political Activities Policy Statement.
Preventing or managing potential conflicts of interest
Employees are required to promptly report any personal investment activity, interest or relationship (including those involving family members) that could give rise to a conflict of interest, or the appearance of a conflict of interest.
Employees are also required to disclose and obtain pre-approval from the Legal and Compliance Department for any personal outside business activities, as well as activities related to seeking political office, holding elected or appointed political posts, serving on a public or municipal board or similar public body, or serving as an officer of a political campaign committee.
Additionally, employees must disclose and obtain pre-approval from the applicable member of MSCI's Executive Committee and the Legal and Compliance Department to serve as a representative of MSCI on a board or committee or in another position constituting a leadership role in industry associations or groups.
Further, employees are prohibited from trading in options on MSCI stock, purchasing MSCI stock on margin or holding MSCI stock in a margin account, holding MSCI stock in a managed account (where discretion is given to a broker), pledging MSCI stock as collateral for a loan, and from engaging in short sales, hedging transactions and stop or limit orders with a duration greater than one day.
MSCI is subject to independent audits, which test certain compliance practices, such as certification of the Code of Conduct.
Awareness, training and certification
Annually, all employees are required to complete training on the Code of Conduct and related Compliance policies, as well as certify that they have read and agree to adhere to them. As part of our onboarding process, all new employees of the company are trained on the Code of Conduct and related Compliance policies and are required to certify to them. Our directors are also required to annually certify to the MSCI Inc. Code of Ethics and Business Conduct.
The Compliance staff conducts periodic testing of applicable policies and procedures to ensure availability and effectiveness. On at least an annual basis, the Head of Compliance provides an update on the overall Compliance program to the Nominating & Corporate Governance Committee of the MSCI Board of Directors, including with respect to any policy changes, areas of emphasis, known issues or concerns, projects, investigations and violations, statistical trends, and overall program health. Our Nominating & Corporate Governance Committee also annually reviews our Code of Ethics and Business Conduct.
Employee whistleblower hotline
We offer a whistleblower hotline which is available through an independent online portal that is available to our employees 24/7. Employees are reminded of the existence of the whistleblower hotline periodically throughout the year. Senior members of the Legal and Compliance Department are responsible for directing issues to the appropriate members of senior management.
Additionally, we have a specific whistleblower policy and procedure for reporting any potential misconduct in benchmark administration, including suspected manipulation of an MSCI index. Communications regarding such concerns can be made 24/7 through a whistleblower hotline available through an independent online portal. Employees are made aware of this policy through the company's intranet and Compliance training, and instructions for reporting an issue are provided on the company's intranet.
MSCI prohibits acts of retaliation against any person for reporting a possible violation or participating in an investigation involving possible misconduct in good faith. All reports will be investigated promptly and thoroughly, consistent with applicable law.
Supplier conduct

MSCI's commitment to operating at the highest levels of integrity extends beyond our company. Our suppliers are expected to live up to the spirit of our Supplier Code of Conduct. MSCI may audit suppliers for compliance with the code and/or request suppliers to furnish a self-assessment of adherence to the code.
We encourage employees to engage in charitable and community efforts. Employees volunteer globally, promoting community engagement and teamwork.
Philanthropy
MSCI believes we have a responsibility to the communities in which we live and work. Through our U.S. Charitable Matching Program, we encourage employees to give to charitable organizations important to them and their communities. We also proudly sponsor our employees' participation in charitable events, such as the American Heart Association Wall Street Run & Heart Walk, and various galas that support the important work of non-profit organizations.
MSCI also encourages employee-driven philanthropy efforts. Several of our larger offices have a local philanthropy committee that organizes charitable contribution drives and employee volunteer events to support under-served communities.
Volunteer month
In 2018, we designated a Volunteer Month for MSCI's offices in North and Latin America. MSCI employees engaged in activities including preparing food for homeless people (São Paulo), collecting donations for school supplies (Conshohocken) and environmental work rehabilitating urban land (San Francisco). This past July 2019, MSCI employees across the Americas participated in our second annual Volunteer Month, where employees from each local office volunteered to make a meaningful impact in their communities. Employees from 12 cities came together to support underprivileged children, homeless shelters, elderly communities and our environment.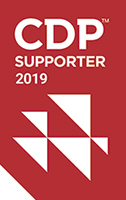 While our environmental impact as a financial services company is relatively small and comes mostly from office buildings and from business-related travel, we remain committed to limiting our environmental impact and have developed the following Environmental Policy. MSCI monitors the policy through an environmental management system.
MSCI's environmental policy outlines the environmental principles that help guide our company's strategic and operational business decisions. This policy underscores our commitment to limiting our environmental impact over time and encouraging our stakeholders to do the same. This policy will be revisited and refreshed as our environmental priorities evolve and we continue to achieve higher levels of corporate environmental stewardship.
MSCI's Environmental Policy is detailed below
Learn more about the Policy's Objective Statement
Learn more about the Policy's Executive Statement
Learn more about the Policy's Principles
Our business strategy and the outcomes anticipated by environmentally responsible behaviors are strongly aligned. In order to further assess and develop our environmental impact strategy and to enhance our transparency towards our clients, shareholders and employees, we submitted our first full CDP disclosure in 2019 and recently received a grade of B on the submission. CDP, formerly Carbon Disclosure Project, runs a global disclosure system which enables investors, companies, cities, states and regions to measure and manage their environmental impacts.
Learn more about MSCI-CDP Climate Change Questionnaire 2019
To help MSCI in its ongoing efforts to build upon the processes and frameworks for managing climate-related risks and opportunities and improving its communications around these efforts, MSCI conducted a climate-related scenario analysis (in alignment with the Task Force on Climate-related Disclosures Recommendations) in early 2019.
MSCI Green House Gas Emissions in Metric Tons CO2e
2017
2018
Scope 1
210.00
659.80
Scope 2 - Location Based
8,577.56
10,040.50
Scope 2 - Market Based
3,030.31
6,895.50
Scope 3 - Business Travel
Not evaluated
3,756.80
2017 amounts shown were estimated utilizing an intensity-based approach. 2018 amounts are based on actual energy consumption. 2018 business travel includes all employees' air, rail and auto rental. All 2018 amounts were verified by POINT380, an independently owned and operated consulting and software services company that specializes in technical analysis and innovation for efficiency and renewable resources. In their opinion, the inventory is presented fairly in accordance with (1) ISO 14064-1 Specification with guidance at the organization level for quantification and reporting of greenhouse gas emissions and removals, and (2) The Climate Registry General Reporting Protocol.
Environmental considerations

Our offices and datacenters
89% of our global staff are in offices with LEED, BREEAM or equivalent green building recognition. Furniture with 70% to 90% recycled materials is used in all of our new and remodeled offices. The vendor has the highest recycled content on the market with 100% of fixtures and furniture certified to a holistic environmental product standard.
Our offices in Boston, Budapest, Chicago, Dubai, Frankfurt, Gaithersburg, Manila, Mumbai, New York, Norman, San Francisco and Seoul are all LEED-certified, and our London and Paris offices are BREEAM-certified. Our offices in Monterrey, Singapore and Tokyo are in buildings which have received local awards for their environmental design and green building technology. We have motion sensors and automated controls for lighting in offices which represent 95% of our global staff. In addition, when selecting office locations, we take into consideration the impact of potential climate-related risks, such as flood risk zones.
In response to the COVID-19 crisis, our first priority was ensuring the health, safety and wellbeing of our clients and our employees. MSCI has taken prudent steps to ensure a healthy and productive working environment including:
Reinforcing our infrastructure to support a virtual workforce
Converting client events to virtual experiences
Eliminating business travel
As of May 2020 virtually 100% of our staff is working from home.
MSCI takes various environmental factors, such as existence of landlord-driven or local recycling initiatives, use of sustainable and energy-efficient materials and control systems enabling the efficient power use, and public transport availability into consideration as part of our new office acquisition approach, and we implement our own office programs for low environmental impact product use as well. MSCI has personnel whose roles include coordination of activities to support our corporate environmental and carbon disclosure activities, and to oversee our global office practices and standards to ensure that we act in a consistent and environmentally conscious manner throughout our offices.
Since January 1, 2016, MSCI's principal datacenters, located within the U.S., have been powered by 100% renewable energy; in 2017, 2018 and 2019, the renewable energy credits retired on behalf of MSCI were certified by our datacenter provider to comply with Greenpeace's principles of locality, additionality, and sustainability, and were generated by Nevada solar farms and geothermal power plants. Since 2019, our datacenters in Europe have been powered by 100% renewable energy. Our Datacenters in APAC use renewable sources as part of their overall energy usage.
Energy efficiency and sustainable working practices
While we do not believe that our business model has substantive risks related to climate change, we are aware of and consider the physical risks and impact of climate change on costs of travel, facilities and production resulting from the rising costs of resources.
We leverage technology to automate and streamline labor-intensive processes and promote virtual employee and client engagement, reducing travel to enhance the scalability, sustainability, and long-term efficiencies of our business.
MSCI significantly reduces our environmental impact linked to physical travel through business travel policies that encourage employees to plan trips well in advance, to bundle short duration trips into fewer longer term trips and to take fewer physical trips by holding virtual meetings supported by conferencing technologies. MSCI averages over 13,000 virtual meetings monthly. In addition, we seek to reduce paper usage, for example by using electronic documents rather than paper and minimizing the volume of our printing.
As a leader in ESG research and applications, MSCI is also committed to do its part to promote sustainability and to reduce consumption.
MSCI has implemented processes across our offices to eliminate single-use plastic items, including water bottles, cutlery, straws, coffee stirrers and other disposable items. Where practical, we are replacing disposable water bottles with pitchers and glassware. We are also in the process of eliminating under-desk waste-paper baskets to focus efforts on recycling items rather than sending them to landfill. We participate in recycling programs and e-waste disposal. Further, employees in several of our major offices have set up local employee-driven committees that engage in a variety of initiatives, including promoting sustainable waste management and working practices, educating and increasing awareness of key environmental issues and challenges facing those offices, and running initiatives to engage employees on local environmental matters.
Business continuity, disaster recovery and risk management
MSCI is cognizant of inherent climate-related risks which have the potential to have a substantive impact on our business. We operate a multi-disciplinary company-wide process for identification, assessment and management of risks through our Enterprise Risk Management program, which is overseen by the Enterprise Risk Oversight Committee and regularly reports to the Audit Committee of the Board of Directors.
MSCI's risks are assessed and prioritized using a standardized assessment framework which considers the likelihood of a range of potential impacts. Climate change impact is considered as part of our ongoing review of our business continuity plans. MSCI's Crisis Management Team and Technology Service Operations Service Management Team are responsible for all aspects of disaster recovery response efforts on a local, regional or global basis, as applicable. The Business Resiliency team within IT Risk develops, implements, and tests technology systems to support MSCI's business continuity plans. Our Head of IT Risk reports to the Audit Committee on MSCI's business continuity and IT disaster recovery plans designed to mitigate the impact of climate-related and other disruptions.
We have a comprehensive business continuity policy, along with disaster recovery plans, aimed at mitigating the potential impacts of an incident or disaster, including extreme weather events and natural disasters, such that facilities, systems and staff can continue to function, and business disruptions are avoided or kept to a minimum.
Disaster recovery planning and testing encompasses protecting the general welfare and safety of MSCI employees, data centers, networks, applications supporting business operations, communications systems, and general technology recovery following an extreme weather incident or natural disaster.
We regularly assess and takes steps to improve our existing business continuity plans, and our IT disaster recovery efforts have aided our ability to operate in a "business as usual" fashion in the face of recent events such as Hurricane Sandy in New York, droughts in South Africa, monsoons in Mumbai, typhoons in Hong Kong, tornadoes in Oklahoma and earthquakes in Berkeley. MSCI reviews, updates and tests these plans routinely.

Access more information on our security awareness program and program of information security to secure data, systems and services.
Our suppliers

MSCI's commitment to the environment extends beyond our company. Our supply chain must:
implement appropriate standards to minimize harm to the environment caused by their activities, and comply with applicable environmental laws, regulations and standards;
handle waste in a responsible manner;
recycle material;
avoid use of scarce natural resources.
For further details see our Supplier Code of Conduct, which applies to all of our suppliers.
MSCI Environmental Policy