ESG INTEGRATION
The world is changing. With it, the world of investing is changing.
MSCI ESG Research provides in-depth research, ratings and analysis of the environmental, social and governance-related business practices of thousands of companies worldwide. Through early warnings and timely updates, our critical insights can help investors uncover risks and opportunities that traditional investment research may not detect. Our institutional investor clients use our research to help implement their responsible investment objectives.
MSCI ESG Ratings
From natural resource scarcity to changing governance standards, from global workforce management to the evolving regulatory landscape, ESG factors can impact the long-term risk and return profile of investment portfolios. MSCI ESG Ratings help institutional investors to understand ESG-driven risk and opportunities and integrate these factors into their portfolio construction and management process.
Our global team of 140 experienced research analysts assesses thousands of data points across 34 ESG issues, focusing on the intersection between a company's core business and the industry issues that can create significant financial risks and opportunities for the company. Companies are rated on a AAA-CCC scale relative to the standards and performance of their industry peers.
To maintain our leading edge in research methodology, MSCI ESG Research regularly seeks feedback and opinions from external experts on specific ESG issue areas through the MSCI ESG Research Thought Leader Council. Read more about the Council and our recent panels here.
In addition to over 5,500 global equity issuers, MSCI ESG Ratings are also mapped to over 260,000 fixed income issuers.
Read the factsheet
Read the methodology
MSCI ESG Governance Metrics
As long-term institutional investors, asset owners often look to managers to more fully assess governance-related risks. With MSCI's August 2014 acquisition of leading corporate governance research and analysis provider GMI Ratings, governance expertise is now integrated within MSCI's global ESG team. Our analysts provide critical insight into timely corporate events, including analysis of potential governance concerns associated with high profile IPOs like Facebook and Alibaba.
MSCI's unique corporate governance research process examines company events and corporate behavior as well as governance structure, providing data and analysis through MSCI ESG GovernanceMetrics, specifically:
96 governance metrics organized into four pillars (Board, Pay, Ownership and Control, Accounting)
Coverage of 6,000+ global companies
Comprehensive data on 65,000 corporate directors and officers
13+ years of shareholder proposals and meeting results data
Corporate governance can help identify risk associated with lax oversight, excessive pay, corporate misconduct and accounting irregularities. Through a combination of data, analysis, ratings and other tools, GovernanceMetrics is designed to enable institutional investors to both conduct bottom-up research on individual securities and to assess governance risk across an entire portfolio.
MSCI ESG Screening and Carbon Tools
Many asset owners and managers are subject to guidelines that restrict investments or place thresholds on companies involved in certain lines of business, including federal and state sanctions on companies with operations in countries such as Sudan and Iran. Our screening research enables institutional investors to satisfy client investment guidelines, implement client mandates, and manage potential ESG portfolio risks.
We also offer an extensive suite of tools and solutions designed to help institutional investors better understand portfolio exposure to carbon asset risk and implement fossil fuel exclusion, low carbon or thematic investment strategies.
Our ESG Research products and services are available on our integrated online platform, MSCI ESG Manager, and are also available on MSCI's BarraOne and Barra Portfolio Manager platforms, as well as in FactSet and StyleResearch.
MSCI ESG Indexes
Our ESG Research ratings and data are used in the construction of the MSCI ESG Indexes. Our suite of equity and fixed income ESG Indexes representing some of the most prevalent ESG investing strategies are designed to help institutional investors more effectively benchmark ESG investment performance, issue index-based investment products, as well as manage, measure and report on ESG mandates.
ESG Research
Our dedicated team of ESG experts is focused on in-depth research, ratings and analysis of the environmental, social and governance-related business practices of thousands of companies worldwide.
Loading Interview with Linda-Eling Lee...
Interview with Linda-Eling Lee, Global Head of ESG Research, MSCI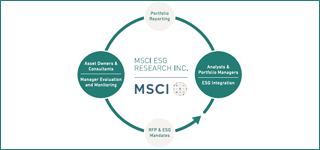 ESG analysis and tools
Want to learn more about MSCI ESG Research analysis and tools?
China's Economic Transformation
A New Era of ESG Opportunity.
As China embarks on the final few months of the 12th Five Year Plan, President Xi Jinping's administration faces some difficult policy choices.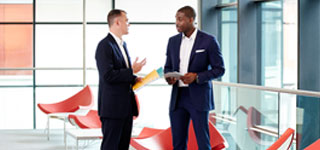 MSCI ESG Thought leaders council 2015
MSCI ESG Research convenes panels of international experts four times annually to provide feedback on key industries and relevant ESG environmental, social and governance (ESG) issue areas.