ESG INTEGRATION
The world is changing. With it, the world of investing is changing.
MSCI ESG Research provides in-depth research, ratings and analysis of the environmental, social and governance-related business practices of thousands of companies worldwide. Our research is designed to provide critical insights that can help institutional investors identify risks and opportunities that traditional investment research may overlook. Our clients use our research to help implement their responsible investment objectives.



MSCI ESG ANALYTICS
MSCI is pleased to announce we have completed the integration of MSCI ESG ratings, data and indexes into all our Analytics systems.
MSCI Analytics clients can now explore ESG exposures on 650,000 securities and 8 million derivatives to support security selection, portfolio construction, stress testing, and risk and performance attribution analysis.
The new Analytics toolkit enables clients to access the MSCI ESG Ratings of 13,000 issuers1 and our suite of 900 equity and fixed income ESG indexes.
Clients of our Analytics systems can also access climate change assessment data for automated carbon footprinting of funds, indexes, and portfolios; optimization of portfolios to reduce carbon exposures while limiting tracking error; and the development of climate scenario analysis and stress tests.
Learn more about MSCI's Analytics Systems
Download the Brochure
Read the Press Release
Contact Us

1 MSCI ESG Ratings are provided by MSCI ESG Research LLC. 13,000 issuers includes subsidiaries
MSCI ESG Ratings
MSCI ESG Ratings are designed to help institutional investors understand ESG-driven risk and opportunities and integrate these factors into their portfolio construction and management process.
Our global team of over 170 research analysts rates over 6,400 companies (11,800 total issuers including subsidiaries) and more than 400,000 fixed income securities globally. The team assesses thousands of data points across 37 ESG issues, focusing on the intersection between a company's core business and the industry issues that can create significant financial risks and opportunities for the company. Companies are rated on a AAA-CCC scale relative to the standards and performance of their industry peers.
To maintain our leading edge in research methodology, MSCI ESG Research periodically seeks feedback and opinions from external experts on specific ESG issue areas through the MSCI ESG Research Thought Leader Council.

Read the factsheet
Read the methodology
MSCI ESG Indexes
Our ESG Research ratings and data are used in the construction of the MSCI ESG Indexes. Our suite of over 900 equity and fixed income ESG Indexes designed to represent the performance of some of the most prevalent ESG strategies can be used to help institutional investors more effectively benchmark ESG investment performance, issue index-based investment products, as well as manage, measure and report on ESG mandates.
MSCI ESG Governance Metrics
As long-term institutional investors, asset owners often look to managers to more fully assess governance-related risks. Following MSCI ESG Research's acquisition of corporate governance research and analysis provider GMI Ratings in August 2014, governance expertise is now integrated within MSCI ESG Research's global team. Our analysts provide critical insight into timely corporate events, including analysis of potential governance concerns associated with high profile IPOs like Facebook and Alibaba and controversies such as Volkswagen and Valeant Pharmaceuticals
MSCI ESG Research's unique corporate governance research process examines company events and corporate behavior as well as governance structure, providing data and analysis through MSCI ESG Governance Metrics, specifically:
96 governance metrics organized into four pillars (Board, Pay, Ownership and Control, Accounting)
Coverage of 7,000+ global companies
Comprehensive data on 65,000 corporate directors and officers
13+ years of shareholder proposals and meeting results data
Corporate governance can help identify risk associated with lax oversight, excessive pay, corporate misconduct and accounting irregularities. Through a combination of data, analysis, ratings and other tools, Governance Metrics is designed to enable institutional investors to both conduct bottom-up research on individual securities and to assess governance risk across an entire portfolio.
MSCI ESG CONTROVERSIES
MSCI ESG Controversies is designed to provide timely and consistent assessments of ESG controversies involving publicly traded companies and fixed income issuers.
The tool monitors company involvement in notable ESG controversies related to the company's operations and/or products, possible breaches of international norms and principles such as the UN Global Compact, and performance with respect to these norms and principles. Each Controversy is attributed a 0-10 score and a flag color depending on the severity of its environmental, social or governance impact.
MSCI ESG Controversies covers approximately 8,800 companies in the MSCI ACWI Investable Market Index, in addition to approximately 95% (by market value) of a leading fixed income index.
MSCI ESG AGR model
The MSCI ESG AGR model is designed to help institutional investors, insurers and other financial institutions understand and manage accounting risk. With coverage for over 29,000 companies worldwide, AGR ratings help identify potential accounting irregularities that may go undetected by traditional research methods.
MSCI ESG AGR provides a comprehensive measure of corporate integrity, based on an extensive statistical evaluation of both accounting and non-accounting metrics which have been associated with lack of integrity of a firm's financial reporting and corporate governance. These metrics can identify patterns that have been found among companies that have manipulated their financial reporting in the past. Metrics that are outliers relative to peers or whose change over time is extreme are flagged as concerns
Updated quarterly, the AGR score ranges in percentiles from 1-100, with lower values representing greater risks
MSCI ESG Screening and Carbon Tools
Many asset owners and managers are subject to guidelines that restrict investments or place thresholds on companies involved in certain lines of business, including federal and state sanctions on companies with operations in countries such as Sudan and Iran. Our screening research enables institutional investors to satisfy client investment guidelines, implement client mandates, and manage potential ESG portfolio risks.
We also offer an extensive suite of low carbon tools and solutions designed to help institutional investors better understand portfolio exposure to carbon asset risk and implement fossil fuel exclusion, low carbon or thematic investment strategies.
Our ESG Research products and services are available on our integrated online platform, MSCI ESG Manager, and are also available on MSCI's BarraOne and Barra Portfolio Manager platforms, as well as in FactSet and StyleResearch.
MSCI SUSTAINABLE IMPACT METRICS
Institutional investors are increasingly looking for ways to steer capital towards companies and projects that provide solutions to major social and environmental challenges, but achieving impact at scale can be a challenging proposition. The United Nations Sustainable Development Goals (SDGs) provide a useful foundation for scalable impact, representing a broad consensus of global stakeholders around 17 ambitious development goals.
MSCI ESG Research has developed a new framework designed to allow institutional investors to measure their current exposure to listed companies providing sustainable impact solutions. MSCI ESG Sustainable Impact Metrics covers over 2,500 companies for social impact themes and over 8,500 companies for environmental impact themes. The MSCI ACWI Sustainable Impact Index, which leverages the data, is designed to target companies with high net exposure to sustainable impact themes while meeting minimum ESG standards.
ESG Research
Our dedicated team of ESG experts is focused on in-depth research, ratings and analysis of the environmental, social and governance-related business practices of thousands of companies worldwide.
Loading Interview with Linda-Eling Lee...
Interview with Linda-Eling Lee, Global Head of ESG Research, MSCI
MSCI ESG Research LLC. is a Registered Investment Adviser under the Investment Adviser Act of 1940. The most recent SEC Form ADV filing, including Form ADV Part 2A, is available on the U.S. SEC's website at www.adviserinfo.sec.gov.
MIFID2/MIFIR notice: MSCI ESG Research LLC does not distribute or act as an intermediary for financial instruments or structured deposits, nor does it deal on its own account, provide execution services for others or manage client accounts. No MSCI ESG Research product or service supports, promotes or is intended to support or promote any such activity. MSCI ESG Research is an independent provider of ESG data, reports and ratings based on published methodologies and available to clients on a subscription basis. We do not provide custom or one-off ratings or recommendations of securities or other financial instruments upon request.
ESG ADV 2A
ESG ADV 2B (brochure supplement)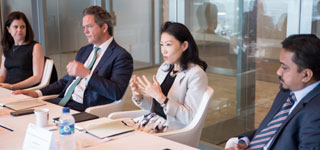 Responsible Investor/MSCI ESG Research Round Table Report 2016
Stewardship and ESG Integration in the Asia-Pacific region.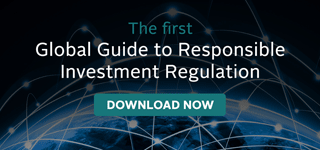 Global Guide to Responsible Investment Regulation
MSCI ESG Research supports first of kind PRI study which finds a strong correlation between responsible investment regulation and better ESG performance by companies.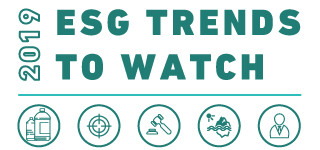 ESG Trends
In our annual report, we explore the key environmental, social and governance (ESG) trends that are top of mind for investors.