Interactive assets - scripts and CSS
What is ESG?
ESG Investing is a term that is often used synonymously with sustainable investing, socially responsible investing, mission-related investing, or screening. At MSCI ESG Research we define it as the consideration of environmental, social and governance factors alongside financial factors in the investment decision-making process.

Under the ESG investing umbrella, MSCI ESG Research has identified three common investor objectives or motivations when considering an ESG strategy: Integration, Values and Impact. In order to achieve these objectives, institutional investors may pursue different approaches such as ESG integration, exclusionary or negative screening, or thematic investing, to name a few. While this is not a comprehensive glossary of all ESG terms in the market, we provide an overview of several commonly used terms and their definitions below.
Investors may consider a number of different ESG factors, metrics and data when looking to adopt an ESG investing strategy or apply ESG across a portfolio. These factors typically include industry-specific key issues such as climate change, human capital and labor management, corporate governance, gender diversity, privacy and data security, among others. A mining company and a financial company, for example, may be faced with different key ESG risks and opportunities and therefore evaluated on the key issues specific to their respective industries.
"ESG investing is the consideration
of environmental, social and governance factors alongside financial factors in the investment decision–making process."
The Evolution of ESG Investing
ESG is growing in significance amongst both institutional and retail investors. The practice of ESG investing began in the 1960s as socially responsible investing, with investors excluding stocks or entire industries from their portfolios based on business activities such as tobacco production or involvement in the South African apartheid regime.
Today, ethical considerations and alignment with values remain common motivations of many ESG investors but the field is rapidly growing and evolving, as many investors look to incorporate ESG factors into the investment process alongside traditional financial analysis.
Explore MSCI ESG Research's Key Issue Hierarchy below
Global sustainability challenges such as flood risk and sea level rise, privacy and data security, demographic shifts, and regulatory pressures, are introducing new risk factors for investors that may not have been seen previously. As companies face rising complexity on a global scale, the modern investor may reevaluate traditional investment approaches.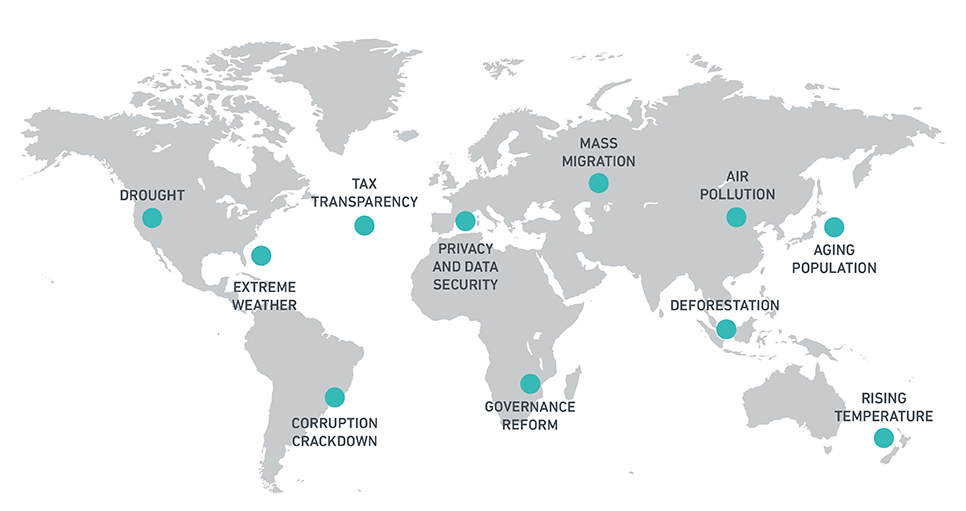 With better data from companies combined with better ESG research and analytics capabilities, we are seeing more systematic, quantitative, objective and financially relevant approaches to ESG key issues. Better data and analytics have paved the way for numerous studies that explore ESG investing (see: Does ESG add value?).
MSCI ESG Research provides research and ratings on over 13,000 equity and fixed income issuers linked to over 590,000 equity and fixed income securities on a 'AAA' to 'CCC' scale according to their exposure to industry specific ESG risks and their ability to manage those risks relative to peers. MSCI ESG Ratings is designed to help investors identify ESG risks and opportunities within their portfolio.

Read more on this topic:
MSCI ESG Research is a leading provider of ESG ratings and analysis globally with more than 185 analysts worldwide:

"We're in the middle of a $30 trillion intergenerational wealth transfer from baby boomers to their children. And those kids - not really millennials only, but people from 25 to 40 years old - simply think about their investment decisions differently."
LEADING INSTITUTIONAL INVESTORS ARE INCORPORATING ESG FACTORS INTO THE INVESTMENT PROCESS
Since its founding in 2006, the United Nations Principles for Responsible Investing (PRI) has attracted support from more than 1,800 signatories representing over USD $68 trillion in assets under management as of April 2017. Signatories commit to six voluntary principles, the first of which is the incorporation of ESG issues into investment analysis and decision-making.
Source: UN PRI as of April 2017; https://www.unpri.org/about
Has ESG historically compromised financial returns?
A common debate with ESG investing revolves around the idea that incorporating ESG factors into the investment process will hurt performance. However, some studies suggest that companies with robust ESG practices displayed a lower cost of capital, lower volatility, and fewer instances of bribery, corruption and fraud over certain time periods. Conversely, studies have shown that companies that performed poorly on ESG have had a higher cost of capital, higher volatility due to controversies and other incidences such as spills, labor strikes and fraud, and accounting and other governance irregularities.7
It may come as no surprise then that numerous academic and investor studies (see below) in recent years have found historically lower risk and even outperformance over the medium to long term for portfolios that integrated key ESG factors alongside rigorous financial analysis.
In a recent study, MSCI researchers focused on understanding how ESG characteristics have led to financially significant effects. The study examined how ESG information embedded within stocks is transmitted to the equity market. Borrowing from central banks, we created three "transmission channels" within a standard discounted cash flow (DCF) model. We call these the cash-flow channel, the idiosyncratic risk channel and the valuation channel. The former two channels are transmitted through corporations' idiosyncratic risk profiles, whereas the latter transmission channel is linked to companies' systematic risk profiles. Our research showed that ESG had an effect on valuation and performance of many of the companies in the study.
We identified three major channels from ESG to financial value. Companies with higher ESG ratings were associated with:
7 Sources: Chava, 2011; 20+ studies, both academic and industry; Lansilahti, 2012; Credit Suisse; Deutsche Bank; MSCI ESG Research, et al.; Huang, 2010; Bhagat and Bolton, 2008; Cremers et al., 2005; Deutsche Bank, 2012; ISS, 2011; et al.
Cash-flow channel: High ESG-rated companies were more competitive and generated abnormal returns, often leading to higher profitability and dividend payments, especially when compared to low ESG-rated companies.
Gross profitability of ESG quintiles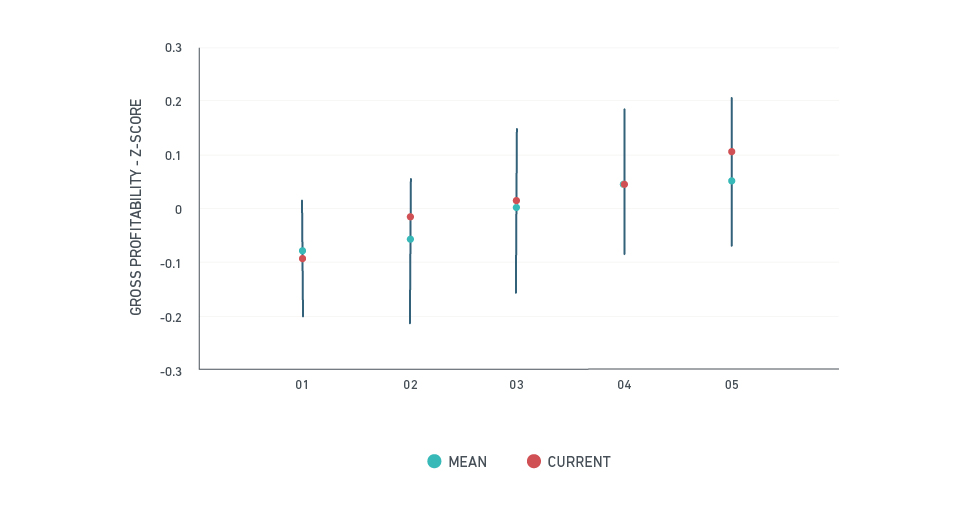 01 = worst ESG quintile and 05 = best ESG quintile
Idiosyncratic risk channel: High ESG-rated companies experienced a lower frequency of idiosyncratic risk incidents such as major drawdowns. Conversely, companies with low ESG ratings were more likely to experience major incidents.
Large drawdown frequency of top vs. bottom ESG quintile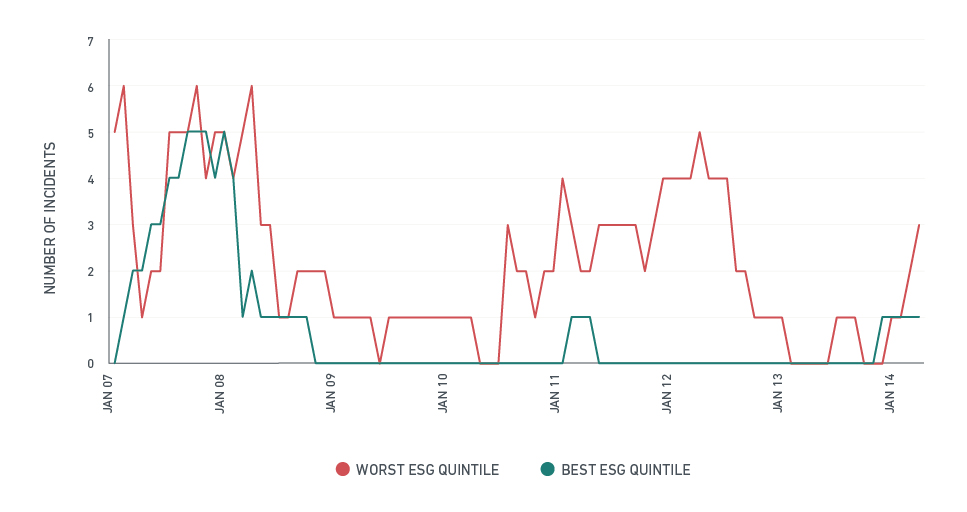 Valuation channel: High ESG-rated companies have shown lower systematic risk exposure, evidenced by less volatile earnings and less systematic volatility. Compared to low ESG-rated companies, they also experienced lower betas and lower costs of capital.
Systematic volatility of ESG quintiles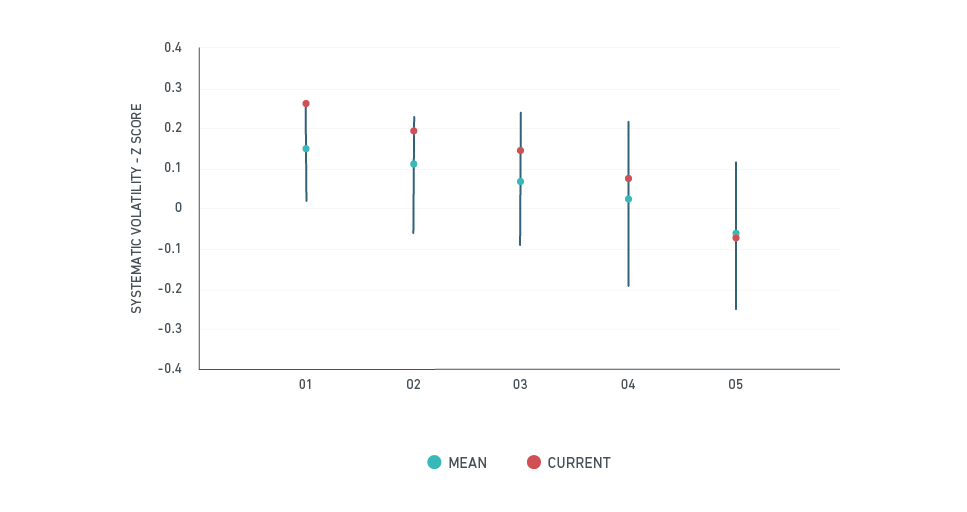 01 = worst ESG quintile and 05 = best ESG quintile
Three common ESG investor objectives
ESG can mean different things to different people. However, we see the objectives of investors converging around three main categories.
I believe that incorporating ESG may improve my investment results.
Growing research suggests that ESG factors have contributed to long-term financial performance. ESG factors can be used to identify better-managed companies or to flag companies with business models that are likely to face headwinds or tailwinds driven by rapidly evolving regulatory, environmental, demographic or technological trends. Institutional investors are increasingly looking to ESG factors as a way to manage these risks and to achieve long-term sustainable financial performance.10
Read more:
Facebook case study
Equifax Case Study
Volkswagen Case Study
10 Khan, Serafeim and Yoon (2015). "Corporate Sustainability: First Evidence on Materiality," Harvard Business School Working Paper No. 15-073. Friede, Busch and Bassen (2015), "ESG and Financial Performance: Aggregated Evidence from More than 2000 Empirical Studies." Journal of Sustainable Finance & Investment. Richard Hitchens, Sandra McCullagh and Chris Parks (2014) "Finding Alpha in ESG." Credit Suisse ESG-α Series, 19 June 2015. Northern Trust (2014, "Doing Good and Doing Well – How Quality Can Enhance Your ESG Strategy."
My investments should reflect my values.
Some investors consider ESG issues a means for aligning investments with their ethical, religious or political beliefs. They have typically used ESG research to screen for controversial activities such as tobacco, weapons, alcohol, gambling or fossil fuels, and to help exclude such activities from their investment universe. Unlike the ESG integration goals described above, where ESG factors are considered on the basis of their potential economic impact, values-based goals are intentionally aligned to match an investor's beliefs.
Read more:
Investor Responses to Gun Violence
Fossil Fuel Divestment: A Practical Introduction
Contact us
For Environmental, Social and Governance products and services, please contact ESG Client Service at esgclientservice@msci.com or call:
| | | |
| --- | --- | --- |
| Americas | Asia Pacific | Europe, Middle East and Africa |
| +1 212 804 5299 | +612 9033 9339 | +44 20 7618 2510 |
To sign up for ESG Research and Event announcements visit msci.com/contact-us.