MSCI Real Estate
Global Intel
Unique data, Real insight
Real estate is going mainstream. Over the last two decades, it's moved from alternative to a growing and significant proportion of allocation. Real estate is different. Some investors may use it to perform a very specific role within a diversified portfolio. It's also opaque, especially in private real estate. As a result institutional investors may find it increasingly important to use the very best data to inform their investment strategy, allocation choices and performance decisions. And, for multi asset investors, it may also be increasingly important to use tools that analyse relative to other asset classes.
MSCI Global Intel is designed to provide insights into real estate data that are consistent and comparable, robust and tailorable, constantly evolving and objective. It is one of the most extensive private real estate databases in the world designed to provide you with a unique level of transparency.
MSCI Global Intel
Watch the video to learn more about Global Intel
Unique data, Real insight in action
Getting a return from private real estate often demands understanding the complex intersection of a range of different risk factors. MSCI Global Intel measures the total return and the different elements that drive it. It does so using a globally consistent database, it's comparable and provides a robust series of features and benefits. It's a unique database, providing real insight of real assets.
Consistent and comparable – we have a consistent database and a consistent methodology across all the markets we operate in. MSCI Global Intel encompasses 80 comparable measures globally, providing like-for-like comparisons across different geographies and property types. In an asset class defined by its very different standards, practices, valuation policies of different markets across the world, this can be a significant resource for clients. We've standardised our measurement definitions, to allow you to compare like-for like when carrying out a global analysis. Whether you want to determine how your portfolio is positioned from market to market, or you're trying to understand how you're performing relative to the market as a whole (or to other asset classes), or you want to attribute your historical performance to future trends, MSCI Global Intel is designed to help you.
Robust and tailorable – our database spans $2 trillion of private real estate assets, across more than 30 countries, over 17.5 years (on average1). It is built on the key indicators of its underlying assets of real, settled private real estate investments. It is not survey-created, reliant on goodwill or a by-product of another service, but collected from the actual performance of assets. The information is reviewed by our specialists and delivered through our platform. It is one of the most extensive private real estate databases in the world. We preserve the specific characteristics of different markets across the world, whilst maintaining underlying consistency. You can review multiple segmentations or custom build something that meets your needs. It allows you to not only understand what's happened in the market, but also why. You can create an analysis to test an assumption, refresh it, adapt it and save different versions of it, so you can spend more time learning from it and adding value.
Constantly evolving and objective – the world that you operate in doesn't stand still and nor do we. We are constantly evolving and innovating to incorporate advancing technology and meet the needs of a changing landscape with data collated from actual performance of assets.
Unique transparency – in the opaque asset class of private real estate, MSCI Global Intel aims to provide insights that are consistent and comparable, robust and tailorable, constantly evolving and objective.

Download the MSCI Global Intel factsheet
Download the MSCI Global Intel measures guide

1 Based on 2017 year-end figures of msci real estate
Unique data, Real insight whoever you are
We have a client oriented mind-set, and we'll work with you to understand how MSCI Global Intel can help you meet your needs and continue to.
Institutional investor often need to make informed allocation decisions, understand risk and monitor performance. Whether using your own platform or ours, we can help. From a regulatory perspective, we can help you in your efforts to place a value on risk.
Asset managers often want to inform their allocation selection, to create the desired return, against the relevant risk profile on behalf of their clients. Our extensive and objective data can help you plan for different scenarios and build your business case.
Banks typically seek to understand the value and risk of the asset for which they are providing the senior lending. Our data is tailored to segment and evaluate the market in a variety of ways.
Custodians may need to inform portfolio performance measurement and monitoring. Our unique database may be used for benchmarking and providing market figures for comparative data and relative performance.
Investment consultants may use our databases to cross-check their own data, inform their monitoring process and advise on and validate investment decisions.
Unique data, Real insight for your needs
Subscription provides access to our unique database and a wide range of services. You'll also have a dedicated client services representative who will work to understand your needs and help you to get the most out of your chosen level of subscription.
Click on the headings to learn more about the three levels of analytics:
Real estate country and regional indexes and sector data with access to headline performance, market fundamental and investment metrics.
A granular dataset of more than 1,000 direct property indexes and 16 fund indexes tracking property type, location and asset-specific characteristics.
Ability to query MSCI Global Intel's unique dataset using filters such as property type, location and asset-specific characteristics allowing for standard and highly customised segmentations.
Subscription levels in more detail
| | MSCI Multinational Intel | MSCI Global Intel | MSCI Global Intel PLUS |
| --- | --- | --- | --- |
| DATASET | | | |
| Direct Property Indexes | 44 | 1,000+ | 3,000+ |
| Fund Indexes | | 16 | 16 |
| Lease data | | | |
| MARKET DEPTH | | | |
| Countries | 32 | 32 | 32 |
| Cities | | 95 | 240+ |
| Property Types | 6 | 120 | 120 |
| Sample Filters | 3 | 3 | 7 |
| Dynamic Segmentations | | | |
| ANALYSIS | | | |
| Global Measures | 22 | 65 | 65 |
| Local Measures | | 25 | 25 |
| Return Percentiles | 3 | 3 | 20 |
| Currencies | 8 Local + Hedged | 8 Local + Hedged | 19 Local + Hedged |
| PLATFORM | | | |
| Analytics Portal | Basic | Standard | Dynamic |
| Data files over FTP/HTTPS | | | |

Global Intel Data Delivery
CLICK ON THE ARROWS TO INTERACT WITH THE GRAPHIC: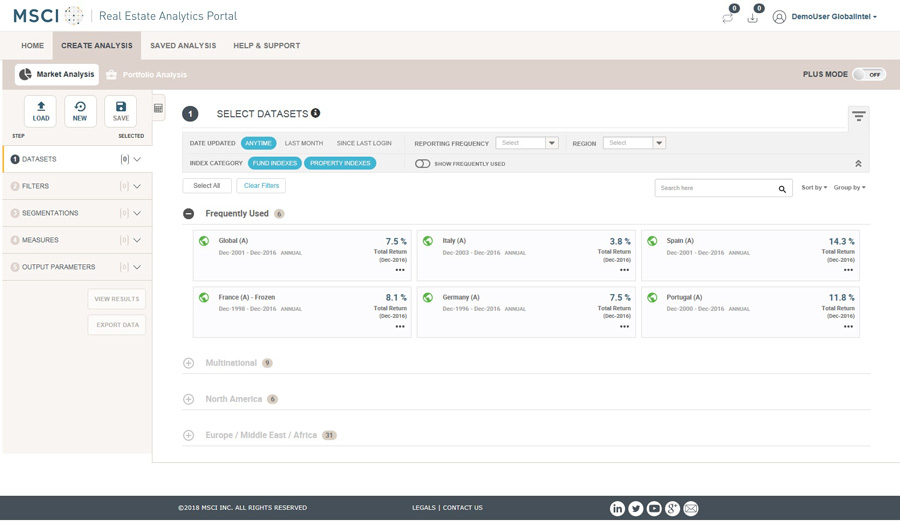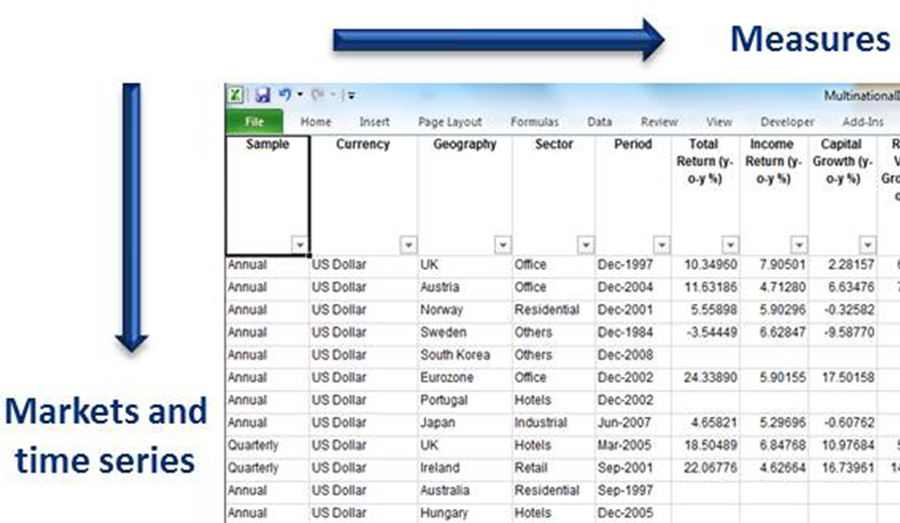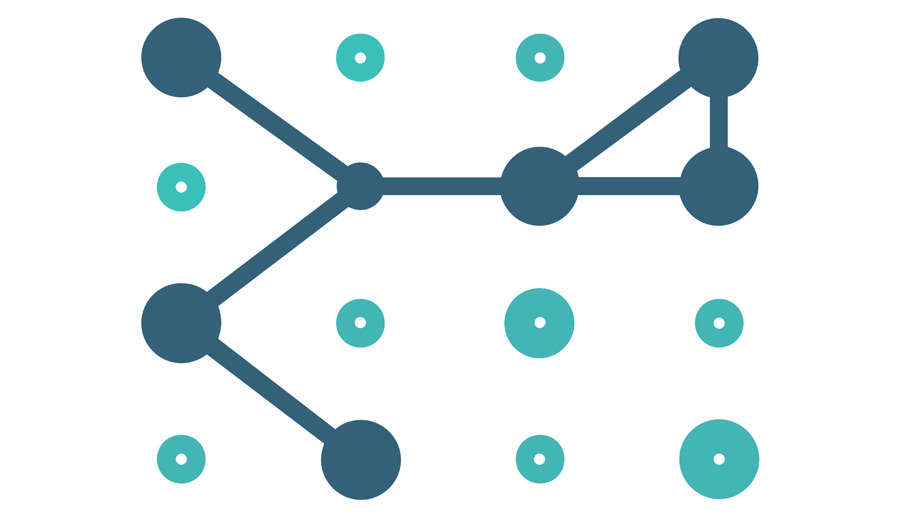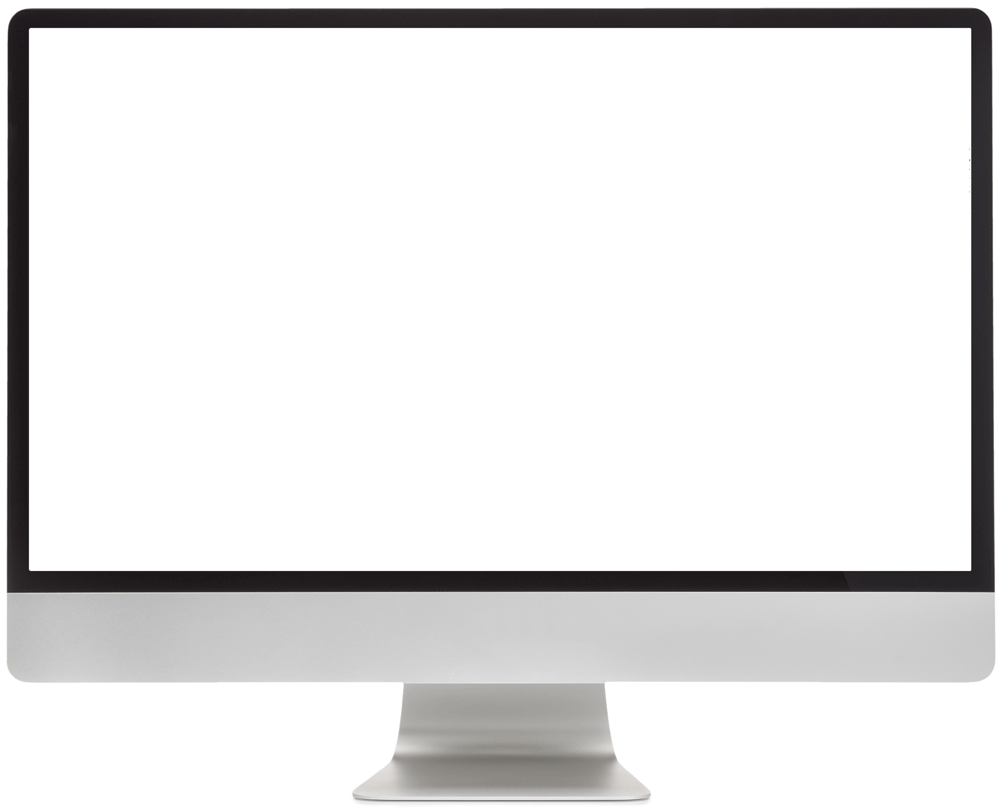 MSCI Real Estate Analytics Portal
Create, run, download and save analysis using a powerful web-based application.
Custom Data Exports
Export your analysis in your preferred file type including Excel, CSV and EDS flat file.
Automated Dataflow
Access content instantaneously pulling from MSCI's servers utilizing a variety of scripted routines.