MSCI Japan ESG Select Leaders Index
The MSCI Japan ESG Select Leaders Index targets 50% of the free float-adjusted market capitalization of each Global Industry Classification Standard [i](GICS®) Sector and is designed to target companies that have high Environmental, Social and Governance (ESG) performance.
The MSCI Japan ESG Select Leaders Index aims to target sector weights that reflect their relative weightings within the underlying indexes, to limit the systematic risk introduced by the ESG selection process. Overall the index targets coverage of 50% of the underlying MSCI parent index.

Key Points
The MSCI Japan ESG Select Leaders Index:
Is constructed using the MSCI Japan IMI Top 500 Index
Looks at the top 500 Japanese companies by market capitalization
Targets best ESG performers relative to their sector peers using MSCI's ESG Ratings and MSCI ESG Controversy Scores
Leverages our long history in developing ESG Indexes
MSCI is the world's largest provider of ESG research1 and indexes2 and currently has over $85bn3 in assets benchmarked to our ESG indexes, which includes more than 700 indexes.

Sector Weights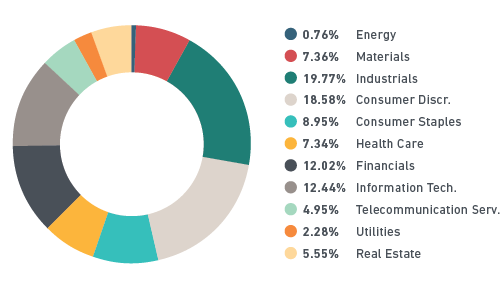 Why are leading pension funds turning to ESG indexes
Loading Why are leading pension funds turning to ESG indexes...
Applications
The index can be used to support:
Asset allocation: Consistent, complete representation that captures the full spectrum of the global equity opportunity set without home bias.
Performance measurement and attribution: An industry-leading benchmark for global mandates, with regional, country, sector and other subsets available for more targeted investment mandates.
Research: A trusted source for global equity markets and underlying security-level data for sell-side research.
Investment product development: May be licensed for use as the basis for structured products and other index-linked investment vehicles, such as ETFs and ETNs.
1 By client coverage based on public information produced by Sustainalytics, Vigeo EIRIS, Trucost, as of February 2016
2 By number of indexes and by assets tracking the indexes compared with publically available information produced by FTSE and S&P Dow Jones
3 As of September 2017, based on Bloomberg, Morningstar and MSCI data. Active AUM includes data as of June, 2017 reported on September, 2017 by eVestment. Data excludes mandate or policy benchmark related assets.