Climate Lab Enterprise Intro
Align your Portfolio for a Net-Zero Future
As institutional investors prepare for their net-zero commitments, they will likely need the tools and data to align their portfolios with climate targets for a net-zero future. How do you start on the journey to net-zero that brings you from measurement to management?
MSCI is a leading provider of solutions to support your journey to net-zero. Our climate data and analytics provide solutions across the investment process to help you measure, monitor and manage to your portfolio climate targets. We are a leading provider of climate data and metrics, climate aware indexes, best-in-class multi-asset class risk and portfolio analytics to help you build better portfolios.
Climate Lab Enterprise delivers a suite of solutions to provide a consistent view across issuer, portfolio and enterprise levels. The solution provides easy visualization of aggregated data across portfolios, quick identification of key investment strategies positively or negatively contributing to your goals, and on-the-fly trend analysis that allows you to track your success at multiple levels in your portfolio hierarchy. You can perform fundamental climate research on securities and research hypothetical "what if" scenarios to see how these trades might realign your portfolios and enterprise climate risk characteristics. Climate Lab Enterprise allows you to better manage your alignment to net-zero and prepare for the changing investment environment.
Benefits
Quickly assess where you stand with your Net-Zero commitments
Tailored climate dashboards
Monitor progress to climate targets across the entire organization
Access datasets and analysis from our robust climate solutions toolkit, including Implied Temperature Rise and Target Scorecard;
Leading edge climate models
Market leading climate data across multiple asset classes
Scalable from small institutions to enterprises with millions of positions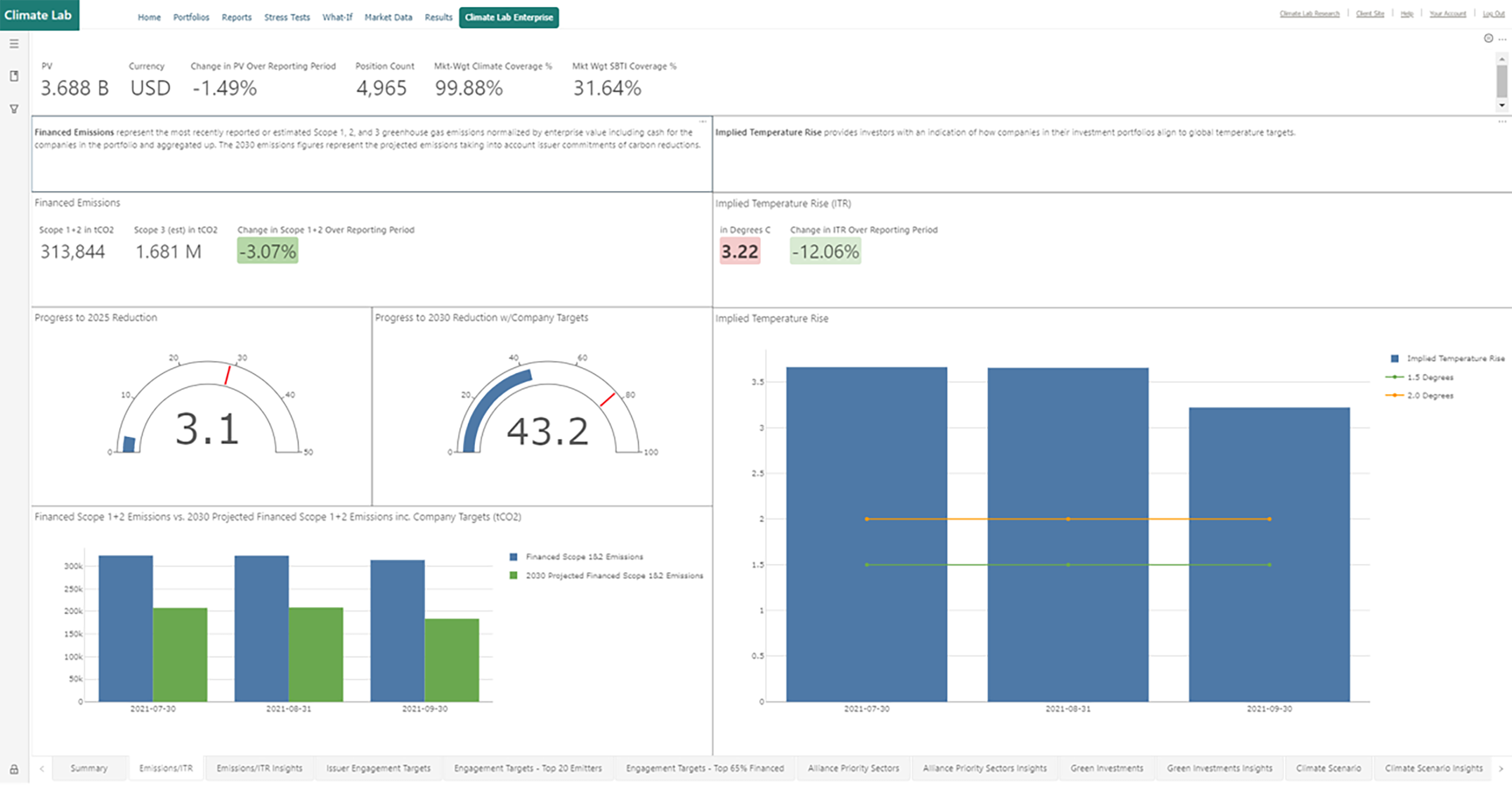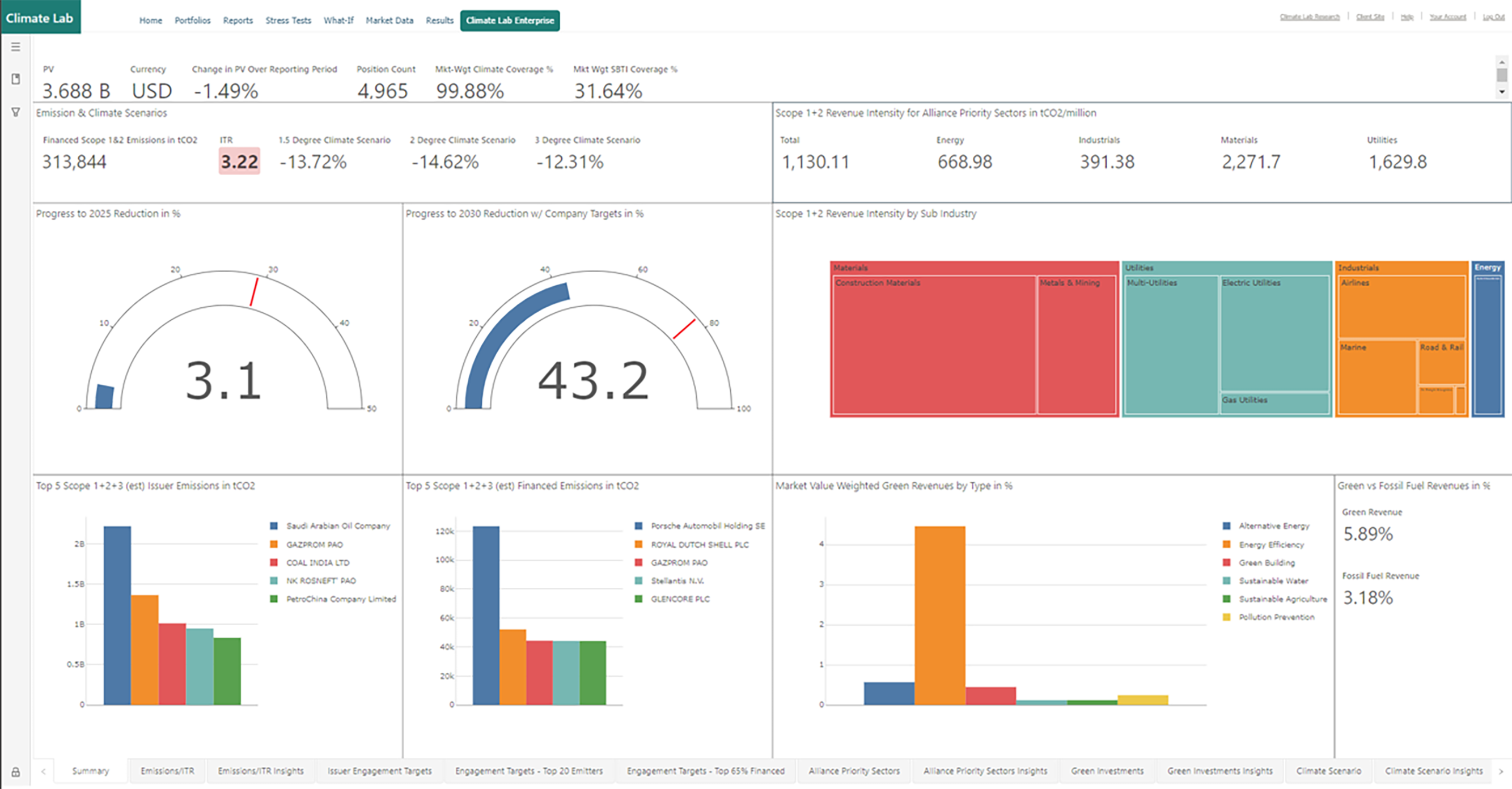 Why Climate Lab Enterprise
Measure, Monitor and Manage your Climate Risk
The integration of climate research and portfolio holdings may help empower clients to dynamically manage portfolios.
Climate Lab Company
Access enhanced visualization capabilities to explore and interrogate the breadth and depth of MSCI ESG Research's climate data and scenario analysis.
Visualize companies' carbon budget in the coming decades compared to their projected carbon emissions to quickly identify whether they are on track to a Net Zero pathway.
Deep dive on climate risks and opportunities: Enables issuers and investors to drill down on granular data in a dynamic way to derive qualitative insights that underpin our models and assessment of issuers in alignment with the Task Force on Climate-related Financial Disclosures (TCFD) framework.
Identify climate leaders and laggards: Allows users to explore relevant climate risk and opportunities by sector, or by a peer set of their choosing, to identify leaders and laggards and assess relative performance and progress.
Explore transition and physical risk: highlight the clear distinction between transition and physical risk while presenting a simple way to assess corporate climate risk through visual storytelling. Assess exposure to physical hazards under current and projected scenario using dynamic maps
Climate Lab Enterprise
Manage enterprise level exposures and risks to climate changes
Easily visualize aggregated data to help you:

Understand climate exposure trends over time and track towards targets
Forecast enterprise climate emissions based upon issuer targets
Assess alignment with the Paris Accord
Understand the enterprise risk to valuation in different warming scenarios with the ability to break those down into physical risk and transition risk components
Quickly identify issuers that your firm may want to engage with on their climate and emissions strategies
Understand which investment strategies negatively contribute to meeting climate targets

Assess trends and measure success with multiple drilldown levels from the enterprise to the issuer level
Compare portfolios to benchmarks, issuers to peers, and how rebalancing strategies may affect climate exposures
Analyze across long, short, and derivative positions using aggregation rules
Explore hypothetical "what-if" scenarios and understand the impact on a wealth of climate statistics
In our climate newsletter series, we will share our latest climate-related research, materials, events and practical, action steps to prepare for COP26 and beyond.
Subscribe
climate risk exposures across all portfolios
Climate Risk Exposures Across all Portfolios
Coupled with our leading-edge climate data, indexes and multi-asset class coverage, Climate Lab Enterprise leverage's MSCI Analytics' technology and expertise in risk assessment and aggregation to provide climate insight on an issuer, position, portfolio, affiliate, and enterprise level.
Climate Lab Enterprise Image