More sophisticated. More engaged. The individual investor and their needs are changing. They increasingly want more control with a tailored, distinctive portfolio that reflect their personal values.
What is Direct Indexing?
Direct Indexing: Index-linked, separately managed accounts for individuals, tailored for specific outcomes.
Investment Managers can use MSCI Direct Indexing Solutions to support scaled personalized portfolio construction. Whether it's gender diversity or carbon footprint that's most important to your client, Direct Indexing allows you to help them to express their personal view, how they want.
We can deliver custom indexes designed to your criteria or you can leverage our full toolkit of standard indexes, optimization tools, risk models and reporting.
How can Direct Indexing help me?
Using Direct Indexing Solutions enables:

Scalable customization while simplifying the investment experience
More control over their unique investment aspirations and outcomes
Greater transparency, choice and tax optimization opportunities
Expression of personal views on ESG & Climate, whether carbon footprint or gender diversity
How does it work?
Our graphic shows you how Direct Indexing works, simply and in a nutshell.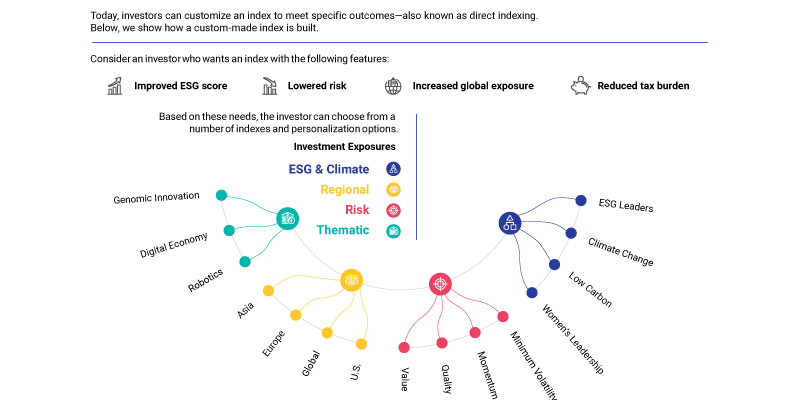 Download infographic
Why choose MSCI? We're your personalization partner
Why choose MSCI?
 

Trusted indexes supported by rigor

Our solutions are always anchored to our leading indexes, powered by robust research with a consistent methodology and transparent reporting. We have 258,000+ indexes calculated daily and more than $1.2 trillion in assets in over 1,200 funds linked to MSCI Equity Indexes globally.1
 

Climate and ESG leaders2

Our dedicated MSCI ESG Research team with 300+ analysts are leaders in their areas of expertise, so you know you're getting the latest insights with data that goes both broad and deep, including 900+ Climate Change Metrics.
 

Flexible solutions

We offer solutions that enable you to optimize portfolios, provide risk and tax management and express client ESG and Climate preferences. We provide the greatest flexibility, with 24-hour service.
Direct Indexing- Featured Content

Direct Indexing Uses
Explore our simple guide that shows how Direct Indexing helps solve your business challenges.
Direct Indexing- Contact us
If you'd like to know more, get in touch
If you're interested in finding out more about how Direct Indexing can help your business, please get in touch today and we'll be happy to take you through our solutions.
Direct Indexing footnotes
1 Data as of March 31, 2021; defined as each share class of an exchange traded fund, as identified by a separate Lipper ID.Only primary listings, and not cross-listings, are counted. MSCI does not guarantee the accuracy of third-party data
2 MSCI ESG Ratings, research and data are produced by MSCI ESG Research LLC, a subsidiary of MSCI Inc. MSCI ESG Indexes, Analytics and Real Estate are products of MSCI Inc. that utilize information from MSCI ESG Research LLC. MSCI Indexes are administered by MSCI Limited (UK).