Portfolio Management
To attract assets, managers must stand out in the crowd. The challenge is that, in today's increasingly competitive marketplace, differentiation is both more important and more difficult than ever before.
Success requires achieving three objectives:
1. Designing the best strategy,
2. Delivering superior performance, and
3. Communicating about strategy and performance in a way that is clear, concise and compelling.
MSCI is a leader in providing tools to help asset managers build and manage better portfolios. Asset owners use our research, data, benchmarks and multi-asset class risk management tools to determine whether the managers they hire are delivering appropriate risk-adjusted returns. Asset managers use our models and performance attribution tools to understand the drivers of return in their portfolios.
Equity Risk Models
Since 1975, our team of mathematicians, statisticians, financial engineers and investment industry experts have been developing analytical models that help sophisticated investors build better portfolios. Barra Equity Models incorporate data for more than 73,000 global equities and depository receipts, plus 3,500 ETFs. We provide full transparency into the data and data methodologies we use in model construction.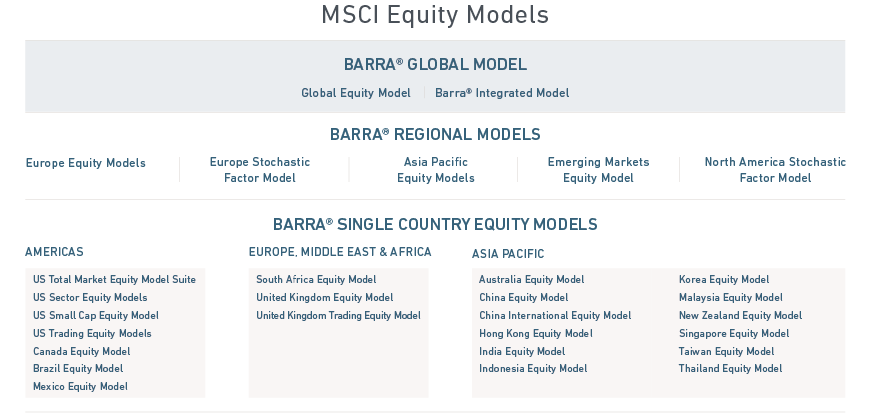 70+ Models in Four Categories
- Fundamental factor-based and Stochastic models
- Single country, regional, and global models
- Multi-asset class Barra Integrated Model (BIM)
- Models for multiple investment horizons, such as Long-Term, Medium-Term, and Trading
Systematic Equity Strategies
All new Barra models now include Systematic Equity Strategies (SES), which help to:
- Capture previously hidden sources of risk and performance, resulting in greater transparency within portfolios
- Improve the accuracy and explanatory power of a risk model, especially during periods of economic crisis
- Bring new insights into portfolio construction
- Identify persistent market anomalies and track seasonal or market-timing opportunities
- Measure crowding, or popularity, of investment styles and strategies
Applications
Barra® Portfolio Manager - Barra Portfolio Manager is a cloud-based, interactive platform with a flexible user interface that enables our clients to share strategies, analytics and reports across their organizations. Barra Portfolio Manager delivers MSCI's proprietary content as well as third-party data. Read more
Barra® Aegis Software Platform - A locally-installed application specifically designed to help clients actively manage portfolios, the platform provides Aegis Portfolio Manager, Aegis Performance Analyst, Aegis Optimizer and automation tools for each model. Read more
Performance Attribution
We offer a suite of performance attribution models with which to analyze the sources of portfolio performance on an absolute or relative basis. Our tools are multi-asset class and multi-currency, and we collect market and asset data daily. A streamlined workflow makes attribution reporting intuitive and efficient.
| Model | How it's used |
| --- | --- |
| Brinson-Fachler Attribution | To evaluate top-down sector allocation strategies in equity or balanced portfolios |
| Asset Selection Attribution | To evaluate bottom-up stock picking strategies in equity or balanced portfolios |
| Barra Equity Factor Attribution | To identify granular sources of return in equity portfolios |
| Fixed Income Attribution | To identify sources of active return due to yield curve movements and credit/spread bets in fixed income portfolios |
Optimization
The Barra Optimizer is an open, flexible library for portfolio managers. Developed by MSCI's optimization research team and other leading optimization experts, the Barra Optimizer fits seamlessly into portfolio management workflows.
Key Benefits
Easy integration - Built with an intuitive programming API that supports C++, Java, C# and COM, the Barra Optimizer is easy to integrate into statistical tools libraries such as MATLAB, R and SAS. In addition, the XML and Protobuf interfaces provide the flexibility to create and manage optimization data and parameters regardless of programming language.
Meaningful results - The Barra Optimizer moves beyond mean-variance optimization with the support of advanced mandates and alternative portfolio construction techniques. Constraint-aware round-lotting ensures that portfolio construction rules are satisfied while round lots are created. Other features include risk parity portfolio construction (or equal risk weighting) and control trading through fixed costs, thresholds and limits on the maximum number of names.
Transparency - By providing constraint shadow cost reports, solution introspection and frontier analysis, the Barra Optimizer provides transparency into the trade-offs the Optimizer is making.
Industry acceptance - The Barra Optimizer's engine powers Barra Aegis; BarraOne and Barra Portfolio Manager, which are used by leading institutional investors around the world.
Seamless integration - Our optimization library works seamlessly with Barra Models Direct files, reducing costs related to implementation and ongoing support.