Opening Private Company Emissions to Public Scrutiny Intro
Critics argue that privately held companies are becoming an opaque refuge for carbon-intense fossil fuel assets.1 But are those charges true? The case for the "prosecution" goes something like this: Private equity funds have raised capital totaling almost USD 557 billion in the energy and utilities sectors from 2010 to Nov. 11, 2021.2 Meanwhile, the "defense" argues that growth in private-equity funds hasn't been in the most-carbon-intensive sectors.
Who wins out is yet to be seen since, as the last column of the table below shows, all but one of the largest private-equity funds have not revealed the emissions footprint of their portfolios; though many have provided data on their operational footprint (Scope 1 and Scope 2 emissions), with a bit of business travel thrown in (Scope 3).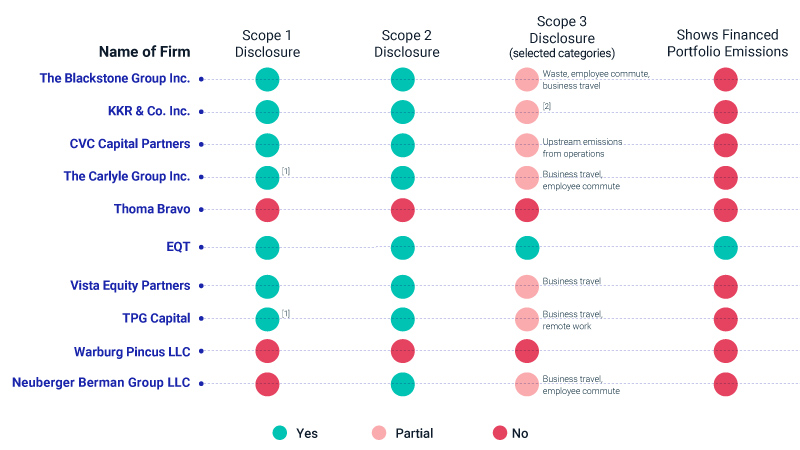 Data as of Nov. 18, 2021.1 Company stated they have no material Scope 1 emissions. 2Categories included are "numerous" but unspecified. See page 17 of "KKR Climate Action Report," November 2021. For Carlyle, see page 53 of "Impact Review," June 2021. For TPG, see "ESG Performance Report," September 2021. Source: MSCI ESG Research LLC
2022 ESG Trends Report Buttons
Opening Private Company Emissions to Public Scrutiny footnotes
1 Tabuchi, Hiroko. "Private Equity Funds, Sensing Profit in Tumult, Are Propping Up Oil." New York Times, Oct. 13, 2021.
2 MSCI ESG Research used a dataset from S&P Capital IQ of 121,797 transactions from Jan. 1, 2010, through Nov. 11, 2021, where private equity was a buyer. Transaction values were available for about 70% of transactions.