Corporate Responsibility: Our Commitment
Our commitment intro copy
Diana Tidd, MSCI's Chief Responsibility Officer, leads our Corporate Responsibility Committee in its efforts to implement practices and policies that are most meaningful to our clients, shareholders and employees and underscore MSCI's position as a leader in corporate responsibility.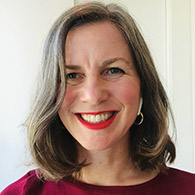 We believe, and our research shows, that sound ESG practices are linked to better business results. At MSCI, we are deeply committed to being a leader in corporate responsibility and providing the global financial community with innovative products and services that power better investment decisions for a better world."
Diana Tidd, Head of Index and Chief Responsibility Officer
Our commitment - Governance
Governance
To ensure guidance and support at the highest level, MSCI's Board of Directors' Nominating and Corporate Governance Committee receives regular reports on corporate responsibility and sustainability efforts. Additionally, the Board's Compensation & Talent Management Committee helps to develop and oversee many of MSCI's social programs and practices, including talent management and diversity and inclusion.
Our commitment - Five Pillars of Corporate Responsibility
Four Pillars of Corporate Responsibility
Our commitment to corporate responsibility is embodied in four pillars: Better Investments for a Better World, Social Responsibility, Sustainable Operations, and Act with Integrity
Four Pillars of Corporate Responsibility - cards
MSCI Commitment to the UN Sustainable Development Goals (SDGs)
MSCI Commitment to the UN Sustainable Development Goals (SDGs)
In 2015, the United Nations adopted the 17 UN Sustainable Development Goals (SDGs), defining the goal posts for delivering global sustainable development. While governments have developed the goals and signed up to their implementation, government action alone will not be enough to achieve them. Corporate action is also required to achieve the goals and foster sustainable development, reduce inequality and protect the environment.
At MSCI, we are committed to addressing the SDGs both through our products and services as well as through our operations.
Since their adoption by the United Nations, MSCI has worked to provide practical ways for investors to consider the SDGs. In 2016, we developed a framework designed to allow investors to measure their exposure to listed companies providing sustainable impact solutions, grouping the 17 goals into five actionable impact themes. In September 2020, we launched the MSCI SDG Alignment Tool designed to provide investors with a complete view of a company's net contribution – both positive and negative – towards addressing each of the 17 UN SDGs.
At MSCI, we hold ourselves to the same high standards that we use to assess the alignment of companies to the SDGs. We believe that our business and operations can contribute meaningfully to four SDGs that we are actively seeking to measure impact on: "Gender Equality", "Decent Work & Economic Growth", "Reduced Inequality" and "Climate Action".
More information on our contribution to the UN SDGs most relevant to our business can be found below, which we will update over time.
 

MSCI:

We believe that empowering women will make our business and society more prosperous and sustainable. We are committed to ensuring fair treatment and pay equity by addressing any areas of gender pay disparity, supporting full and effective participation of female workers and promoting women into leadership positions.

MSCI Client Solutions:

Gender diversity has been a key theme of research for MSCI since 2009. We provide a comprehensive set of metrics as well as indexes for investors wanting to understand and manage their exposure to gender diversity.

Women on Boards: 2021 Progress Report

MSCI:

At MSCI, we have developed a culture of high employee empowerment and engagement focusing on performance, growth and career development. Our employees have opportunities to learn, collaborate and innovate to achieve their full potential and develop better solutions for a better world.

Corporate Responsibility: Social Responsibility

MSCI Client Solutions:

Through our ESG research and solutions, we enable investors to integrate ESG into their investments and business practices. We also strive to bring greater ESG transparency to financial markets and drive awareness about ESG issues among investors and companies globally.

Corporate Responsibility: Better Investments for a Better World - MSCI Sustainable Finance

 

MSCI:

MSCI is committed to a work environment that values diversity, equity and inclusion, and where everyone is treated with dignity and respect. MSCI is an international company with a highly diverse global footprint. Diversity is at our core, equality is our mission and inclusion defines our culture.

MSCI Client Solutions:

MSCI provides screening data and tools for investors wanting to identify companies in their portfolio with positive and negative practices related to ESG issues, including reducing inequalities.

ESG Investing - Impact Solutions

MSCI:

At MSCI, we champion the principle of operating in a sustainable planet and strive to develop, enhance and monitor climate-related strategies to reduce our footprint and help create a sustainable world.

Corporate Responsibility: Environmental Sustainability

MSCI Client Solutions:

MSCI is committed to support the transition to a low carbon economy by equipping the global investment community with the tools and data to measure and manage climate risk and opportunities.
Our Commitment - related content