Jorge Mina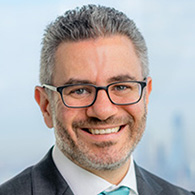 Jorge Mina
Head of Analytics
Jorge Mina, as Head of Analytics, is responsible for MSCI's equity and multi-asset class risk and portfolio management products. He is a member of the firm's Executive Committee. Jorge is also Chair of MSCI's Executive Diversity Council.
Prior to his current role, Jorge served as Head of Analytics for the Americas since 2015. He joined MSCI in 2010, following MSCI's acquisition of RiskMetrics and served as a managing director of Risk Management Analytics from 2010 to 2015. Prior to joining MSCI, Jorge was a founding member at RiskMetrics Group where he served in a variety of roles, including co-head of the RiskMetrics Business and Head of Research.
Jorge holds a Bachelor of Arts degree in Actuarial Sciences from the Instituto Tecnológico Autónomo de México and a Master's in Financial Mathematics from the University of Chicago.

Related Content
Our Leadership
Our senior leadership team is comprised of highly experienced executives from diverse backgrounds.
Learn More
Social Responsibility
Promoting diversity and inclusion.
Read More
Analytics
Multi-asset class risk and performance analytics powered by flexible technology that enables clients to manage risk, communicate results and make better investment decisions.
Explore