Scott Crum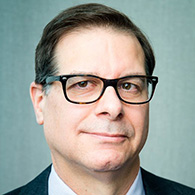 Scott Crum
Chief Human Resources Officer
As MSCI's Chief Human Resources Officer, Scott Crum is responsible for developing the firm's talent strategy, building out its human resources capabilities and helping to shape the firm's culture. He is also a member of MSCI's Executive Committee.
Prior to joining MSCI in 2014, Scott served as Head of Global Human Resources for three publicly traded companies, including ITT Corporation where he held this senior role for eight years. He also served as Senior Vice President and Chief People Officer of Motorola Mobility Holdings, Inc. and Senior Vice President of Administration and Employee Resources for General Instrument Corporation.
Scott has a broad, global background in all functional aspects of Human Resources and a distinct record of success in executive recruiting, talent & leadership development, cultural change, labor and employee relations, inclusion and diversity, board governance, six-sigma/lean and strategic planning.
He lives and works in New York City and is a graduate of Southern Methodist University in Dallas, Texas.
Related Content - Our Leadership