Emerging market equities underperformed U.S. stocks by 7.2 percentage points (as of Nov. 30) following Donald Trump's election as president, based partly on the expectation that the president-elect is likely to pursue a series of protectionist policies that could hurt many export-dependent emerging nations. Stocks in developed economies (ex-U.S.) also underperformed those in the U.S., albeit by a smaller margin (3.8 percentage points).
Emerging and developed market equities before and after the U.S. election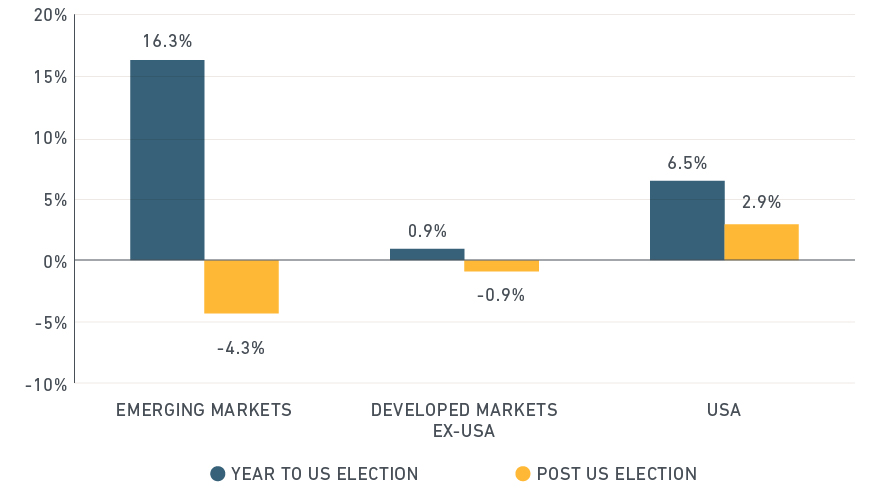 Source: MSCI Research. Data as of Nov. 30, 2016.
To help institutional investors better understand the possible effects of trade barriers on stocks, we examine the ratio of exports over GDP, as a measure of export dependency, against economic exposure to the U.S. of underlying companies in MSCI indexes. Such data can help investors understand risk, at least historically, and suggest approaches to structuring institutional portfolios.
As depicted below, Singapore and Hong Kong depend most on exports to the U.S., followed by Malaysia, Thailand, Switzerland, Korea and Germany. Beyond that, the dependency of most emerging market economies on exports to the U.S. mirrors that of developed economies.
Export dependency and economic exposure to the U.S.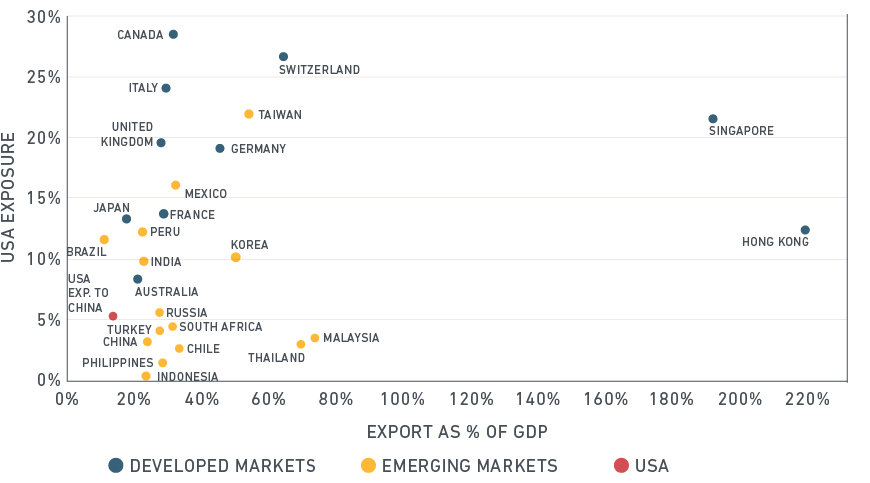 Source: MSCI Research. Data as of Nov. 30, 2016. Economic exposure to the U.S. is calculated based on companies in the MSCI Investable Market Index.
On the whole, developed countries have higher economic exposure to the U.S. compared with emerging markets. About a quarter of the revenue of companies in the MSCI Canada and MSCI Switzerland indexes comes from the U.S. Italy, the U.K. and Germany also exhibit high double-digit exposures. Both Singapore and Hong Kong depend heavily on exports to the U.S., but differ significantly in their exposures. Singapore, as measured by the MSCI Singapore Index, has nearly three-quarters (73%) greater exposure to the U.S. than Hong Kong.
Among emerging markets, Taiwan (19.7%), Mexico (14.5%), Peru (11%) and Brazil (10.5%) depend most heavily on exports to the U.S., while Korea (9.2%) and India (8.9%) also exhibit comparatively high exposures.
Trade between China and the U.S.
China, which accounts for more than a quarter of MSCI's Emerging Markets Index, has 3% exposure to the U.S. Most of that exposure represents revenues of Chinese companies listed in Hong Kong or the U.S. and does not include most mainland China-listed companies, which earn most of their revenue within China. Note that American companies actually derive proportionally higher revenues (4.8%) from China than vice versa, which highlights the damage to both economies from a potential trade war.
We also examined the performances of individual emerging market economies based on economic exposure to the U.S. The chart below shows a sharp contrast of market reactions to developed and emerging equities based on the share of revenue that local companies earn in the U.S. Of course, the prospect of an interest rate hike in the U.S. also may have contributed to negative investor sentiment and hurt emerging market currencies.
Market Performances Post U.S. Election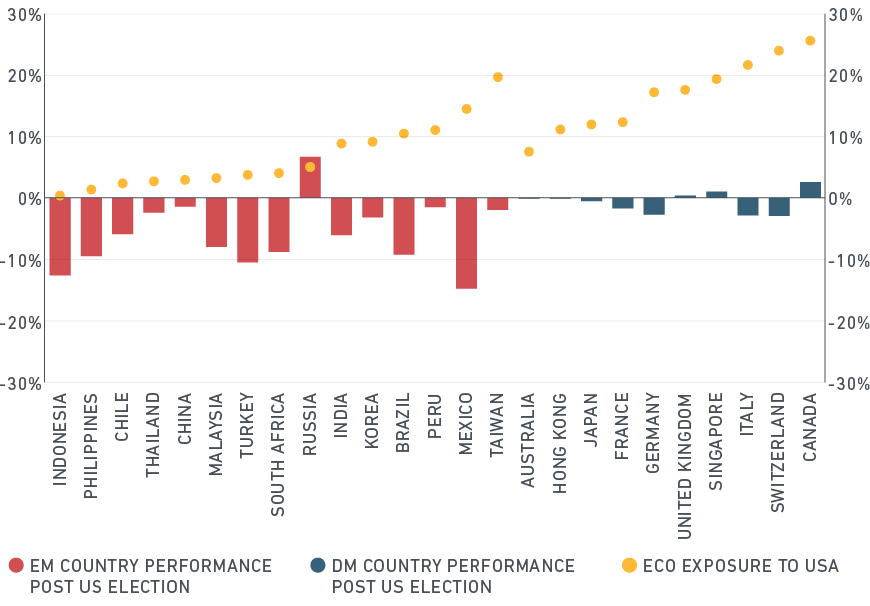 Source: MSCI Research. Data as of Nov. 30, 2016.
Still, while any clampdown on trade by the U.S. is likely to hurt other countries (and, possibly, the U.S. as well), the above analysis suggests that developed economies have as much if not more to lose from trade barriers than emerging markets.
The author thanks Anand Muthukrishnan for his contributions to this post.
Further reading:
What do factors tell us about regime change in U.S. stocks following the election?