Did Low-Carbon-Transition Strategies Differentiate Energy Companies?
Did Low-Carbon-Transition Strategies Differentiate Energy Companies?
An energy crisis has propelled the energy sector, but this overall performance hides notable underlying differences. Our analysis shows that energy companies with above-average strategies to manage a low-carbon transition (LCT)1 outperformed their peers, while those with below-average LCT strategies recorded much flatter returns in 2022. This underperformance persisted even after accounting for the negative impact of the delisting of Russian companies following the invasion of Ukraine.2
The performance of energy companies classified in different Global Industry Classification Standard (GICS®)3 sub-industries varied. Specifically, companies in coal and consumable fuels recorded the highest average 2022 returns, followed by oil and gas equipment and services, integrated oil and gas, and oil and gas exploration and production. As these four sub-industries own fossil-fuel reserves and production facilities, we would have expected them to benefit the most from strong demand amid the energy crisis. But what was interesting to note was the role of a strong LCT strategy as a key differentiator of performance, particularly in oil and gas equipment and services, and integrated oil and gas.
This data is only a snapshot, but it may echo a potential explanation offered in a previous MSCI study that identified economic transmission channels for the influence of regulatory policies and green technology on the financial markets. Specifically, more carbon-efficient companies experienced stronger performance and companies' green revenue share was clearly associated with higher earnings growth and a stronger stock performance within a given sector.
Performance of energy-sector constituents excluding Russian energy companies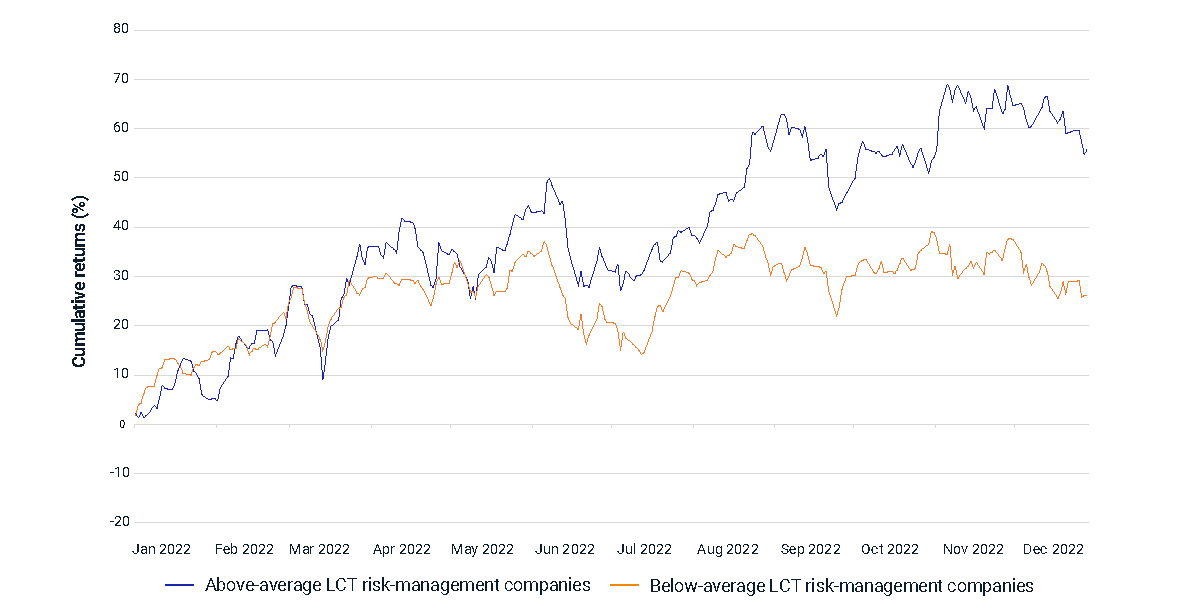 A breakdown of returns by energy-sector sub-industry and LCT-risk-management grouping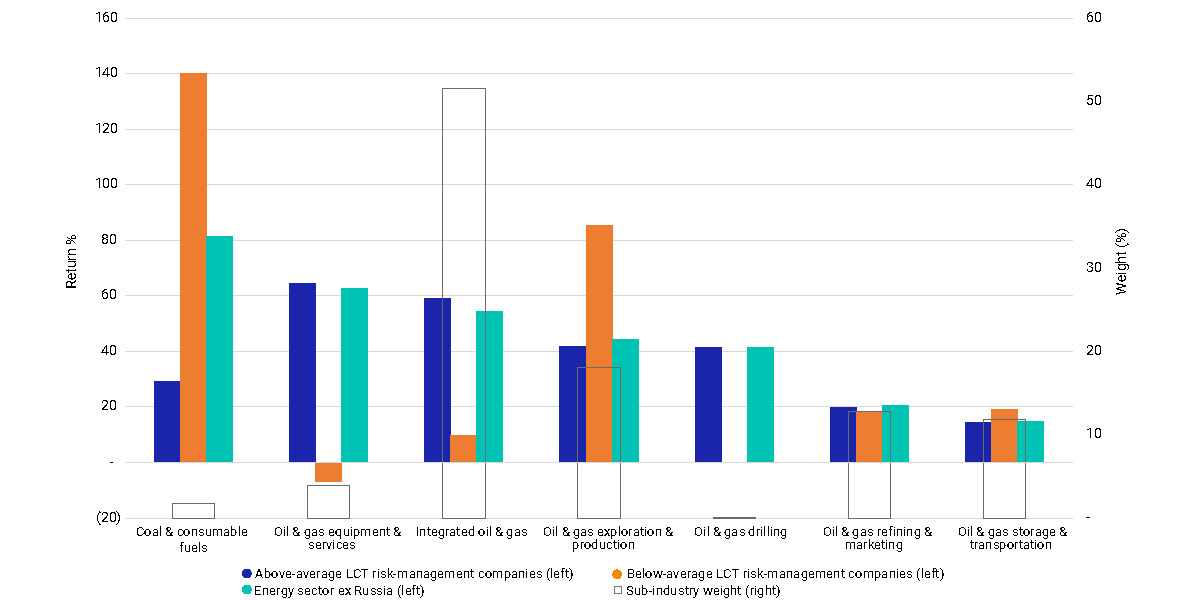 1
This is measured by the MSCI Low Carbon Transition Risk Management Score and Quartile. The MSCI Low Carbon Transition Risk Management Score measures how well a company manages risk and opportunities related to the LCT. It is computed relative to a company's industry peers and combines management assessments for the following key issues: carbon emission for all companies, product carbon footprint, financing environmental impact, opportunities in clean tech and opportunities in renewable energy where available. It captures strategy and risk management efforts along both products and operations dimensions on policies and commitments, programs and initiatives, performance indicators and controversies. Higher scores on management indicate greater capacity to manage risk.
2
All analysis in this quick take excludes the delisted Russian companies and focused on constituents of the MSCI ACWI Energy Index, between Dec. 31, 2021, and Dec. 31, 2022. There were 74 companies in the top-half LCT-risk-management group and 27 in the bottom-half group at the beginning of 2022. Note that some companies had the same LCT-risk-management score; thus the number of companies in each of the two groups was not the same.
3
GICS is the global industry-classification standard jointly developed by MSCI and S&P Global Market Intelligence.