How US Real Estate Purchases Changed During the Pandemic
How US Real Estate Purchases Changed During the Pandemic
One notable consequence of the COVID-19 pandemic was a shift in real estate investors' preferences. Comparing broad-market purchase activity in 2019 to that in 2020-2021, we observed a shift away from sectors like retail, office and hotel/hospitality and toward sectors like industrial and residential. These trends did not necessarily hold for all investors, however. Real estate investment trusts (REITs), notably, recorded a greater share of office — and lower share of industrial and apartments/residential — purchases in 2020-2021 compared to 2019. The share of retail purchases also increased slightly for closed-end funds.
Geographic shifts
Purchase activity also shifted away from larger coastal gateway markets toward secondary and even tertiary markets. In 2019, purchases in Boston, Chicago, Los Angeles, New York, San Francisco and Washington, DC, accounted for 24.3% of total volume, but this declined to 19.7% in 2020-2021. Boston was the only one of these six markets whose share of purchases increased, moving from 3.1% to 3.3%, with REITs and closed-end funds being more active in that market. While the overall share of purchases declined in Los Angeles and Chicago, open-end funds bought more properties in the former and closed-end funds increased purchases in the latter.
Office activity down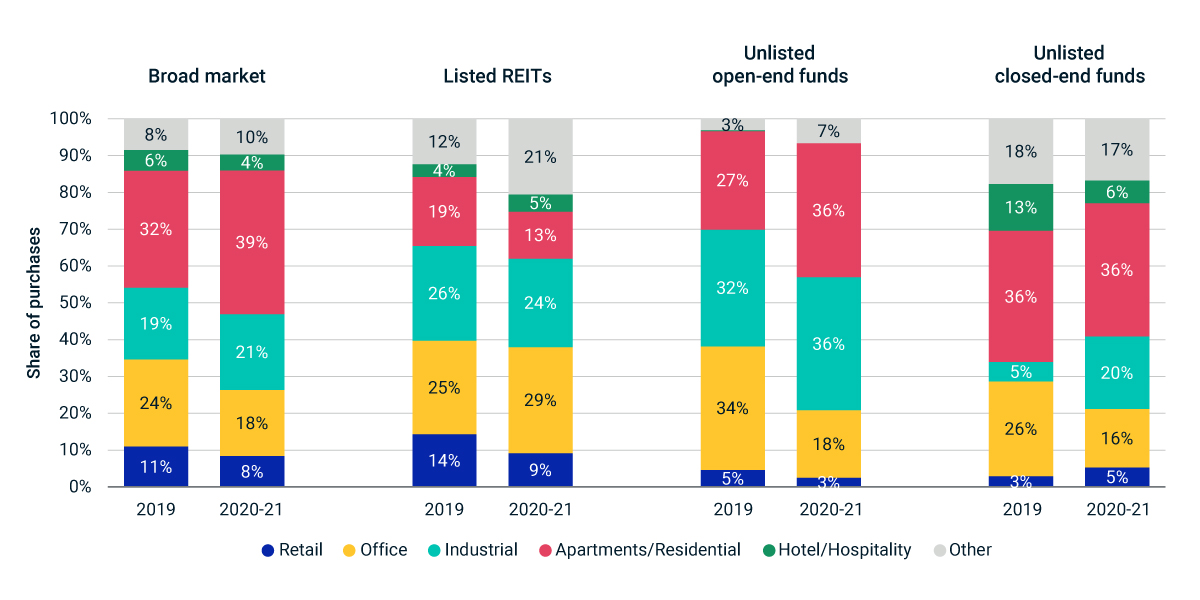 Data on the broad market and REIT shares is estimated using MSCI Real Capital Analytics transaction data. Data on open-end funds is from the MSCI/PREA U.S. AFOE Quarterly Property Fund Index. Closed-end-fund data is from Burgiss.
Moving out to the 'burbs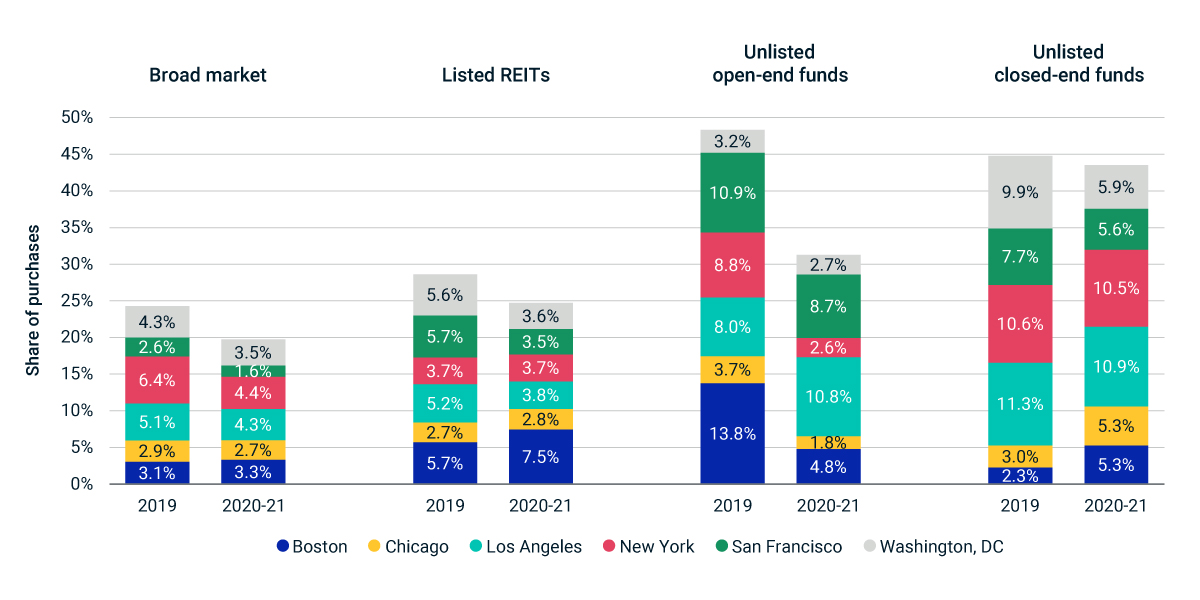 Related Content
How Is Remote Work Reshaping Private Real Estate?
Since the start of the COVID-19 pandemic, investments in U.S. private real estate have shown a marked shift away from office properties and into industrial projects, especially warehouses.
Read the blog post
The changing face of real estate portfolios
Office and retail investments still account for the bulk of typical commercial real estate portfolios, but have become less dominant.
Read the blog post
Private Real Estate Valuation and Sale Price Comparison 2021
For mainstream financial asset classes, investment-performance measurement is based on transaction prices. In contrast, direct real estate is well known for being an illiquid and heterogeneous asset class, making the establishment of purely price-based indexes problematic.
Read the paper