US Apartment Portfolios Targeted by Non-Traded REITs
US Apartment Portfolios Targeted by Non-Traded REITs
In 2021, non-traded REITs purchased more multifamily assets in the U.S. than ever before. Recent reports indicate that this investor group has raised record-high levels of capital, and when so much capital is raised there is a need to deploy it, and quickly as well. Already the deal pipeline is bulging.
Non-traded REITS (NTRs) are part of the private investor category, a group that acquired a record $213.9 billion of U.S. apartment buildings in 2021. Non-traded REITs accounted for 10% of those private capital acquisitions last year, up from the 3% average share seen between 2015 and 2019.
Two large portfolio transactions that closed in the fourth quarter boosted the NTR category's share of all private capital acquisitions. BREIT, Blackstone's non-listed REIT, acquired a $5.1 billion portfolio of affordable housing from AIG in December and Starwood's SREIT purchased a $3.5 billion portfolio from Strata Equity Group in November.
After raising enormous amounts of capital last year, these entities favored larger deal structures rather than purchasing apartment assets one at a time. More than 75% of NTR acquisition volume was tied to portfolio sales in 2021.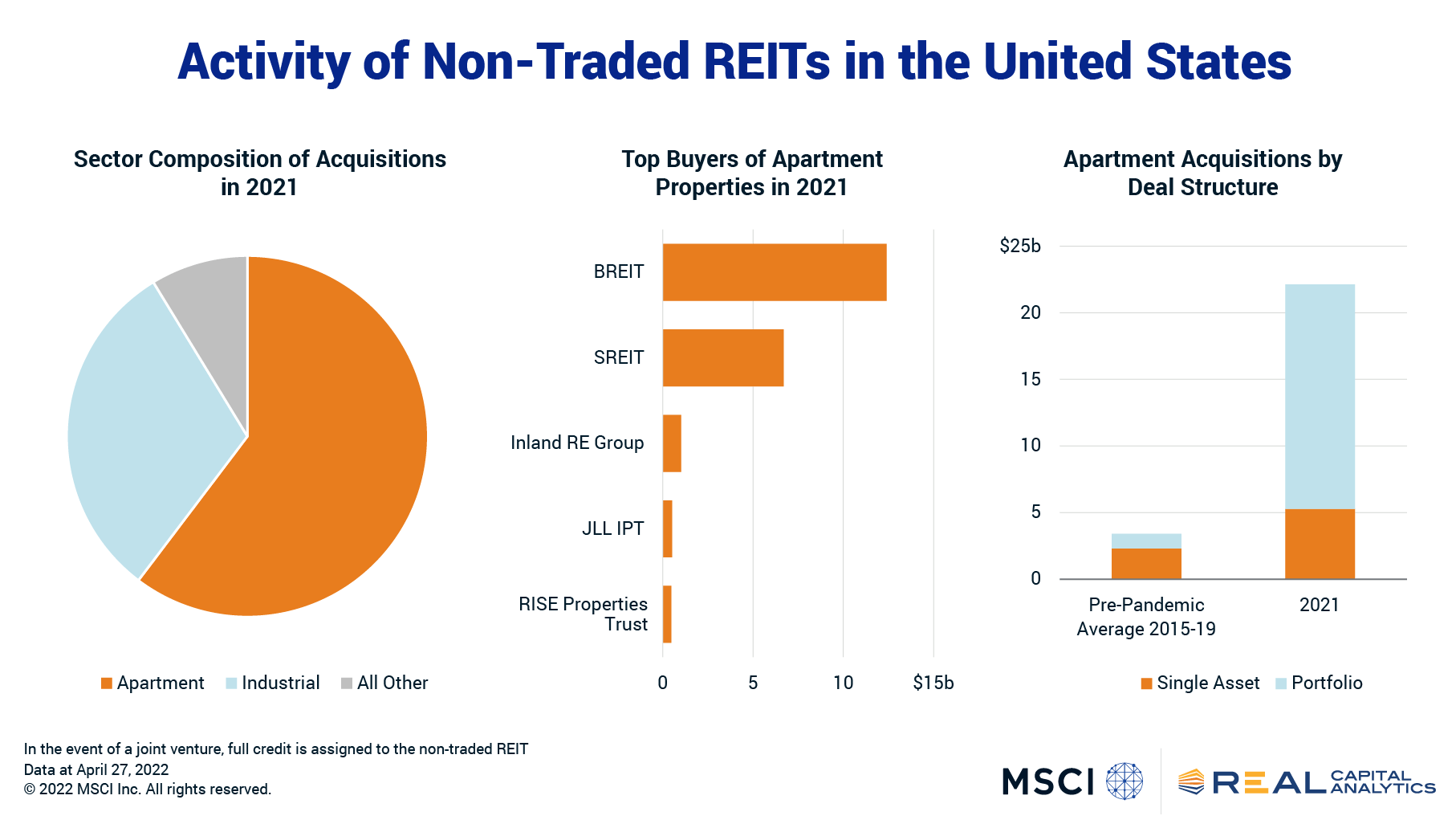 According to a report from investment bank Robert A. Stanger, NTR fundraising in January through November 2021 totaled $32.8 billion, more than triple the full-year 2020 level. In the first quarter of 2022 alone, these groups raised $12.2 billion, Stanger said in a subsequent release.
Putting those fundraising levels into the context of deal sizes, the average portfolio deal size in 2021 — excluding the fourth quarter BREIT and SREIT deals — was $490 million. The average deal size for an individual apartment property acquired by an NTR last year was around $60 million.
Capital structure can help to determine deal structure. The investment activity of these non-traded private REITs has been focused on portfolio megadeals which can be an effective option for deploying capital quickly. Entity-level megadeals, or the purchase of entire companies, are also an option. As more capital is raised in the non-traded REIT world, it could spell an uptick in megadeal activity for the year.
Already the pipeline for BREIT is large. It is slated to acquire American Campus Communities with other Blackstone funds, a student housing deal which is expected to close in the third quarter. It also has deals in contract to buy Preferred Apartment Communities and Resource REIT.

Related Content
Research and Insights
Our investing insights explore the topics that matter most, whether on climate and ESG, current market trends or global investing and risk management across asset classes.
Explore More