US Commercial Real Estate Price Growth Slipped in April
US Commercial Real Estate Price Growth Slipped in April
Annual growth in the price of U.S. commercial properties ebbed again in April, the third consecutive month of decelerating price gains. The RCA CPPI National All-Property Index rose 17.9% from a year ago, a pace still not far from the record rates seen at the start of 2022. Results across the major property types were mixed.
The industrial and apartment sectors led annual price gains in April, hovering close to their record highs. Industrial prices rose 26.0% from a year ago, and apartment prices increased 23.0%. Both the industrial and apartment indexes rose 1.3% from March, and this month-over-month change suggests around a 17% annualized rate of growth, slower than the posted pace of yearly change for these indexes.
The RCA CPPI for retail properties increased 18.4% in April from a year ago. While this rate was close to the record pace seen at the start of the year, it has decelerated for three months in a row. Retail prices were falling for most of 2020 during the worst parts of the pandemic.
The price index for offices in central business districts rose 12.3% from a year ago, eclipsing the price increases for suburban offices and marking the fastest annual growth rate for this property type since 2014. Growth in the suburban-office price index has slowed since its peak in late 2021 and in April posted a 10.3% year-over-year increase.
Annual growth in US commercial property pricing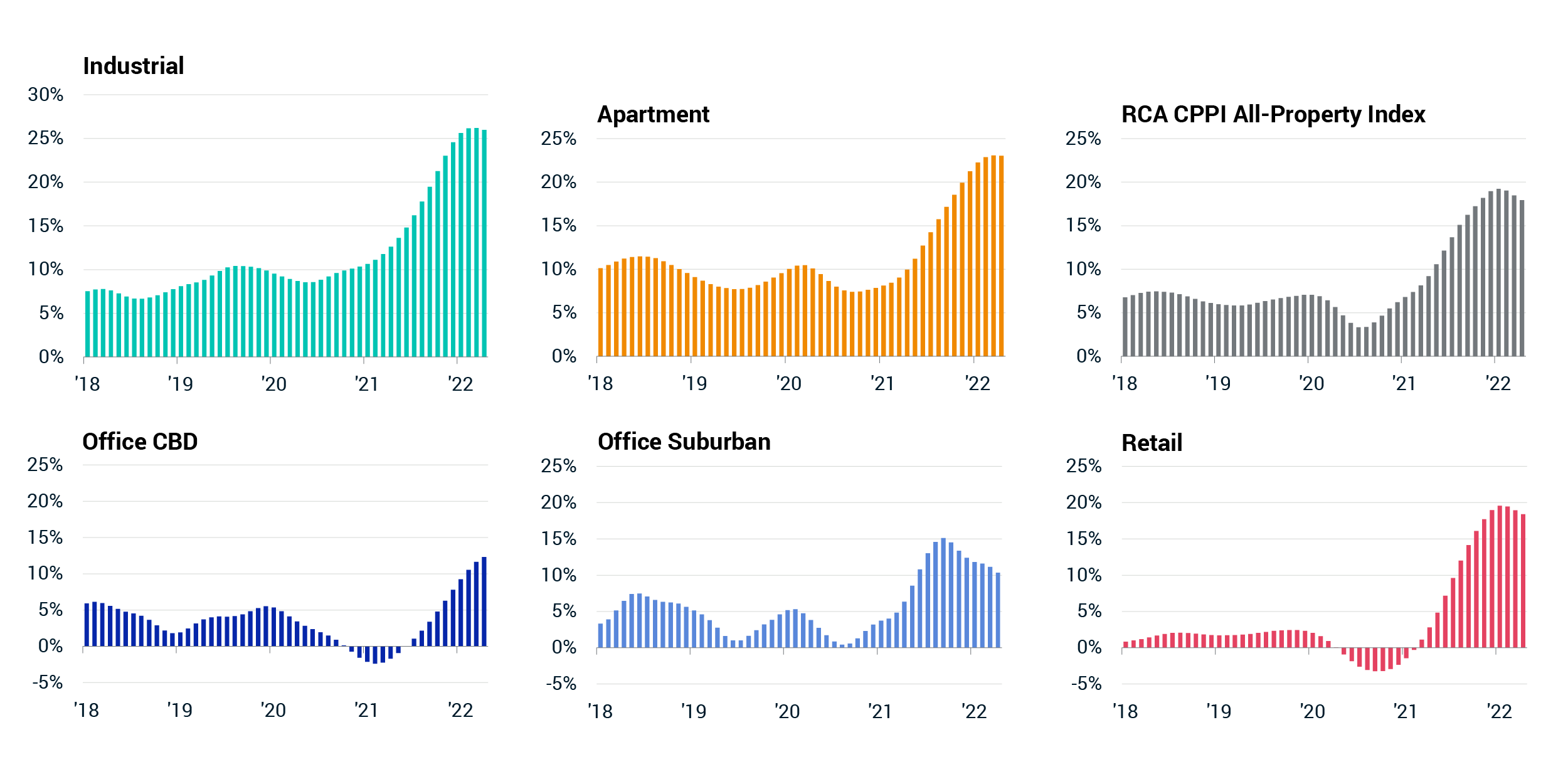 Related Content
Research and Insights
Our investing insights explore the topics that matter most, whether on climate and ESG, current market trends or global investing and risk management across asset classes.
Explore More