The New Amazon Effect Intro
Everyone buys from Amazon, but who does Amazon buy from? In corporate board rooms the world over, the push to set a net-zero target is eliciting a common refrain: What do we do about our suppliers? Value chain interdependency means decarbonization interdependency, too. As the world's big companies work to go net-zero, downward emissions pressure may become as familiar to suppliers as downward price pressure.
The chart below shows how the top upstream suppliers to the big four cloud service companies (Amazon, Microsoft, Alphabet and Alibaba) stack up when it comes to carbon emission abatement. The top bar charts are the companies' Implied Temperature Rise1; a company has a white check connected to its name if it has declared a net-zero commitment2; and a green check if the company has a decarbonization target (different than a net-zero target) approved by the Science Based Targets Initiative (SBTi)3.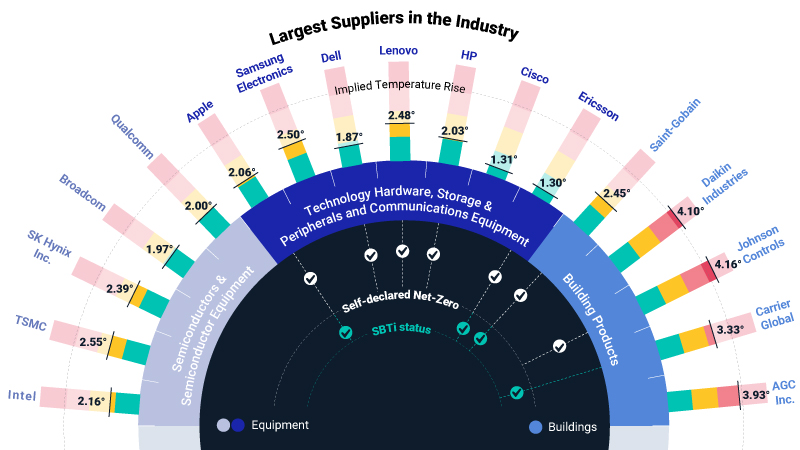 The New 'Amazon footnotes
1 MSCI Implied Temperature Rise (ITR) model estimates what temperature rise would occur in 2100 if the whole economy had the same over/undershoot level of greenhouse gas (GHG) emissions versus a carbon budget, as the company analyzed (based on the most recent Scope 1-3 projected emissions).
2 Self-declared Net Zero: The company has published a 'Net-Zero' GHG emissions commitment.
3 SBTi status: The SBTi is an organization supported by CDP, the UN Global Compact, WRI and WWF. Approved status refers to companies that have had their decarbonization targets reviewed and validated by SBTi.
Decarbonization is reducing GHG emissions, net-zero is staying within a 1.5oC carbon budget that keeps a portfolio's carbon footprint zero on a net basis. Companies in the table are selected as the largest industry constituents of the MSCI ACWI Index by revenues. Source: MSCI ESG Research LLC as of Nov. 18, 2021.
2022 ESG Trends Report Buttons
The New 'Amazon Effect: Related Content