Risk Management
The goal of investment risk management is to maximize a portfolio's expected return for a given amount of risk through careful asset allocation. To achieve this goal, investors need a robust feedback loop connecting all parts of the investment management process.
MSCI's powerful multi-asset class risk and performance platform supports our clients from asset allocation through implementation and reporting. It gives front and middle offices a common language to use in identifying and communicating about the sources of market, credit, liquidity and counterparty risk. Ex post performance measurement provides a basis for understanding whether the sources of risk are aligned with the drivers of return. Throughout the process, clients can benefit from a single data load and reconciliation process for both risk and performance attribution analysis.
Flagship Products
Barra®One
A multi-asset class, multi-currency risk and performance analytics platform that enables investors to use its risk forecasting model, correlated stress test engine and performance analytics together in an integrated fashion. Read more
RiskMetrics® RiskManager
A multi-asset class, scalable SaaS framework for enterprise-wide risk management. RiskManager's powerful analytical capabilities enable clients to quickly set up custom reports, run ad hoc analyses, perform exception management, design stress test scenarios and conduct what-if analysis. Read more
RiskMetrics® CreditManager
Sophisticated tools for consolidating and comparing risk and opportunities across an entire credit business -- including bonds, credit derivatives and traditional retail exposures. Read more
RiskMetrics® HedgePlatform
A service that helps investors to better manage their hedge fund investments using analytics calculated on the position-level holdings of each fund. Read more. Case Study: Using MSCI HedgePlatform for holdings-based risk management - A case study for the State of Wisconsin Investment Board.
RiskMetrics® WealthBench
A web-based platform that helps wealth managers assess portfolio risk, construct asset allocation policy and create comprehensive client proposals. Read more
Scenarios, Stress Tests and Strategies - Quarterly Report
Testing the ability of portfolios to withstand and survive extreme events has become a tool of choice for asset managers, financial institutions and regulators worldwide. MSCI's "Scenarios, Stress Tests and Strategies" looks beyond the headlines to examine developments that may challenge investors. The quarterly report outlines adverse and positive scenarios and their implications for multi-asset class portfolios, connects observations about the macroeconomy with a set of risk factors that portfolios may be exposed to, and details how to translate select scenarios into stress tests using MSCI's RiskMetrics® RiskManager, an industry leader in providing deep, multi-asset class risk analytics.
Download the "Scenarios, Stress Tests and Strategies for Second Quarter 2016 Special Edition: The Rise of Populism" research paper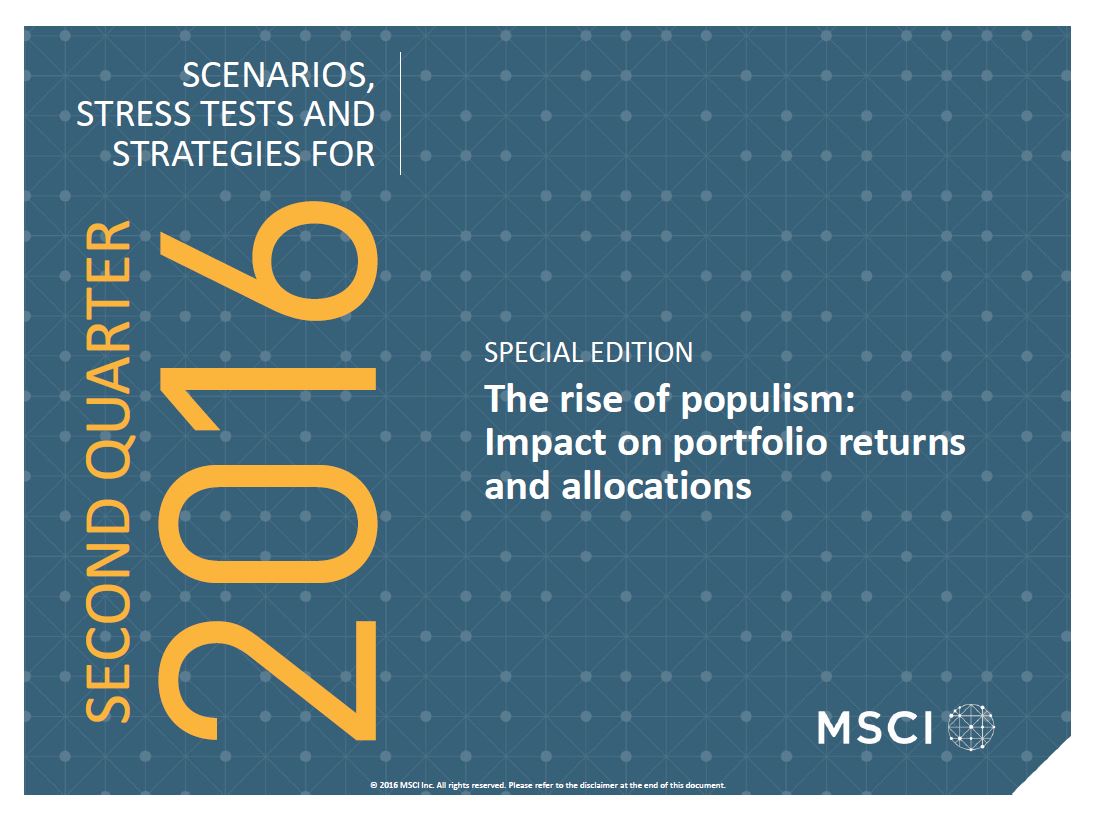 Surveys the drivers of populism and its rise in advanced economies;
Assesses macroeconomic and market consequences of populist policies; and
Evaluates two scenarios for populism: One in which a combination of protectionism and fiscal expansion weaken growth and fuel inflation, and a second in which Brexit leads to a breakup of the eurozone.
Download the "Scenarios, Stress Tests and Strategies for First Quarter 2016" research paper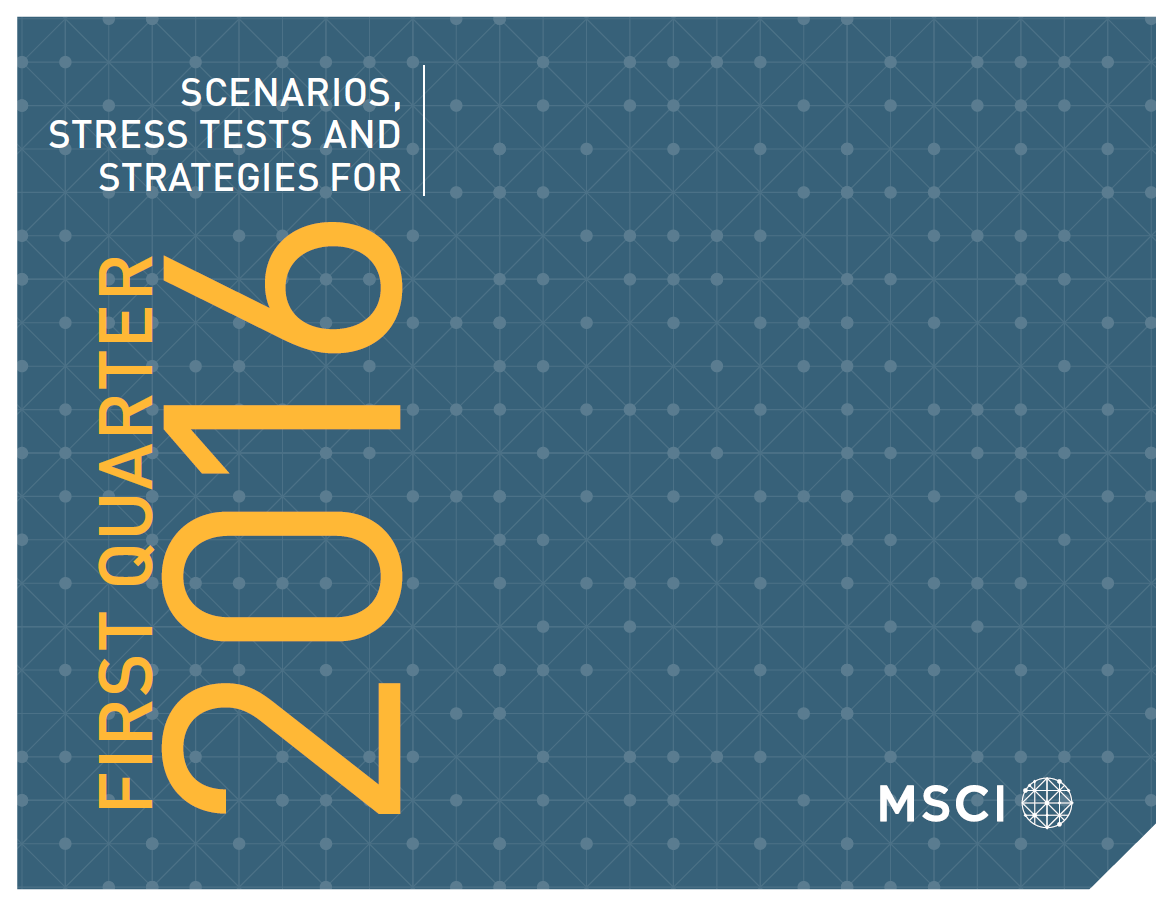 Updates MSCI's survey of 12 global stress points that can be a basis for scenario design
Evaluates possible effects on portfolios of the U.K's leaving the European Union and changes in the price of oil
Reviews the principal asset classes in the preceding three months through the lens of factor models that investors use to manage risk and construct portfolios.
Download the "Scenarios, Stress Tests and Strategies – January 2016" research paper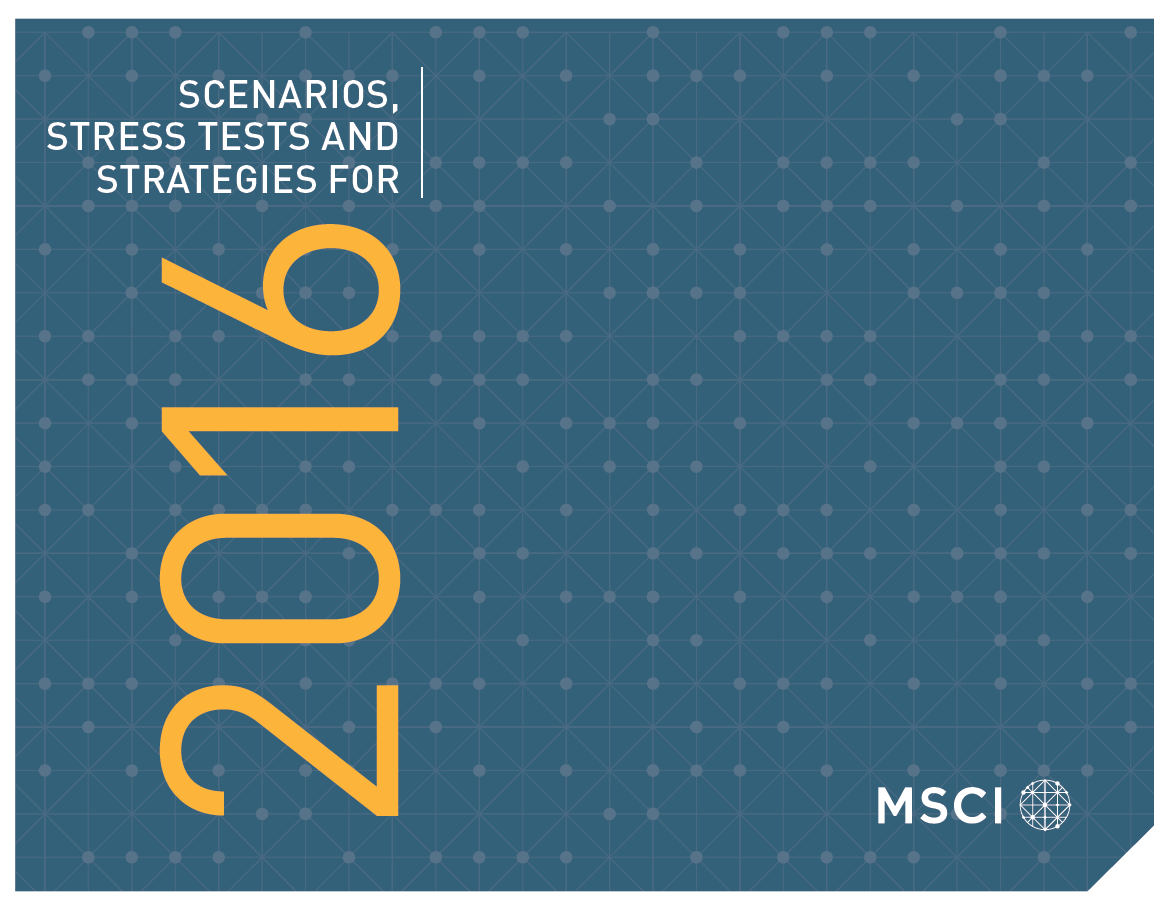 Models additional interest-rate increases by the U.S. Federal Reserve and the effects of a further slowdown in China.
Surveys risks in investment strategies and risk-taking across asset classes
Reviews the performance of markets in 2015, including macroeconomic indicators and asset classes through the lens of factor models that investors use to manage risk and construct portfolios
Stress Testing
Stress testing is used to identify potential losses due to event-related risks that may not be captured by standard Value at Risk (VaR) analysis.
In addition to helping clients address regulatory requirements for stress testing, our extensive library of historical and predictive stress tests helps clients with business planning by giving them a clear view of their structural and tail risks.
Our stress tests can be fully customized by adding shock parameters, correlation assumptions and other measures. For more information please read here.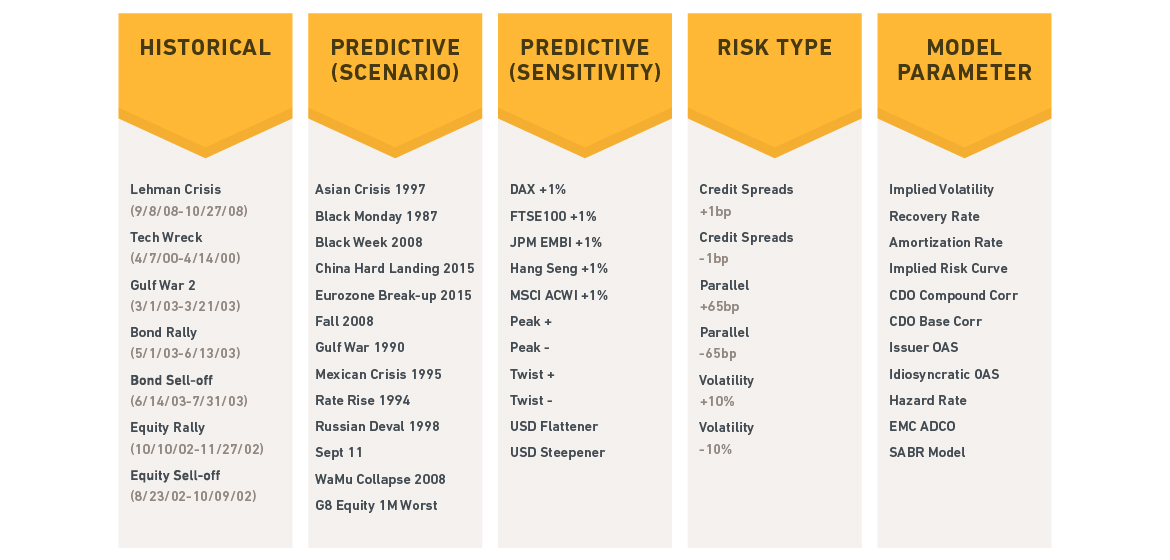 Statistical Analysis
Our well-respected tools for statistical analysis provide clients with a broad range of risk calculations on a daily and weekly basis.
One of our best-known statistical models is Value at Risk (VaR), which calculates the largest possible loss that could be incurred in a portfolio at a specific probability level over a given period of time.
In December 2014, we proposed three methods for back-testing Expected Shortfall that are shown to be more powerful than the Basel VaR test. These tests generally require storing more information, but introduce no conceptual limitations or computational difficulties.
Statistical Models in Our Toolkit

Accrued Interest

Effective Convexity

Option Adjusted Spread Delta

Base Correlation Series Delta

Equity Delta

Option Adjusted Spread Gamma

Beta

Equity Gamma

Par Yield Spread Delta

Beta BB

Expected Shortfall

Par Yield Spread Sensitivities

Bond Equivalents

Exposure

Position Count

Break-Even Inflation

Exposure HP

Present Value

Cash-Flow at Risk

Factor Loading

Real Notional in Base Currency

CDO Correlation

Factor R-Squared

Real Notional in Local Currency

CDS Delta

Fair Spread Delta

Recovery Rate

Clean Present Value

Fair Spread Gamma

Return Simulation

Commodity Delta

Future Value

Risk Attribution Present Value

Commodity Gamma

FX Delta

Risk Contribution

Conditional Means Gains

Gamma Matrix

Spread Convexity

Correlation Reporting

Generalized PVBP

Spread Delta

Credit Spread

Greek Sensitivities

Spread Duration

CreditGrades Asset Volatility

Idiosyncratic OAS

Spread Gamma

Currency Delta

Incremental VaR

Standard Deviation

Currency Gamma

Interest Rate Delta (DV01)

Stress by Time


Delta

Interest Rate Gamma

Stress by Value

Delta Equivalents

Issuer OAS

Stress PV Delta

Discrete Real Yield

Key Rate Duration

Stress Test PV

Diversification Benefit

Marginal VaR

Theta

Dollar Delta

Market Returns

Time to Maturity

Dollar Gamma

Modified Convexity

Underlying Present Value

Dollar Total Gamma

Modified Duration

Value at Risk (VaR)

Duration

Notional in Base Currency

Vega

Earnings at Risk
Notional in Local Currency
Yield
Regulatory Reporting
Regulators are producing an unprecedented flow of new rules and requirements, both within countries and across national and regional borders. Risk managers relating to risk management are being challenged to aggregate results quickly, report on them consistently and comply with local reporting styles and formats.
MSCI's risk management tools and high-volume processing capability help clients address the ever-changing regulatory requirements both accurately and efficiently. Our offering incorporates thought leadership, cutting-edge analytics and managed services.
Download our Regulatory Reporting Service AIF/UCITS factsheet
Download our Regulatory Reporting Service Solvency II factsheet
Banking Regulation - We have been an active participant in the dialogue between the investment industry and banking regulators since the initial discussions on what became the 1996 Market Risk Amendment to the Basel Accord. Recent comments from MSCI can be found here.
Central Clearing of OTC Derivatives - We offer a comprehensive, risk-based margin calculation engine for clients to conduct pre-trade analysis and simulate margins and potential changes to clearinghouse rules as the market moves toward central clearing.
Hedge Fund Reporting - MSCI is the industry leader in hedge fund risk reporting, serving over 100 leading hedge fund investors. We work with fund administrators, software providers and hedge funds to produce measures required to address Form PF risk reporting requirements. Custom report delivery is available via Managed Services.
Insurance Regulation - We provide analytics and reporting services to help insurance firms address the risk disclosure and transparency requirements of regulators in multiple jurisdictions, as well as their policyholders, across both traditional and alternative investments. We also provide services that aid with gathering and normalization of data from multiple managers, administrators and custodians.
Money Market Stress Tests - Our sophisticated stress testing tools help clients address the procedures required by the SEC to estimate the effect of tail events on liquidity, issuer concentration and shareholder redemptions. In September 2014, we submitted comments regarding the proposed rule by the SEC on the Money Market Fund Reform. Read the full comment
Sample Regulatory Reports
40 Act reporting
AIFMD reporting
Basel III Monitoring Report
CCAR stress testing
Form PF Risk Report
Market Risk-Based Capital Report
Money market stress testing
OPERA Report
Three Ways to Connect to Our Risk Engine
| | |
| --- | --- |
| ASP | A highly flexible application that enables clients to quickly set up custom reports and perform ad hoc analysis to identify areas of risk. |
| Web Services | Direct, intraday access to MSCI's risk engine through an XML-based process that offers integration with proprietary and third-party technology and maximizes speed of delivery. |
| Managed Services | A valet service in which a dedicated MSCI team provides administrative support and customized daily reports. |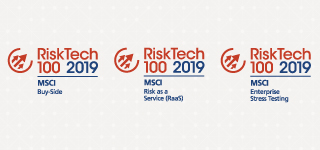 MSCI wins Chartis RT100: Enterprise Stress Testing award
Chartis names MSCI category leader for enterprise stress testing.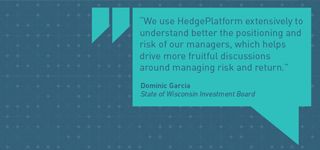 Using MSCI HedgePlatform for holdings-based risk management
In this case study, we show how SWIB employs the MSCI transparency service called HedgePlatform.