Many of the remaining untapped deposits of the metals critically needed for U.S. energy to transition from fossil fuels are located either near or within areas of cultural and environmental importance to Native Americans.
Among these key energy-transition metals, 97% of nickel, 89% of copper, 79% of lithium and 68% of cobalt reserves and resources in the U.S. are located within 35 miles of Native American reservations.
Mining companies have already faced opposition to mine development in many of these areas, reflecting the heightened risk to companies and investors arising from these conflicting priorities.
With the Biden administration seeking to slash U.S. greenhouse-gas emissions and support a rapid move to electric vehicles and renewable-energy technology,1 many investors are looking closely at the metals needed in new energy technologies. Copper is one key metal, and its demand may rise as much as 350% by 2050, according to one estimate.2 For investors looking through an ESG lens, however, not all metal mines are created equal or pose the same risks. Some mining projects, while providing metals key to addressing the global challenge of transitioning away from fossil fuels, may face strong and increasing opposition from Native Americans for threatening sacred areas or traditional ways of life.3
Not only could local cultures be at risk, but investors too. Local opposition increases risks that a mining asset could lose its license to operate and its value to investors. The risks may be even greater since the new administration, in its election materials, has indicated that protection of Native American culture is a priority.4 COVID-19's devastating impact on Native Americans5 was a sad reminder of the disparities faced by many Native American communities.
Key Mines Are Located Near Native American Reservations
We analyzed 5,336 U.S. mining properties in the S&P Global Market Intelligence database (as of March 15, 2021) and found the majority of U.S. reserves of cobalt, copper, lithium and nickel are located within 35 miles of Native American reservations. The same is true for the total count of U.S. mines with primary commodities of copper, lithium and nickel.
US Transition-Metal Reserves Within 35 Miles of Native American Reservations
Data as of March 15, 2021. Source: MSCI ESG Research, U.S. Census Bureau's MAF/TIGER, S&P Global Market Intelligence
Most of these mines are not located on Native American reservations. But for people with a history of being forced onto settlements, many of which have been compressed over time, culturally significant areas are not limited to reserved lands. We looked at all mines located within 35 miles of a reservation, noting that two prominent mining projects facing strong opposition from Native American groups – Lundin Mining's Eagle mine in Michigan and the Resolution copper mine in Arizona – are both less than 35 miles away from the nearest reservation.
The Resolution mine, owned jointly by Rio Tinto (55%) and BHP Billiton (45%), has already spent over USD 2 billion on development and permitting.6 It could eventually supply up to a quarter of the country's copper demand.7 However, Native American communities such as the San Carlos Apache have opposed the alleged threat it poses to the Chich'il Bildagoteel, otherwise known as Oak Flat, a place with spiritual significance to the Apache for generations.8
US Mines' Proximity to Native American Reservations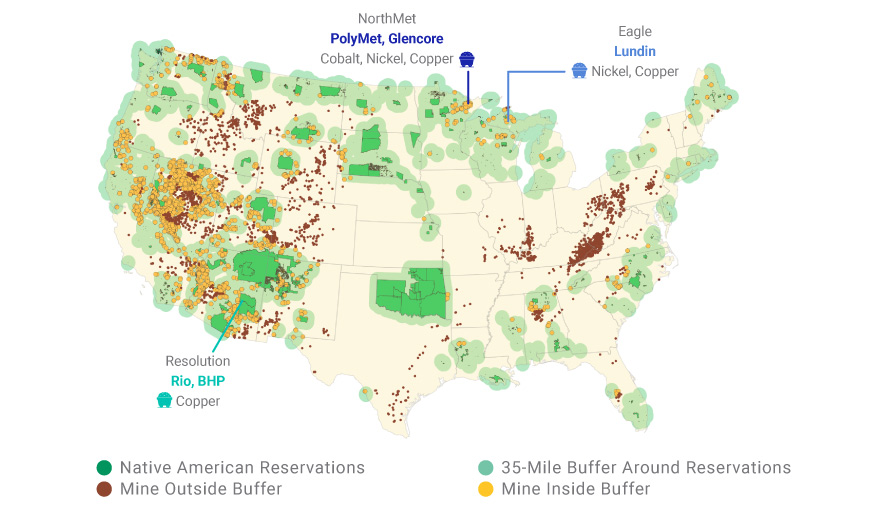 Areas important to indigenous cultures may be situated outside their reservations. The buffer zone of 35 miles was set to include the controversial Resolution and Eagle mining projects, both of which are within 35 miles of reservations. Source: MSCI ESG Research, U.S. Census Bureau's MAF/TIGER, S&P Global Market Intelligence
Rio Tinto already experienced a stakeholder uproar and harsh repercussions after a failure to protect places of indigenous significance in May 2020, albeit on the other side of the world. Three executives, including the CEO at the time, were forced to leave the company, among other leadership changes, after the company bulldozed the ancient Juukan Gorge rock shelters, a site of both indigenous and archaeological value in Australia.9
There, as at the Resolution mine, the company obtained government approval to move on the areas of concern, putting sacred areas at risk. Nonetheless, civil-rights activism, social-media scrutiny and the momentum for social justice have amplified calls to defend indigenous cultures. Scenarios where mines obtained permits — only to have them later taken away, after much investment, due to alleged failures to address indigenous issues — have played out around the globe in recent years. A stronger focus on local concerns may be warranted.
1"Fact Sheet: President Biden Sets 2030 Greenhouse Gas Pollution Reduction Target Aimed at Creating Good-Paying Union Jobs and Securing U.S. Leadership on Clean Energy Technologies." White House, April 22, 2021.
2Elshkaki, A., Graedel, T.E., Ciacci, L., and Reck, B. "Copper demand, supply, and associated energy use to 2050." Global Environmental Change, June 22, 2016.
3Davidse, A. And Guzek, J. "Trend 10: Meeting demand for green and critical minerals." Deloitte Insights, Feb. 1, 2021.
4"Biden-Harris Plan for Tribal Nations." JoeBiden.com.
5An estimated 1 in 475 Native Americans died from the disease. "COVID's Assault on Native Americans." The Week. March 7, 2021
6"History." ResolutionCopper.com. Accessed March 22, 2021.
7"Land Exchange." ResolutionCopper.com. Accessed March 23, 2021.
8"San Carlos Apache Tribe Sues US Forest Service to Stop Resolution Copper Mine." San Carlos Apache Tribe, Jan. 15, 2021.
9Butler, B. and Wahlquist, C. "Rio Tinto investors welcome chair's decision to step down after Juukan Gorge scandal." Guardian, March 2, 2021.
Further Reading
Native Americans Pivotal in US Climate Change Agenda (available on MSCI ESG Manager)
Biodiversity Threats from Mining (available on MSCI ESG Manager)